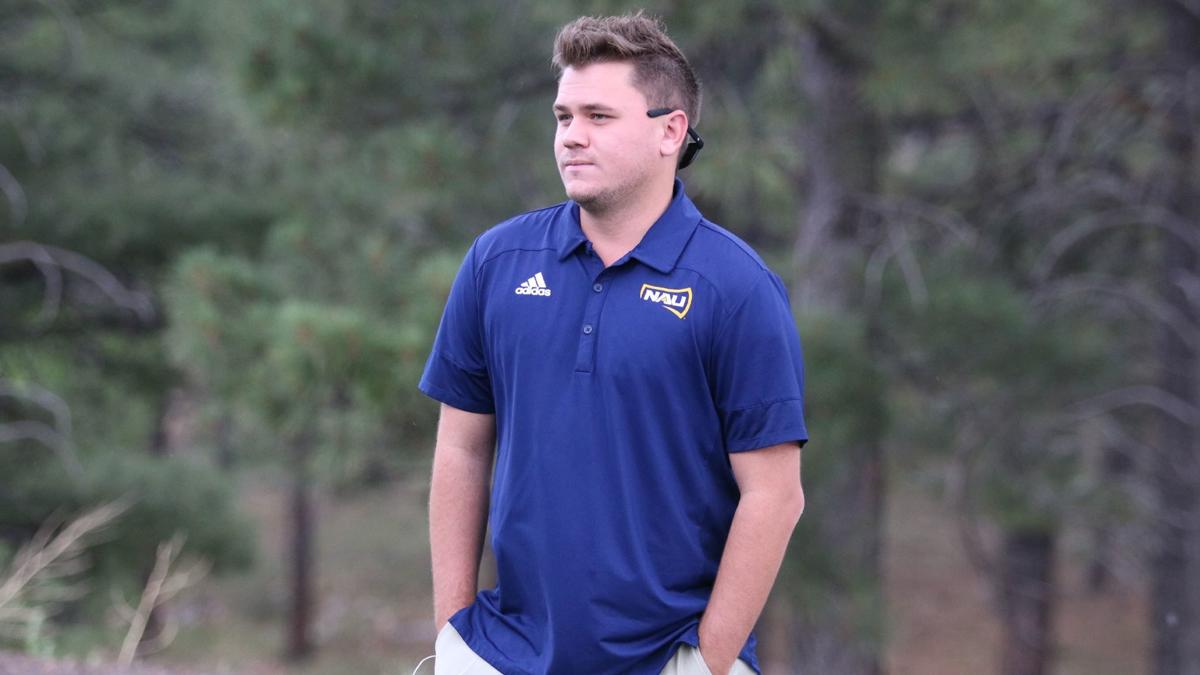 Through all the challenges and sheer madness of the spring football season, it became clear that Northern Arizona head coach Chris Ball was lucky to have Taylor Isbell by his side, helping sort through everything.
"I always tell him if somebody said that you can either be out of football or be an ops guy, I'm gonna pick out of football," Ball said of his director of football operations. "Because he's got the hardest job of the staff."
An underappreciated and often overlooked cog in the machine of a college football program, the director of operations is left sorting through multiple different responsibilities on any given day.
Of course, that is part of what brought Isbell into the line of work.
"One of the reasons I took the job is that it's always something different every day," said Isbell, who worked within Georgia and Georgia State's football programs before making the journey to Flagstaff. "That keeps it interesting, but this season, just the logistics, the extra steps and the red tape you have to go through to make sure that we're covering our bases COVID-wise while also making sure our student-athletes are put in the best possible position to go out and win day in and day out. (It's) by far the most challenging thing I've ever done in my career."
Isbell, a political science major at Georgia before earning a master's in sports management and policy, joked that he likely would have stuck to law school surrounded by books in a library if he knew what was coming for college athletics down the road.
Instead, he's more than 1,500 miles away from his home state thanks to a few coincidences ahead of the 2019 season when Ball took over the program.
While working at Georgia State as a football operations assistant, Isbell inquired about a position within Northern Arizona's athletics administration only to find out the football team was hiring for a football operations position not quite yet posted.
At roughly the same time, Ball reached out to a former graduate assistant and assistant coach from Arizona State and Memphis, Dan Lanning, to see if he had any possible candidates for the position. Lanning, then a defensive assistant and now defensive coordinator at Georgia, suggested Isbell.
"I liked the fact that he worked at Georgia, coming from a place like that where football's important. I needed somebody here to emphasize that," Ball said. "It's not an easy place to work, in the SEC, because there's a lot of pressure. He's been through the mix before."
Isbell saw it as an opportunity to run operations his own way under Ball, an opportunity too good to pass up for his second full-time position after graduating from Georgia. As for the move across the country, it was something he expected to happen at some point.
"I knew that getting into it, I always knew the move would come at some point," Isbell said. "I didn't know when, I didn't necessarily expect it to happen with it being my second real position. But to have the opportunity to come out to the West Coast, and have NAU and Flagstaff welcome me the way they have, it's been a hell of an opportunity."
Praising the work Isbell's done, building relationships throughout both the athletics department as well as the City of Flagstaff, Ball doesn't take him for granted.
"He's got to deal with me every day -- which is not fun," Ball joked. "He's my right-hand man. He's the guy who can get it done. If I can't get it done, I pass it over to him and he usually gets it done."
Volleyball
The Lumberjacks were sensational in the classroom during the 2020-21 academic year, compiling a qualifying cumulative grade point average of 3.65 to earn the Team Academic Award by the American Volleyball Coaches Association.
It is the third time in the last four years and the ninth time overall in program history that the team was recognized by the AVCA for its academic excellence. Northern Arizona previously earned the award in 1993, 2004, 2009, 2010, 2011, 2012, 2018 and 2019. The award dates back to the 1992-93 academic year.
Collegiate and high school volleyball teams that maintain at least a 3.30 cumulative team GPA on a 4.0 scale or a 4.10 cumulative GPA on a 5.0 scale are honored with the award. Only players who saw time on the court during the competitive season during the academic year are part of the nomination process.
 Ten of the 11 total Lumberjacks to appear in a match posted a GPA of 3.0 or better for the year. Freshmen Savannah Bloom, Jordan Elder, Kate Hatch and Millie O'Ketter had perfect 4.0 marks in their first year of college.