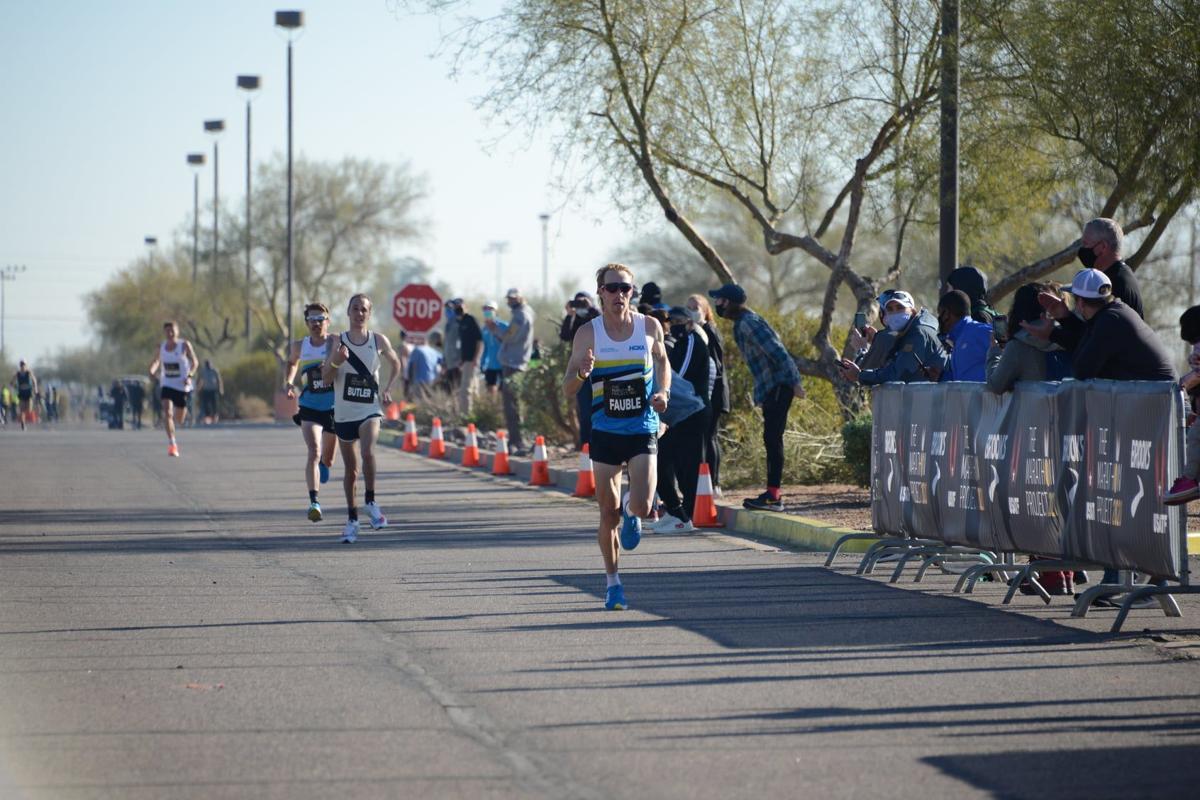 For Ben Rosario, it's important to take advantage of opportunities to race when a runner is prepared, even if the athlete is not yet at peak fitness and strength.
Racing keeps a runner sharp and keeps the fans engaged.
"Both of those things are taken into account when we decide our racing schedules," said Rosario, the head coach of NAZ Elite, which recently added three races to the slate to take place across three days before the team pauses to watch Aliphine Tuliamuk compete at the Tokyo Olympic Games in early August.
A trio of NAZ Elite athletes will be scattered across the country competing next weekend, with Rory Linkletter coming out of the gates for the team at the venerable Deseret News 10K road race set to take place Friday, July 23, in Salt Lake City. Scott Fauble will lace it up the following day in the Bix 7 road race in Davenport, Iowa, and Lauren Paquette will be on the track as she takes on a Sunset Tour 5,000-meter in California to close out the weekend that Sunday.
All three NAZ Elite runners are at different places as they prepare for the cluster of races.
Paquette still has gas in the tank as she looks to extend her season with a gutsy, speedy performance at the 5000m. A hamstring setback left her pressed to prepare for the Olympic Trials, where she made it to the final round of the 5000m for an eventual overall seventh-place finish. According to Rosario, although Paquette is facing some mental fatigue, she's feeling physically stellar and ready to end the season swinging.
And if she fares well, the schedule might be subject to an addition.
"If she goes out there and crushes it, and that presents another opportunity," Rosario said, "I think we would entertain that opportunity, but right now we are just focused on the next race weekend."
Staying focused on something that seems certain has led to confidence for NAZ Elite.
The Olympic cycle is finally winding down for NAZ Elite, with just the Olympic Marathon remaining for Tuliamuk. Meanwhile, the pandemic is also winding down, allowing Rosario and the roster more chances to do what they love to do: race.
"It feels less stressful heading into the fall as opposed to how I felt about things, let's say, in January," Rosario said.
Lightening the stress load is something Rosario also wants for his team. The spring had been full of pressure, and the team had experienced it and raced through it. Each and every race had seemed so crucial.
Rosario said they were making a big deal of races they knew they were not totally prepared for, leading the head coach and members of the team to switch gears and be pragmatic for the next batch of races.
"I think that's what we are doing with these races," he said.
For instance, Linkletter is early into his segment, but, as is usually the case, has the itch to race and is fit enough to lace up -- knowing where he is at with his fitness and training.
Linkletter had been racing hard to try to make it onto Canada's Olympic squad and the end of his spring was a mixed -- if not messy -- bag of results. He placed 25th with a time of 29:18.85 at The Track Meet 10K -- his last outing -- in mid-May. He entered that race coming off a first-place finish at the Valley O.NE Half Marathon in 1:03:57 in late April.
But the two races prior to the half marathon saw him place outside the top 10 of each race.
So going back to Utah, where he went to school while attending BYU, seemed like a good way to start the race engine again.
"And I don't think he was terribly pleased with the way his spring season ended up," Rosario said. "So I think when that's the case, oftentimes the athlete wants to get back on the horse and prove themself."
Meanwhile, Fauble will also be at a reverence road race, as he makes a return to a 7-miler in which he placed second in 2017.
"People come out and they party and they cheer on the runners. It's a big deal. He loved it when he went there the first time and he wants to go back to try to win it," Rosario said.
Fauble's fit and ready to push for a victory, with Rosario saying his athlete looks "great" as he gets deeper into his training segment.
Despite where each runner is at, Rosario knows it's good to be racing again as the team entrenches itself into the fall training.
"I mean, what better workout do you get than a race?" he said through a chuckle.