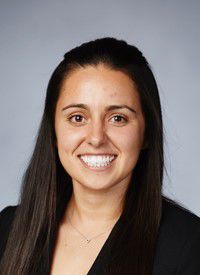 From coaching 4-year-olds to working with the best basketball players the United States has to offer, Alexis Besinaiz has a plethora of experience in the game.
It just might be a bit tough to get her to talk about it.
The new director of basketball operations for the Northern Arizona women's basketball team -- hired in early July -- prefers to stay "behind the scenes," working to create the best possible environment for Lumberjack student-athletes.
"As much as I love basketball and like being hands-on, I don't really like being front and center," Besinaiz said. "I like being organized and making sure that everyone's taken care of. That's just part of my personality. Um, so I definitely fell in love with this role being a manager."
Although Flagstaff and the Northern Arizona campus are new for Besinaiz, the position is not. She was previously the director of basketball operations at University of Nevada -- Las Vegas from 2018 to 2020 and California State University -- Bakersfield from 2017 to '18.
There is still learning to do though. She is in the midst of planning the budget, traveling schedule and more for a team in the Big Sky, a conference she has never worked in previously. Her experiences, both in similar roles and working with athletes of varying levels of skill and prominence, promise to leave her prepared for success at Northern Arizona.
Though she said a highlight of her career was coaching youth basketball to kids who had never dribbled before, she has also worked with high-level players and teams as part of the NBA and Team USA.
Since her time as an undergraduate at UNLV, she worked with the United States team, helping to prepare the players for the Olympics and other international competitions.
She even got to travel to Spain with the United States U16 girls team for the FIBA World Championships.
But possibly her most noteworthy experience, if only because of its uniqueness, was assisting with operations in the NBA's playoff "bubble" in 2020. The NBA's playoff-bound teams and several hopefuls, such as the Phoenix Suns, packed into a closed environment in Orlando to combat the spread of COVID-19, playing the entire postseason in makeshift stadiums with no fans, and merely a few family members, in attendance.
Besinaiz said she was almost entirely limited to going from her hotel room to the arena and back from July to October, when the Los Angeles Lakers were crowned champions.
"That, in itself, had its own challenges," she said.
From mopping the floors before games to working in tandem with the league on its most difficult playoffs in its history, she feels comfortable dealing with basketball and logistic issues of all sorts.
"When I encounter a situation that I'm like, 'Oh my goodness, what's happening?' I'll just take myself back to the bubble. Adaptability is one of the biggest things in being a director of operations, you have to be adaptable. You have to be versatile, just ready for anything. And I think that's why I'm a good fit for this role and hopefully can be a good fit for the team," Besinaiz said.
All of her vast experience led her to the next full-time position, and Northern Arizona, with its upward trajectory in talent and welcoming environment, was enticing.
She also admired Lumberjacks head coach Loree Payne's style, perceiving Payne as a leader who cared about more than just the athletes' performance on the court.
"She, from day one, seemed very genuine and had a good aura about her," Besinaiz said of her new coworker.
Now, settling in Flagstaff and finding her spot within the staff, Besinaiz is focused on her new role. Success on and off the court is her main goal, but tangentially she hopes to be, from a distance, a sort of quasi-role model for kids who want to be involved with sports, but prefers to stand back and give others the spotlight.
"I know there are kids out there who know basketball isn't going to be their college dream, but it's going to be something that they still want to be a part of," Besinaiz said. "And I just want them to know that there are still avenues for you to be involved if college basketball doesn't work out for you. You still have opportunities, you can still be what you want to be."