The City of Flagstaff sports scene watched as another chapter was written in the long-running rivalry between the Flagstaff Eagles and Coconino Panthers Tuesday, as the crosstown rivalry was renewed on the baseball diamond, with the Eagles taking out the Panthers, 5-3.
What started as a pitching duel at Flagstaff High School between senior starters Zeke Anaya for Coconino and Justin Hanson for Flagstaff turned into a strong offensive performance from both squads. Anaya came into this game with a 3.60 ERA, but arguably had one of best performances of the season, not allowing a run until the fifth inning.
"Zeke really stepped up today, he really just competed all game," Panthers manager Dalton Schwetz said. "I think we count on Zeke for sure; he has been setting the standard. We got a lot of young guys on this team that are learning as they go, so it's important for Zeke to just keep doing what he is doing and showing those younger guys how it's done."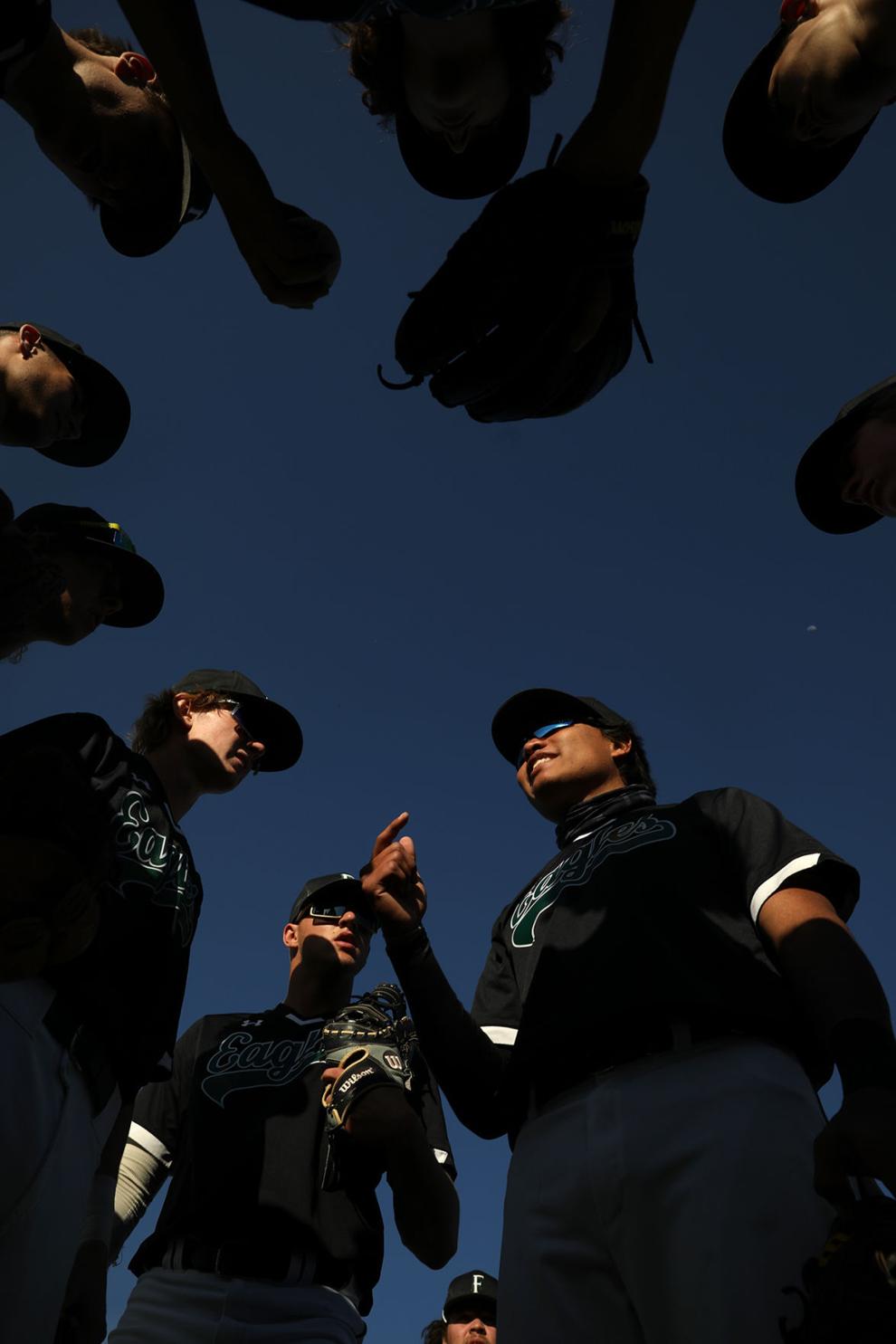 Hanson, on the other hand, had another stellar performance on the mound for the Eagles, pitching five strong innings and striking out eight. While he did give up three runs to the Panthers, Eagles manager Mike DoBosh allowed him to go back on the mound and try to complete the game in the sixth, but Hanson gave up a hit and was taken out for junior Teague Van Dyke to come in and finish the game.
"It's a grind for the other team when they know that they are going to have to face Justin; he is a tough kid to get a hit off of," DoBosh said. "Our M.O. this whole season is having Justin or Sylas (Clerry) get us close to the finish line, and then have Teague come in to close the door. You can't say enough about that kid."
Going into the fifth inning, the game was still scoreless, with both starting pitchers still battling on the mound. Flagstaff, ranked No. 6 in the 4A Conference entering the ballgame, found a groove at the plate, with Van Dyke striking first with an RBI double that scored the first run of the day.
The Panthers would not take long to respond, hitting Hanson hard with three straight RBIs from Adrian Marquez, Dylan Davis and Tyler Ragan, giving 12th-ranked 4A Coconino the lead 3-1.
The Eagles' bats would wake up from there, with Clerry hitting a two-RBI double to left field to tie the game, and Van Dyke coming up big with a two-RBI double of his own to give his team the lead.
Van Dyke would be the hero for the Eagles (13-1, 9-0 Grand Canyon Region) one more time in the top of the seventh, coming in to pitch and getting three outs.
"You can't say enough about Teague," DoBosh said. "He comes in to pitch in a tough spot and gets it done. That's huge for us. It tells our starters that they can go five or six innings and know that Teague can come in and finish it out. It's so big to have him in the back end of our bullpen."
The crosstown rivalry feel of the game was not lost on DoBosh, understanding how much these games mean to his players and the fans.
"Any time a Flagstaff and Coconino game comes around, you can throw the wins and losses in terms of your season out the window; it's always going to be a battle and a tough game," DoBosh said. "To me, it's probably one of the biggest rivalries in the state of Arizona. The kids have grown up together and are friends, and it means a lot. You can see the emotions at the game, between the teams and the people in the stands. We always try to think one game at a time, but this one definitely has a lot more energy behind it."