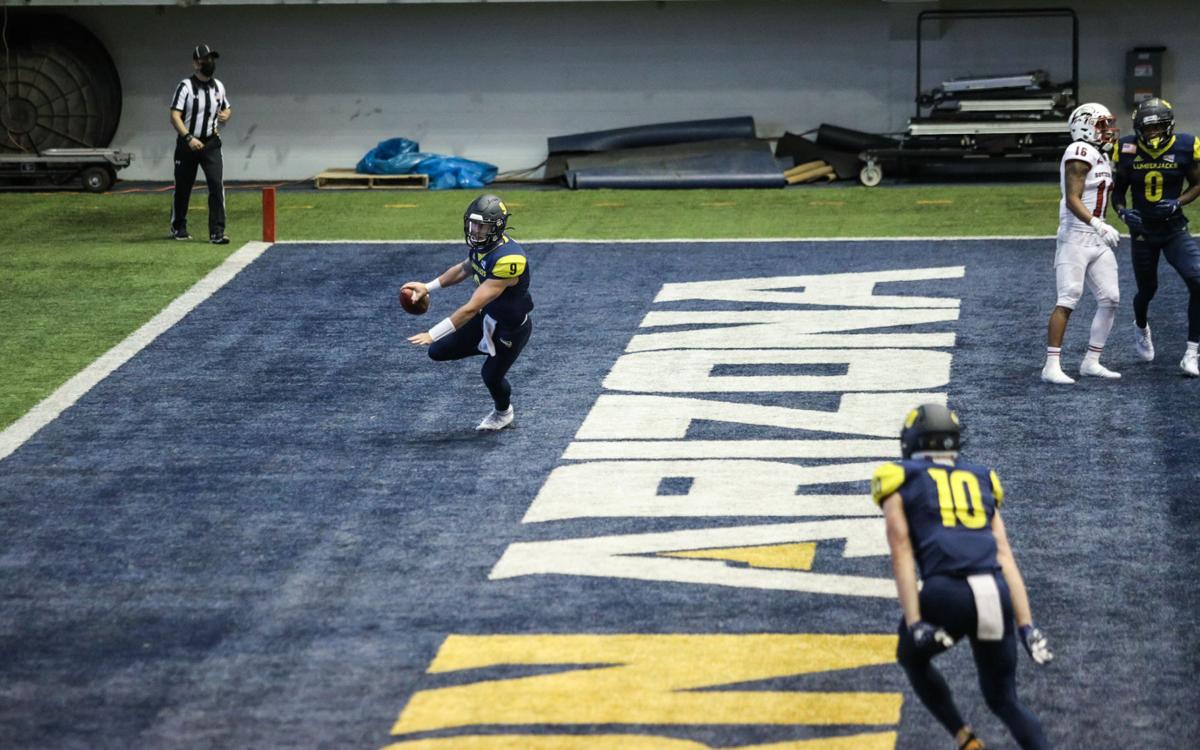 Keondre Wudtee's game-winning drive and game-winning touchdown pass to Coleman Owen in Saturday's win over Southern Utah got most of the headlines, and for good reason. But there was another drive earlier in the game, orchestrated by Northern Arizona's backup quarterback, that needs to be highlighted.
The Lumberjacks coaching staff decided not long ago that they would roll with two quarterbacks -- kind of.
Northern Arizona is giving redshirt freshman quarterback Jeff Widener at least one scripted drive each game in order to get the young slinger some experience in the condensed six-game spring season.
It isn't capped at one, necessarily, Lumberjacks head coach Chris Ball confirmed during a recent interview, but Widener can count on at least a drive to make a mark.
So, let's get back to Saturday.
Down 27-21 with 13:16 left in the third quarter, following a two-play, 40-yard scoring drive by Southern Utah to answer a Wudtee to Stacy Chukwumezie 55-yard touchdown connection, the Lumberjacks made an interesting change. When the offense came back out on the field, taking possession at its own 40-yard line, Wudtee wasn't the quarterback to come off the sideline.
Instead, out came Widener, making his first in-game college drive. The game situation didn't matter. That time and moment in the game was when the Lumberjacks planned to bring in Widener, no matter the situation, score or momentum.
"It's on paper, that he goes in at that time," Ball said. "No matter the situation, just to help him grow. ... Plus, he deserves it."
It was a big moment. A close game in the balance. The Lumberjacks were in need of an answer, and Widener provided it.
The drive was as good as anyone could script. Just three plays went for no gain: an offensive pass interference that set the Lumberjacks back 12 yards early in the drive, a 35-yard completion to Owen on the second play that was called back because the Lumberjacks had an offensive lineman go too far out, and Widener threw an incomplete pass.
That is it. The rest of the drive Widener went 4-of-5 passing for 49 yards, with a long of 17 yards. Widener did some damage with his legs as well, running four times for 16 yards, which ended as the team-high in rushing -- and, most importantly, a touchdown run from one yard out to give Northern Arizona a 28-27 lead with 10 minutes left in the third.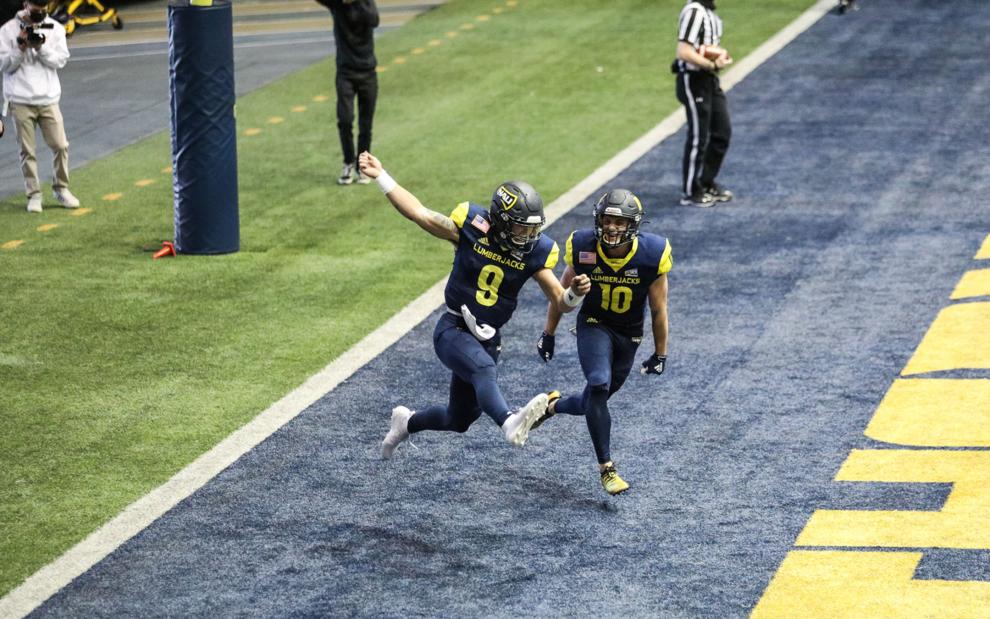 The drive went 10 plays, 75 yards and took 3:10 off the game clock.
"It was unreal, actually," Widener said Monday during a Zoom interview. "I just remember going out there and I almost wanted to pinch myself because it felt like a dream. It was one of the coolest moments of my life, definitely. ... I knew my time was coming, and I was going to go in there, have fun, do my job and let the rest take care of itself. ... I think it kinda shocked the defense and helped us out a little. It's weird, but also I'm grateful for the opportunity to get a few plays."
The scoring drive looked like it was dead in the water, as Widener faced a third-and-9 situation from the Southern Utah 16-yard line, but a timeout was called by the Lumberjacks and Widener came out and completed a pass to Owen for a near-score before Widener made the smart read on the option run for the TD.
Not a bad way for Widener to make his debut.
"He took advantage of his opportunity, came out there and took control and got the ball in the end zone," Ball said.
The drive was helped with penalties by Southern Utah as well, as the Thunderbirds committed two -- an offsides that turned a second-and-23 into a second-and-18 after the early offensive pass interference, and a roughing the passer call that gave Northern Arizona an extra 15 yards after a 5-yard completion.
More chemistry, less competition
Wudtee is the starter and Widener his backup, no questions about that. The two compete, sure. But there is some strong chemistry between the two.
Wudtee was the first Lumberjack to come off the sideline and celebrate Widener's first career collegiate score. He even talked up Widener in recent media sessions, giving love and praise to his teammate.
Widener, being so much younger than Wudtee, who is a redshirt senior and spent two years at Oklahoma State before getting to Flagstaff, knows he can learn from the Lumberjacks' starter as well.
"I think it would be stupid of me not to try and get some knowledge out of (him). Not only are we great teammates, I try to push him as much as he pushes me, but we are also great friends and I really cherish our friendship. Regardless of the status of who is the starter, he is always going to be my friend and my teammate."