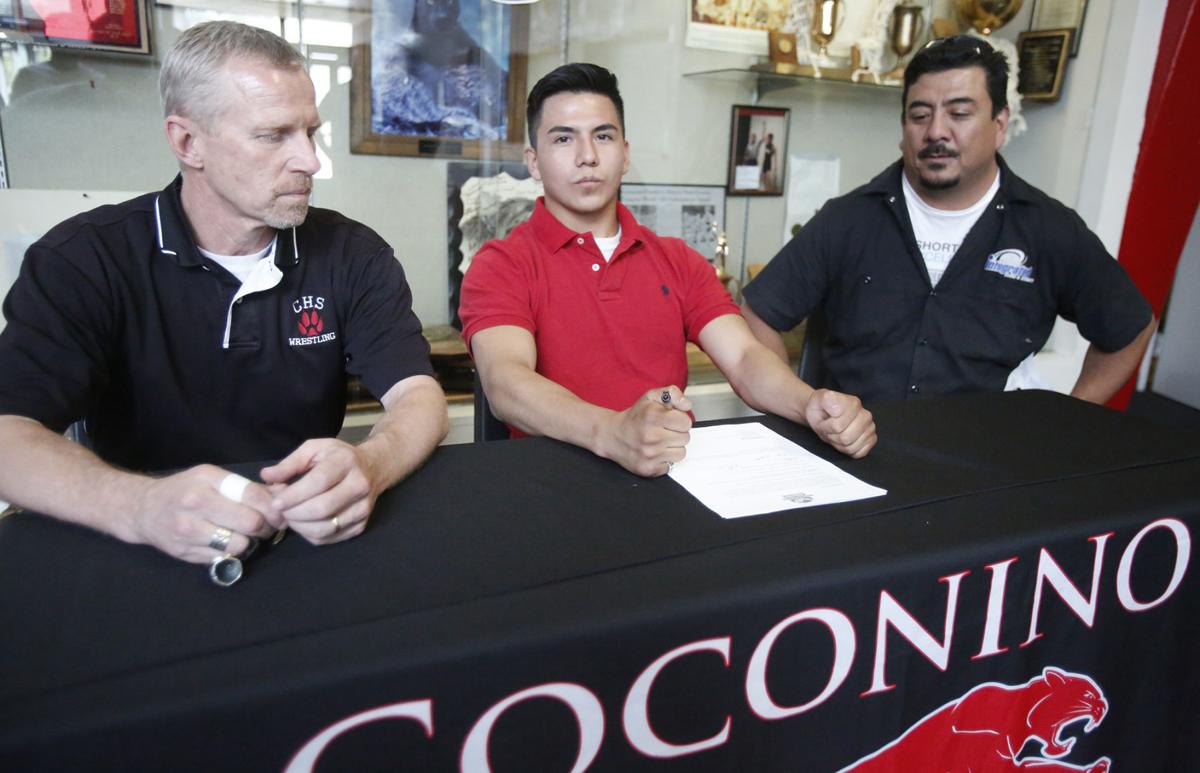 When the Coconino Panthers enter the 2018-19 wrestling season, they'll be without a legend who's established himself as one of the best coaches in the state of Arizona.
Jim Popham stepped down from the head coach position to pursue another path in the sport, one that has him working with a private school that focuses on academics and wrestling. One of the winningest coaches in Arizona after producing more than 400 wins and never suffering a losing record while at Coconino, Popham decided to take his talents to Valiant College Preparatory in Phoenix.
Coconino accumulated 15 individual state titles while Popham was with the program, many of them coming at the light- and middle-weight classes. He came aboard as an assistant in 1988, and in 1990 became the school's eighth head coach in program history.
Along the way, with the coaching combination of Popham and Mike Schmieder -- who is taking over the position -- Coconino had 19 top-10 team finishes at the state tournament and won 26 of the last 30 city championships over crosstown rival Flagstaff High.
"It's meant the world to me; it's been my life's work," Popham said Thursday. "Being with Mike and all the kids who have come through over 30 years -- and it's amazing how many we hear from on a daily basis -- it's meant the world, and Coconino is probably the best place I could have ever gone."
Schmieder started as an assistant with Coconino in 1987, the year Northern Arizona University dropped its wrestling program. The head coach then, Dave Penny, was looking to step down, and Neil Hayes, a former wrestler and sports writer at the Arizona Daily Sun at the time, recommended Schmieder. Schmieder was busy working on his engineering degree, so he passed on Popham's name.
Popham and Schmieder coached a total of 97 all-state wrestlers, and the two put athletes into a state title round more than 30 times.
"Jim and I are very different, and I think it's one of the reasons we made a good team. Our styles of coaching are very different," Schmieder said on Friday. 
Schmieder said Popham was the "greatest field general" in the state when it came to match day.
"One of the reasons our dual meet records were so awesome is because Jim could move kids around and find the right match-ups," Schmieder said. "He was terrific in the corner and setting a match strategy. And that's not my forte. My forte is really about the process and the practice, and that's where we complemented each other well. I am going to miss that component, but hopefully I picked up a thing or two during the course of 30 years."
According to the Valiant website, Popham's overall team record was 446-118. During Popham's reign, the Panthers saw three different teams come away from the state tournament with third-place finishes. Additionally, Coconino recorded nine straight top 10s at the state tournament from 2008 to 2016.
MAKING A MOVE
Popham's impressive resume caught the eyes of Valiant, and as soon as Popham retired from teaching at Coconino, the private school came calling. So far Valiant, which opened its doors this fall, has had success, with its middle school competitors winning the Freak Show national wrestling tournament in Las Vegas while competing against more than 1,000 different teams.
A state champ for Paradise Valley, Popham serves as the assistant principal at Valiant while running the science program and computer lab with an emphasis on ACT and SAT testing.
Considering his passion for helping kids find success in and out of the weight room, working at a school that focuses on education and developing talent to compete at the Division I level and beyond is just about the perfect next step for Popham, who taught science and worked in the disciplinary department while at Coconino.
"He cared about kids. His specialty was kids that were struggling at school, and he embraced those kids because he saw himself in a lot of them," Schmieder said. "The kids struggling at school and at home, he really tried to help them and help them make something of themselves. Wrestling was definitely a part of that, but he really embraced his role at the high school and felt that was an important way to contribute. There are just countless kids he helped over the years."
Popham will now work with Valiant to elevate Arizona wrestling into the higher ranks of wrestling nationwide, hoping to produce wrestlers that can compete with the powerhouse states such as Pennsylvania.
"They have arguably the best coaches in the state when it comes to high school wrestling," Schmieder said, noting that Angel Cejudo, Eric Larkin and Eric Pawlak, an Northern Arizona alumni, are at the school.
Meanwhile, Popham knows he has left the Coconino program in safe hands.
"There's no better man for the job," Popham said of Schmieder.
ALWAYS 'CONNECTED TO COCONINO'
Wrestling was a huge part of the two coaches' lives. Schmieder said the two even changed their children's diapers on the wrestling mats.
Even though Popham is crazy about wrestling, he finds time to hit the links.
"I fancy to play a little bit. I like it," Popham said of golfing.
Popham was the golf head coach at Coconino for about a decade. Although the golf program never had much success, he helped turn out winning records over the past few years despite the limited amount of time the team could practice due to Flagstaff having four seasons of weather.
Although Popham's found a new calling in wrestling in coaching athletes that Valiant hopes could become future Olympians, he'll always feel part of the Panthers family.
"We are still connected to Coconino," Popham said. "We have some of the best kids in the nation in our program and there are very few people allowed in our weight room, but Coconino is a part of this and our workouts are open to them, so it's just an extension. That's the way I see it."
Get in the game with our Prep Sports Newsletter
Sent weekly directly to your inbox!