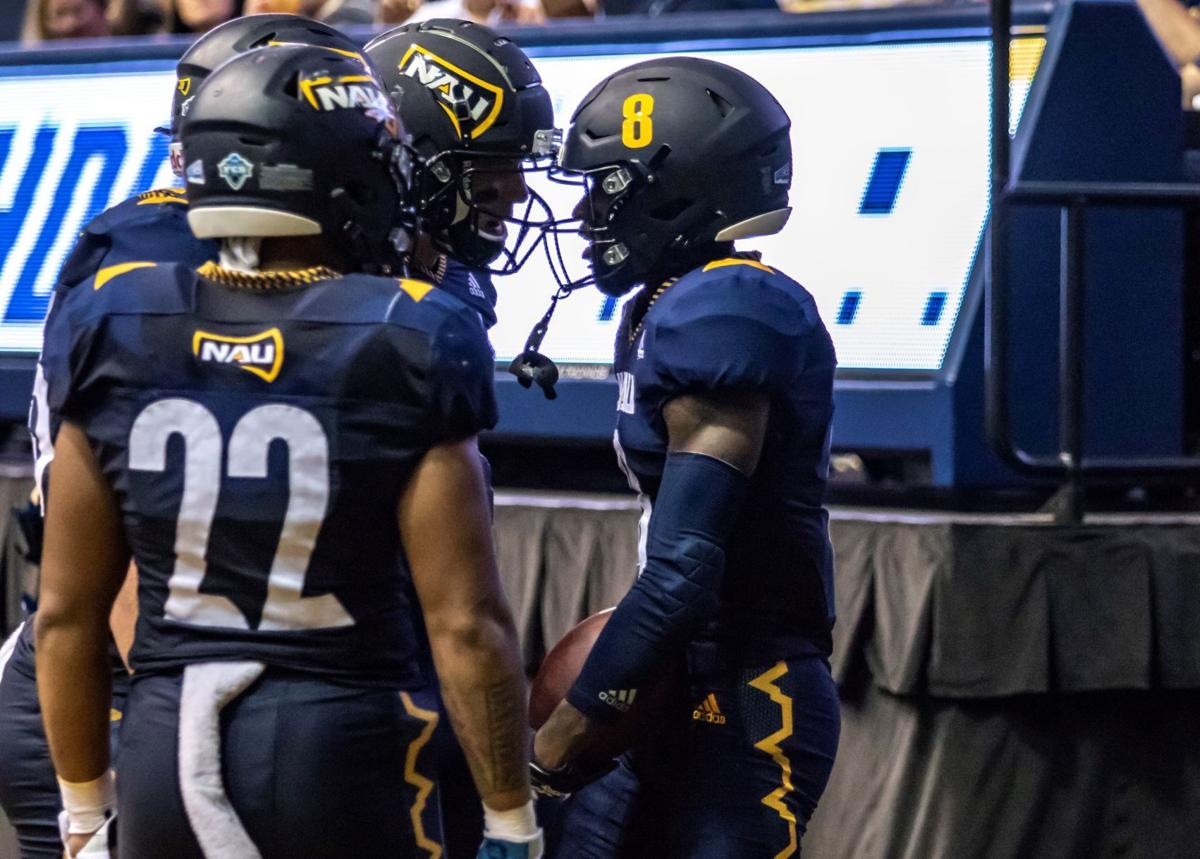 In the press conference following Thursday's home loss against No. 1 Sam Houston State, Northern Arizona football coach Chris Ball said a team's most impactful improvement often comes between the first and second games of the season.
The Lumberjacks hope their coach's wisdom is true as they head to Vermillion, South Dakota on Saturday to take on the South Dakota Coyotes in week two.
South Dakota lost its first game as well, but gave the Kansas Jayhawks -- an FBS opponent -- a tight contest in Kansas, losing just 17-14 on a touchdown in the final two minutes.
The score in Northern Arizona's game was not as close. The Lumberjacks fell 42-16 to the reigning FCS champion. Though the final tally may not indicate it, the game was tight in the third quarter, as the Lumberjacks were driving and were in a spot, down just 21-10, that they could have made it a one-score game. However, replacement quarterback Jeff Widener's pass was intercepted for a touchdown and Sam Houston's 28-10 lead was seemingly out of reach.
Ball said he thought Thursday's game swung "on about six plays" during regular media availability on Monday. He remarked on Northern Arizona's two turnovers in the third quarter, a couple missed field goal attempts and not capitalizing when the Lumberjacks forced turnovers on the Bearkats.
If the Lumberjacks can capitalize on similar opportunities, Ball is confident they can turn their fortunes around.
"We'll move on and we've got to get those things fixed," he said.
Ball said he was pleased with several things in the game, despite the loss. He saw plenty of quality plays from his receivers, including 112 yards and a score from Stacy Chukwumezie and 69 yards from Coleman Owen. He also was impressed with the running of Kevin Daniels, whose 11 carries led the Lumberjacks, and the defensive effort of safety Morgan Vest, who led Northern Arizona with 10 tackles and a pass broken up.
And even though he said, following the game, that Widener needed to limit his turnovers, Ball saw some flashes of talent in his the redshirt freshman's time on the field. Starting quarterback Keondre Wudtee exited the game with an ankle injury in the first quarter Thursday, and Ball said he is unsure of the redshirt senior's status this week. So, Widener may be asked to show more of his productive qualities, as he may start the game against the Coyotes.
"I was really pleased with his toughness and energy when he comes out there," Ball said of Widener.
On Saturday, Northern Arizona's defensive focus may be on Coyote running back Travis Theis, who racked up 96 yards and a score rushing against the Jayhawks last weekend. Northern Arizona -- notably without linebacker Harrison Beemiller, who was ejected in the first quarter for a targeting penalty but will presumably be in uniform Saturday -- gave up several big rushes to the Bearkats, including a 143-yard performance on just 11 carries from Sam Houston back Ramon Jefferson.
Much of South Dakota's production, not just in the running game but on both sides of the ball, will be from the Coyotes' push in the trenches. Ball remarked that in film he has seen that the Coyotes are an "extremely physical football team."
However, if the Lumberjacks can match that physicality, and make up for some of the lost opportunities they gave up against Sam Houston, he thinks the improvement from games one and two will show itself in the first of three consecutive road games.
"We can fix those mistakes. We have to," Ball said.
Men's cross country
The Big Sky Conference announced the recipients of this week's Cross Country Athlete of the Week awards Tuesday, naming senior Ryan Raff as one of the two men selected.
Raff won Saturday's George Kyle Classic in Flagstaff with a 4.5-mile time of 22:31.2, leading the Northern Arizona men to a team victory over Grand Canyon and Arizona. The Lumberjacks also showcased their depth last Saturday, finishing 1-2-4-5-6 with a team score of just 15 points, while Grand Canyon and Arizona concluded the competition with 64 and 102 points, respectively.