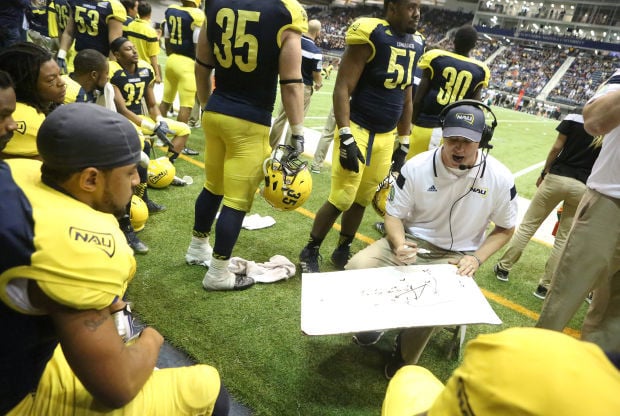 Northern Arizona defensive coordinator Andy Thompson is expected join the Southern Utah coaching staff in the same role, sources said Wednesday.
The Thunderbirds spent the 2018 season without a defensive coordinator after Rod Chance left for Oregon during the summer. Thunderbirds head coach Demario Warren ran the defense for his team this season, previously serving as the program's defensive coordinator for two seasons.
Thompson had spent the past 13 years on the Northern Arizona coaching staff in a few different roles. Thompson coached the running backs during his first year on staff as a graduate assistant in 2005 and then was the position's coach in 2006. The next two years Thompson coached the linebackers and ran special teams, and since 2009 has been the defensive coordinator and was the associate head coach this past season.
The Lumberjacks defense under Thompson was one of the best in the FCS in interceptions, specifically the past two seasons. In 2018, the Lumberjacks picked off 17 passes in the regular season and in 2017 forced 16 interceptions.
Although Northern Arizona struggled against the run recently, the defense was consistently near the top of the Big Sky in pass defense.
Northern Arizona hired Memphis defensive coordinator Chris Ball this week as the program's new head coach and the status of the rest of former Lumberjacks head coach Jerome Souers' staff is uncertain.
Be the first to know
Get local news delivered to your inbox!