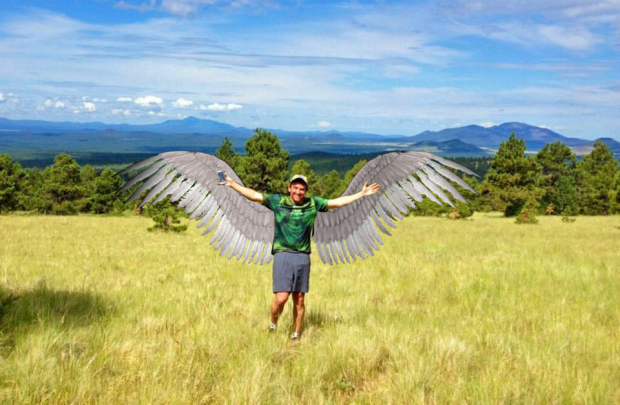 It's that time of year when we gain a bit of extra light on the end of each day, a gift to those of us who run before or after work. It's also when many of us begin developing a fitness base in preparation for upcoming races. Since valentines are in the air, a runner cannot live in Flagstaff without having a very special person come to mind when thinking about our community -- Neil Weintraub.
Neil is the co-founder and director of the Northern Arizona Trail Runners Association (NATRA), a grassroots, community-based, open-to-anyone venture. Neil's simple approach and clear focus on finding ways to support runners while giving back to our community reverberate into the lives of countless many -- so much so that one cannot help but wonder if this altruist is a mere mortal. Speculation suggests that Neil is a modern-day cupid, as anyone who comes in contact with him just wants to keep running … and volunteering … and donating.
Let's share some facts about our special Valentine.
In Neil's 28-plus years in Flagstaff, he consistently creates community, establishes fun running opportunities, shares knowledge and spearheads efforts to give back. Serving as its director sans paycheck, NATRA has been Neil's labor of love for more than 13 years. Rather than charge fees from community members, he personally coordinates all-weather weekly group trail runs in varying locales, plans social outings, manages the natra.org website, maintains the listserv, hosts Facebook pages, tweets, keeps a weekly Flagstaff Trail Running blog, networks endlessly, generates volunteers for myriad trail maintenance events, contributes regularly to High Country Running and encourages many to be active in campaigns that support land conservation and preservation.
Neil has also been at the helm of the increasingly popular Run Flagstaff Summer Running Series for the past decade, spending many summer Saturdays organizing and assisting at races plus taking and disseminating thousands of candid pictures. Behind the scenes, he dedicates unfathomable hours to coordinating volunteers, seeking sponsors, securing permits, answering emails, responding to phone calls, publishing race calendars and assuring that insurance, port-a-johns, traffic safety barricades, race bibs, high-tech shirts, raffle items, refreshments, awards and professional electronic finish-line timing are at each race. These events are the most important fundraisers of the year for the charities that host them. Neil leads the charge.
Moreover, Neil serves as an unpaid race director for the Big Brothers Big Sisters of Flagstaff Dave McKay Memorial Half Marathon and the Jacqueline Renee Weintraub Memorial Soulstice Mountain Trail Run (named for his amazing mother, Jackie, who passed away last year). As the number of participants and level of competition continue to rise, coordination becomes more intensive. Many times, Neil is out marking courses late into the night or taking care of last minute details the morning of, ensuring that everything is set so we can enjoy these beautiful community races.
Has anyone seen his wings? Well, somehow Neil makes these contributions on top of his daily commute to Williams, where he has been an archaeologist for the Kaibab National Forest for the past 25 years -- it would seem he has to fly. He is extraordinary. Whether he disguises his arrow as an atlatl or is an outright cupid is still under debate. However, we are certain that Neil has done a tremendous amount for this community, strictly from his heart. He epitomizes what loving one's community is all about.
Thank you, Neil Weintraub, for being such a glowing example of what it means to live for others.
Sara Wagner and Joanne Keene are members of the running community who have been shot by Neil's arrows many times and appreciate his wonderful efforts in making Flagstaff a better, happier place for all.
Myles Schrag is coordinating editor for High Country Running. He welcomes submissions (500-word maximum) about any aspect of the local running scene. You can reach him at myless@hkusa.com.
Be the first to know
Get local news delivered to your inbox!