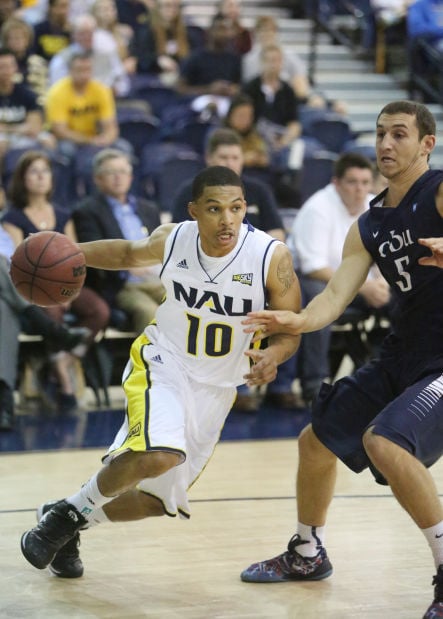 Northern Arizona point guard Jaleni Neely is out for the remainder of the season after being ruled academically ineligible.
The junior college transfer from Eastern Utah last played on Dec. 21 at Hampton, scoring 17 points, five rebounds and four assists in 35 minutes. Neely started nine of the 12 games he played this season, averaging 7.9 points, 2.8 assists and 2.8 rebounds in his first year for the Lumberjacks.
His arrival had given the Lumberjacks a natural point guard alongside sophomore Kris Yanku and senior Aaseem Dixon. Northern Arizona had played all three together on the court at times, with the newfound depth at point guard giving them the option of moving Yanku out of a ball handling role.
Yanku started at point guard against San Diego Christian when Dixon was out sick and both started Thursday against Sacramento State with Gaellan Bewernick coming off the bench.
Neely's absence, coupled with sophomore Chris Miller's decision to transfer from the school, leaves the Lumberjacks thin in the backcourt as they were a year ago when DeWayne Russell transferred just before the season started. Northern Arizona essentially returns to the same group it relied on during last season, with Dixon and Yanku back running the point and seniors Quinton Upshur and Bewernick on the wing.
The absence also opens up playing time for Tate de Laveaga in the backcourt. The freshman played 21 minutes and scored eight points in the blowout of San Diego Christian, but played just two minutes against Sacramento State as the Lumberjacks essentially stuck to a seven-man rotation.
Miller's decision to transfer came before Neely's status became clear. The sophomore played in just four games this season, logging 16 minutes, and found himself behind a handful of players in the guard rotation. As a freshman, the Peoria native played in 21 games with 2.3 points per game. His departure leaves Yanku and Ako Kaluna as the only two high school players left from the 2012-13 recruiting class.
The Lumberjacks had previously filled their scholarships due to open up this summer, signing guards Michael Green, Majestic Tejada and Bryant Searcy out of Florida along with forwards Brady Twombly from California and Tejada's high school teammate Corey Brown. Miller's departure gives Northern Arizona one scholarship open.
Northern Arizona (5-9, 0-1 Big Sky) plays at Portland State (7-4, 1-0 Big Sky) today at 8 p.m. The game can be streamed at WatchBigSky.com and heard on 106.1 FM.