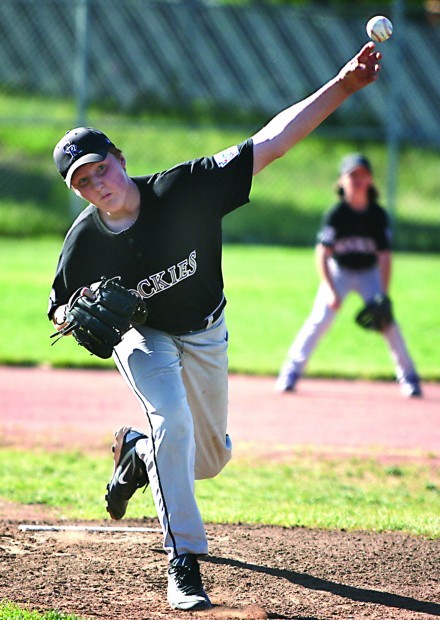 Rylee Snopek knew his team was winning and knew he hadn't given up any runs. But, that was it.
The tall left-hander had no idea he had a no-hitter going in the sixth and final inning.
With two outs in the sixth, Snopek, pitching for the Continental Little League Rockies, gave up a base hit to Will Aldridge of the Continental Rangers to break up his no-hitter, just one out shy of completing the game.
It didn't take away from his performance though.
Snopek still picked up a shutout, tossing all six innings and recording 14 of his 18 outs via the strikeout as the Rockies topped the Rangers, 4-0, in a semifinal matchup in the Flagstaff City Little League Tournament.
"I didn't know I had one going until after the game when I went to the outfield and the coaches told me," said Snopek, who also had two hits and a run scored in the win. "It was a lot of fun. I was just trying to stay focused and I just kept throwing my fastball."
Added Rockies coach Bob Snopek: "He's gotten to that point where he is very tough to hit. He's worked very hard at being a good pitcher and he likes pitching in these big games. He was a lot of fun to watch tonight."
The Rockies will face the Flagstaff Mets in the championship game Saturday afternoon at 2 p.m. at the Flagstaff Little League park.
The Rockies got Snopek an early lead in the first inning when Daniel Langston hit an RBI groundout to score lead-off hitter Turner Gasperone, who singled and made his way to third base with some aggressive baserunning.
Two innings later, the Rockies tacked on another run when Gasperone scored again, this time on a passed ball.
"Turner was a quintessential lead-off hitter for us tonight," Bob Snopek said. "He's been doing that all year for us and again tonight. He was huge."
The Rockies added two more runs in the sixth inning when Todd Furr scored on a single by Stephon Lane and Snopek scored on an error.
"We got big hits from everybody in our lineup today it seemed like," Bob Snopek said. "We have the ability to do that where everyone hits and backs up our pitcher like we did tonight for Rylee."
Lost in Rylee Snopek's dominant performance on the mound was the opposing pitcher's effort, the Rangers' Avery Weems.
Weems, also a left-hander, tossed a complete game, striking out 11 in the loss.
"Both guys were really rolling out there," Rangers coach Denny Teach said. "They both threw complete games and went right at each other. Avery has been fighting for us all season long, so it wasn't a surprise to see it again."
The Rangers went 24-0 last season and captured the city championship, but won't get that opportunity this year, finishing the season with just three losses.
"I'm very proud of these kids," Teach said. "It's the scrappiest group of kids I've ever been around. It was a fun year for all of us."
For the Rockies, Gasperone finished 2-for-3 with two runs scored and Lane also added two hits, going 2-for-3 with a double and an RBI.
Asked after the game if his team would be ready for the championship game, Bob Snopek didn't hesitate.
"They better be," the coach said laughing. "We've been getting good pitching and solid hitting all year long and we just have to do it again on Saturday. This is a really good team we have."