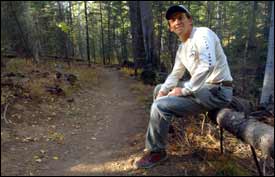 One of Flagstaff's most popular trail races has been caught in the middle of a legal spat between environmentalists and the U.S. Forest Service.
As a result, the Soulstice Mountain Trail Race will be forced off the Sunset Trail this Saturday and staged at the Flagstaff Nordic Center.
It's a comedown of sorts — the elevation is about 1,000 feet lower. But at least the event is still on, unlike the thousands of other events on national forest lands nationwide — even weddings and movies (see related story) — that have been canceled.
The reason? Environmentalists accused the Forest Service of doing forest thinning, road-building and other "ground-disturbing" projects without public comment as required by law. A federal judge agreed, and the Forest Service has complied by putting even minor projects and events under the 30-day comment rule before issuing a permit.
Environmental groups, according to published reports, charge the Forest Service with deliberately going far beyond the intent of the July 7 ruling to create an administrative "train wreck" that will undermine the decision on appeal.
But the Forest Service, which has pulled 87 permits in Arizona and 1,400 across the country issued after July 7, contends it has no choice.
"We were surprised (by the ruling)," said Jim Payne, regional media officer for the Forest Service. "Most of these projects we feel are good projects on the ground that will benefit the communities and the land in the long run. It's a bit discouraging."
As for the Soulstice Run, the change of venue might turn out to be a blessing in disguise.
"The logistics of this are a lot easier than if we were holding the race at Sunset." said race organizer Neil Weintraub. "We don't have to haul water to the top of (the Nordic Center)."
Andrew Johnson is the outdoor recreation planner for the Peaks and Mormon Lake Ranger districts. He helped Weintraub get a permit for this year's race, which was capped at 200 runners.
Johnson said the race was considered a "non ground-disturbing activity" and met the original exclusion under federal environmental review rules.
"Now we have to suspend his (Weintraub's) permit until we conduct a public comment period," Johnson said.
That won't happen this year. Wendell Johnson, owner and manager of the Flagstaff Nordic Center, has agreed to host Soulstice this Saturday. The Nordic Center holds a Forest Service permit allowing the facility to hold summer and winter activities. And because that permit was issued last year, the judge's decision doesn't affect it.
That makes Neil Weintraub incredibly happy. Soulstice gets to happen, just in a different venue. There will be a 6-mile short course that cuts through aspen groves and a challenging 10-mile course that hits elevations over 8,000 feet.
"Wendell Johnson has been so accommodating," Weintraub said. "It's been amazing."
There's a sense of relief among local runners that Soulstice will still happen this year. Some are disappointed it won't happen in its traditional location. But longtime runners such as David Blanchard say maybe it's time for a change in venue.
"After this year, we might consider always running it at the Nordic Center since we will be familiar with the course" said Blanchard.
Still there's a certain attraction to holding the race at Sunset trail, which starts at 7,200 feet in elevation and climbs to 9,000.
"The Sunset trail course is absolutely outstanding, with big climbs, dramatic views and narrow single track" explained Blanchard.
While Soulstice carries on as planned, the U.S. Forest Service is currently working with the Department of Justice to seek a stay on the ruling pending appeal.