For Northern Arizona University's researchers, progress means exploring further, developing solutions to bigger challenges and inventing more cutting-edge technologies than ever—all while sharing the excitement of discovery with our students.
Our core research strengths continue to flourish, led by world-class faculty who are uniquely qualified to carry out this important work. The environmental research we specialize in—ecosystem science, climate science, forestry and sustainability—evolved from scientific curiosity about our home here on the Colorado Plateau. With roots in a Dark Sky City, NAU's mastery of astronomy and planetary science has also thrived. And NAU researchers remain dedicated to the health and well-being of the diverse communities of the Southwest through pathogen science and health equity research.
Recently, we have invested in several new areas of research that enhance our core and help us grow as national leaders—bio-informatics, eco-informatics, data science, bioengineering and materials science.
Our research supports our missions in educational success, workforce development, economic development and societal benefit through experiential learning, high-impact degrees and solutions, and by providing leading-edge research experiences that prepare the next generation of Arizona's citizens to join the workforce of the future.
Doubling down on COVID-19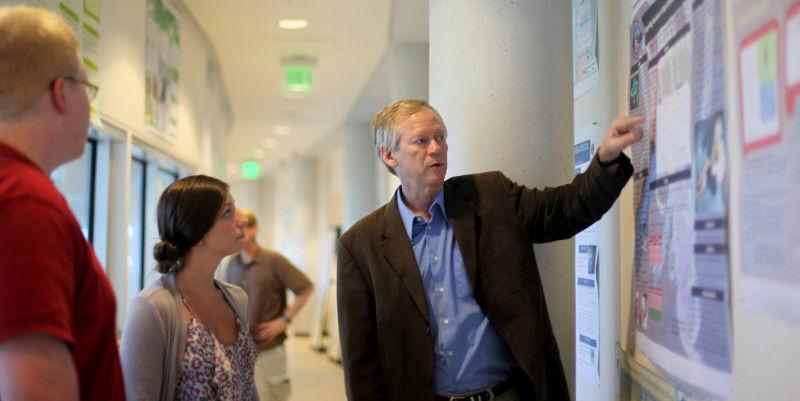 "The COVID-19 pandemic has profoundly impacted the wellbeing of our state, and just as the vaccines to end it have arrived, we face a new challenge: SARS CoV-2 variants that transmit at higher rates, have higher mortality rate and evade immunity," said Regents' Professor Paul Keim, executive director of NAU's Pathogen and Microbiome Institute (PMI). "These Variants of Concern (VoCs), such as the UK variant, South Africa variant and Brazil variant, have emerged and may not be detected by currently available diagnostic tests."
Keim's team, Bridget Barker, Greg Caporaso, Todd French, Crystal Hepp, Jason Ladner and Jason Sahl, are working with collaborators at ASU, UA and TGen, as well as with public health professionals, to investigate the immunology of these variants among Arizonans. With $3 million in funding from the state's Technology and Research Innovation Fund, the universities will form the Arizona Collaborative COVID Consortium (AC3) to study the role of VoCs in evading the immune system, vaccinations and spread of the disease. The AC3  members will share their expertise, resources and data to understand the biology of VoCs and provide mitigating strategies to officials.
The team will monitor SARS-CoV-2 variants in public databases to understand the global and national context for Arizona variants; continue to partner with TGen North to increase capacity to sequence SARS-CoV-2 genomes from clinical specimens; sample wastewater for SARS-CoV-2 virus and generate genomic sequences to identify and monitor VoCs; and establish a SARS-CoV-2 BioBank for VoCs to facilitate subsequent experiments with anti-COVID drugs, diagnostics and animal models.
"It is critically important to track VoCs in Arizona to assess the pandemic risk," Keim said. "This work will help us better understand these variants in order to inform public health strategies, diagnostics and vaccine development."
Addressing health disparities through research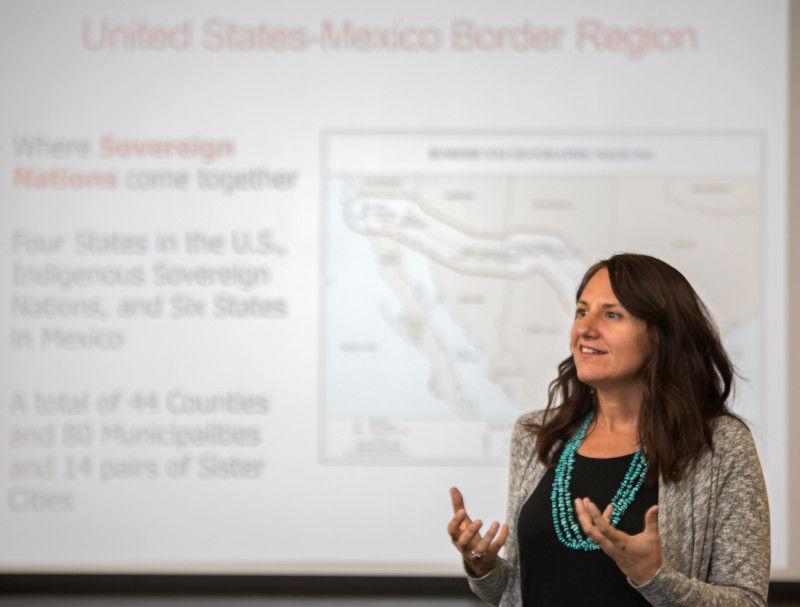 Led by Regents' Professor Julie Baldwin, researchers in NAU's Center for Health Equity Research—Samantha Sabo, Nicolette Teufel-Shone, Naomi Lee, Linnea Evans, Amanda Pollitt, Heather Williamson and Joseph Mihaljevic—are collaborating with teams from ASU, UA and Mayo Clinic in Scottsdale as part of the Community Engagement Alliance Against COVID-19 Disparities. The goal of this initiative, funded by the National Institutes of Health, is to increase awareness and education among communities in Arizona disproportionately affected by COVID-19 and to reduce misinformation and mistrust.
Harnessing data science to secure supply chains
The pandemic has shown how crucial effective management of supply chains is to modern society. The disruption of national food, energy and water supplies jeopardizes the lives and livelihoods of our citizens.
Led by professor Ben Ruddell of NAU's School of Informatics, Computing and Cyber Systems (SICCS), and in collaboration with environmental scientists, a team is developing algorithms to map, analyze and extract information from publicly available datasets describing the production, consumption and flow of food, energy and water. The FEWSION project will provide invaluable information to city planners, economic planners and emergency managers.
Driving new discoveries in space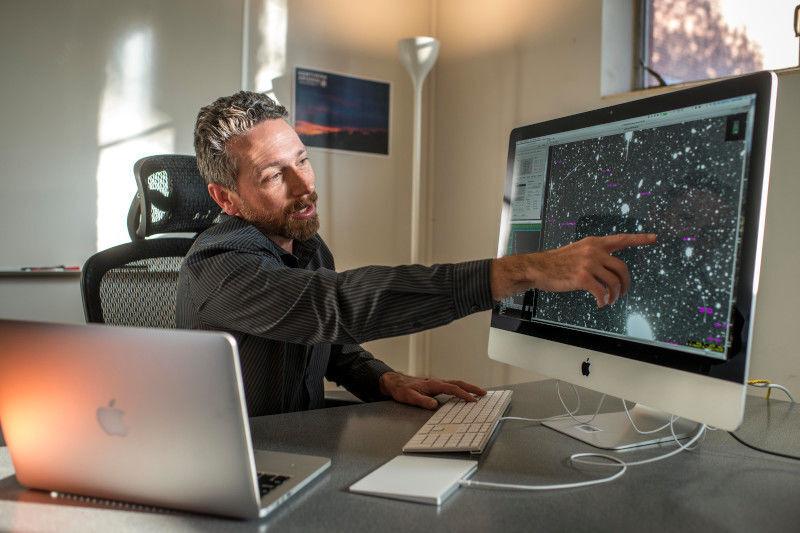 Building on Lowell Observatory's impressive legacy of discovery, NAU astronomers continue to explore planetary bodies. Associate professor Chad Trujillo is on a team that discovered a planetoid, nicknamed "Farfarout," almost four times farther from the Sun than Pluto—the most distant object ever observed in our solar system. Trujillo, awarded the prestigious international Farinella Prize in 2019, has discovered or co-discovered 54 minor planets. The team continues its ongoing search for the elusive giant Planet X, believed to be on the edge of the solar system. 
Revolutionizing eco-informatics research
Led by SICCS professor Scott Goetz, NAU is revolutionizing research in the field of eco-informatics through NASA's Global Ecosystem Dynamics Investigation (GEDI). GEDI uses lidar (light detection and ranging) to capture high-resolution profiles of forest stems, branches and foliage across the Earth from its vantage point on the International Space Station (ISS). Along with research in forestry and ecology, this data will inform sustainable development goals and forest management practices worldwide.
Goetz' team—Pat Burns, Patrick Jantz, Camillo Fagua, Zaneta Kaszta and Chris Hakkenberg—are analyzing GEDI data to assess the three-dimensional structure of the earth's temperate and tropical forests. Goetz, Burns and Jantz were selected by NASA to be part of another GEDI project to use the canopy structure data in animal species distribution models. Goetz is also part of a project led by assistant professor Chris Doughty and professor George Koch to use GEDI data to improve estimates of the tallest biomass forests in the world.
"GEDI has operated flawlessly since its launch in 2018, and we expect NASA will extend the mission for another two years," Goetz said. "Ultimately, GEDI will collect more than 20 billion samples of forest structure and underlying ground surface topography."
Commercializing robotic device
NAU assistant professor Zach Lerner recently launched BiOMOTUM with industry expert Ray Browning. Based on Lerner's bioengineering research and patent-pending technologies he invented to improve mobility in children with cerebral palsy, the company is quickly becoming the university's most successful commercial spin-off.
"Commercializing this technology is a great way to have an impact," Lerner said. BiOMOTUM's first prototype product is a robotic ankle assist device that provides on-demand gait training and is designed to grow with the child into adulthood, an innovation that meets a specific market need for pediatric mobility aids.