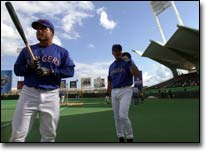 SAN JUAN, Puerto Rico (AP) — Carlos Delgado is having so much fun preparing for the major league opener in his homeland that he can't stop smiling.
Fellow Puerto Rican Ivan Rodriguez has been so busy that his eyes are red and his voice is hoarse.
Almost overshadowed by it all is Alex Rodriguez, the most talked about player of the offseason. And the $252 million shortstop is appreciating his relative anonymity while it lasts.
"I know Pudge hasn't slept too much, I know he's tired," Alex Rodriguez said Saturday as his Texas Rangers prepared to play Delgado's Toronto Blue Jays on Sunday. "I'm kind of glad they're getting all the promotion down here. I'm really enjoying that part of it."
This is the third straight year major league baseball has taken its first game away from traditional sites. San Diego and Colorado opened the 1999 season in Monterrey, Mexico, and the Cubs and Mets played two games in Tokyo last season.
The locals on this baseball-loving island are extremely excited to be the hosts this time. They also know how to enjoy themselves at games, which should make for a carnival-like atmosphere at Hiram Bithorn Stadium.
"I've played many games in that stadium, but this is going to be a little bit sweeter," Delgado said. "I'm so happy I'm a part of it. I'm going to enjoy every moment."
Although a Texas-Toronto exhibition game Saturday night wasn't sold out, the mood was festive long before the first pitch. There were so many pregame events that the start was delayed 33 minutes.
Then Delgado and Ivan Rodriguez gave fans even more to cheer with home runs in a game filled with long balls. There were eight in the first four innings, all by Latin players, including two by Ivan Rodriguez.
Toronto's Raul Mondesi started it in the first, then Rodriguez, Ruben Mateo and Rafael Palmeiro answered for Texas in the second. Delgado homered to lead off the third, Alex Gonzalez hit a grand slam in the fourth and Luis Lopez a solo shot to tie the game at 8. Rodriguez's second homer made it 10-8.
Homers were expected in a park where its 315 feet down the line in left and 313 in right.
But most of the balls went to the left-center gap, between the 339-foot marker and the 398-foot sign in center. None took advantage of the wind gusts that often carry balls out to right.
The opener will be especially memorable for Buck Martinez, who will be making his managerial debut for Toronto in a stadium where his playing career got a huge boost in winter ball in 1970.
"The passion you sense in the stands is something you don't see on a regular basis in the major leagues," he said. "This is very special for our team, for Puerto Rico and for all baseball fans. This is a very important venue for us all. This is a big show for baseball."
Alex Rodriguez, whose contract has made him a big show wherever he goes, is happy to be only a piece of the action rather than the focus — which will come soon enough.
"This is a beautiful place. I'm overwhelmed by the love of the game in Puerto Rico. It's almost like a religion. To me, it would be a dream to do this one day in the Dominican Republic," said Rodriguez, whose roots are in that part of Latin America.
The city of San Juan and MLB have poured hundreds of thousands of dollars into upgrading the stadium, which is named after Puerto Rico's first major leaguer. Bithorn was a pitcher who broke in with the Cubs in 1942, five years before Jackie Robinson's debut.
Hall of Famer Roberto Clemente is Puerto Rico's most famous baseball product. An advertising poster around the stadium shows him walking alone on a field with the catchphrase, "Bienvenido a casa" — or, "Welcome home."
Vera Clemente, his widow, and Orlando Cepeda, another Hall of Famer from the island, will throw out the first pitch. They'll then turn over the mound to Texas' Rick Helling (16-13, 4.48 ERA last season) and Toronto's Esteban Loaiza (10-13, 4.56).
Despite the excitement, Delgado said he's looking forward to the game starting so he can forget where he is and concentrate on what he does best. Coming off a season in which he made a run at the Triple Crown, he has a modest goal for the opener.