About three weeks have passed since Ice on Fire premiered on HBO and a little more than a month since its debut at the 2019 Cannes Film Festival. For Harun Mehmedinović, its reception has been a pleasant surprise, one that proves the documentary may very well have achieved what it set out to do.
"I was really happy because we didn't know how things were going to be, and the movie exploded out of the gate. That's the whole idea is how to get as many people to see it, that [the climate situation] is not all doom and gloom and see what's happeningthat it'll take everybody's participation," Mehmedinović, who served as both cinematographer and co-producer for Ice on Fire, says.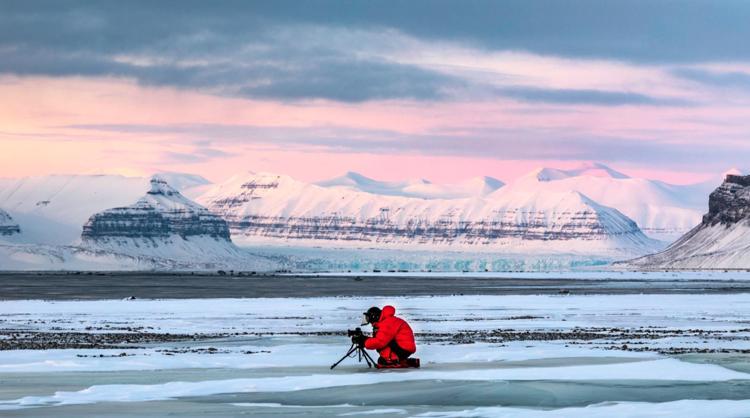 The feature documentary, an amalgam of striking footage from the furthest and most changed reaches of Earth, was directed by Leila Conners and produced by actor Leonardo DiCaprio, who also judiciously and rather unobtrusively narrates the film. The same duo was behind 2007 film The 11th Hour—their first look at global warming. A decade later they joined forces again, less to explore the not-so-distant future and more to parse the already altered present. Through expert testimony from biologists, climatologists, foresters, ranchers, geophysicists and firefighters, Ice on Fire explores anomaly turned reality, revealing a world that doesn't quite seem possible, but is—with permafrost lakes melting, their sequestered methane bubbling to the surface so that the ice becomes aflame with the single touch of a torch. 
We hear DiCaprio's voice only when the film needs anchoring: "Over the last 250 years we have in effect conducted the largest science experiment in history. Since the advent of the industrial revolution we have burned over 1.4 trillion tons of carbon into the atmosphere. It has changed life on Earth as we know it, especially in the Arctic."
So begins Ice on Fire, bestrewn by Mehmedinović's wide and sweeping shots of a blue Arctic—disintegrating ice sheets and a rising sea in crisp high definition. It took the Northern Arizona University professor two years to gather all the shots, which brought him to 10 countries, often alone.
Although the film didn't differ from other projects so much in terms of production, spending large amounts of time in the Arctic was new for him, he says.
Throughout Mehmedinović's career, movies with a historical, nonfiction bent have been the focal point. From his first feature In the Name of the Son, which is based on stories from the Bosnian War as recounted by his acquaintances, to regular contributions to BBC Earth and National Geographic. That's how the cinematographer landed his role for Ice on Fire, through this aptitude for visually relaying climate change and landscape alike.
"It's personal interest, too," he says. "I feel that filmmaking is linked to climate observation. Climate change is the most important thing we're facing. Everything else is very secondary and somewhat of an indulgence I think, where the environment is an absolute necessity. Not doing it because it's going to make you famous but doing it because you care."
Drones are oft used throughout the documentary, imperative to capturing landscapes that are inaccessible on foot as well as lending scale. Time lapse, too is an aesthetic staple of sorts within the cinematographer's own style. Minutes, hours and days-worth of footage become a speedy pull of ice pulsing, breaking apart and becoming water; of clouds passing overhead with urgency as we rapidly accelerate toward the unimaginable.
Inherent to Ice on Fire is a refusal to sugarcoat the situation. The documentary makes use of hard science, data collected over years, empirical evidence as Mehmedinović's shots pair the facts with visual beauty and its calamity. His shots are layered with hard immutable facts, graphs, artistic renderings of possible disasters.
"Those are necessary because there was going to be certain section of the public that wouldn't be understanding all this science. It also wouldn't be organic to show it without the places they're talking about; it would be detaching you from the landscape," he says.
While the evidence is damning, and the topic of climate change not the kind of thing that's easy to stomach, Mehmedinović says he came out of the project more optimistic than when he went in. That's in part because Ice on Fire paints possible solutions, tiny reversals of the irreversible effects of the Holocene period. The documentary explores methods like drawdown: using Redwood forests to capture carbon in trees; Biochar: to be used as carbon-trapping soil, kelp as a possible alternative feed source for cows; the list goes on.
"We met all these scientists that, no matter how bad the data is for them, they're always positive even when it's long odds, and they go out there day after day finding ways we can still make it up. These people that are on the frontlines they're not these defeated party poopers they actually really think that things can be different. We as filmmakers adapted to that mentality," he says.