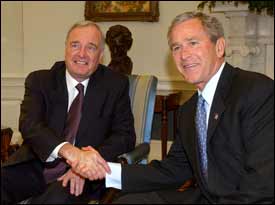 MONTREAL (AP) — Measured by shared boundaries and trade, no foreign country has a larger stake in the U.S. presidential election than Canada. Its citizens, by an overwhelming margin, hope for President Bush's defeat, but its government — unsure of the Nov. 2 outcome — is trying to keep bilateral tensions from escalating.
Many Canadians have intently followed the campaign, watching the TV debates and writing impassioned letters to newspapers. Two recent polls showed Democrat John Kerry favored by more than 2-to-1 across Canada; in French-speaking Quebec, Bush's support was only 11 percent.
Bush's decision to invade Iraq has been a major factor. After the invasion last year, Montreal Canadiens fans began booing during the U.S. national anthem, and anti-war protesters even jeered a Massachusetts youth hockey team at a tournament.
"Canadians have become leading Bushophobes," said Gil Troy, a New York City native who teaches history at Montreal's McGill University. "The fundamental U.S.-Canada relationship remains incredibly strong. … but there's an extreme demonization of Bush, a notion of him as an uncultured cowboy."
The unpredictability of the election, and the pervasive anti-Bush sentiment, present the Canadian government with delicate challenges as it works to maintain constructive relations with its far more powerful neighbor.
On one hand, the Liberal Party government disappointed the White House by refusing to send troops to Iraq. The world's largest trading partners also are feuding over Canadian lumber exports and a U.S. ban on Canadian cattle imposed last year because of fears of mad cow disease.
On the other hand, Prime Minister Paul Martin has pledged repeatedly to improve ties with the United States — which deteriorated under his predecessor, Jean Chretien. Martin's government has worked closely with U.S. officials on border security and has irked left-wing opposition parties by negotiating on a partnership in the United States' new continental missile defense program.
Though a final decision on joining the missile program has not been made, Defense Minister Bill Graham clearly favors a Canadian role — regardless of whether Bush is re-elected.
"It's not about American domestic politics. It's about North American security," Graham told the Ottawa Citizen. "Whether it's Republican or Democrat down there, we want them to look us in the eye and say, 'We're your partner'."
Both Kerry and Bush support the idea of a new missile defense system, but Kerry says he would proceed more slowly with its development.
Martin and Graham have not set a timetable for their missile defense decision; they have promised to allow a nonbinding vote in the House of Commons, where the Liberals lack an outright majority.
The left-of-center opposition parties — the New Democrats and separatist Bloc Quebecois — have denounced Martin for even considering a role in the program.
"Canada shouldn't reward George Bush's choice to tear up an arms control treaty that prevented Star Wars development," said New Democrat leader Jack Layton.
Even some Liberals oppose Canadian engagement in the program. Toronto-area lawmaker Carolyn Parrish said at a protest rally in August: "We are not joining the coalition of the idiots. We should be joining the coalition of the wise."
The Conservatives, Parliament's largest opposition group, tentatively favor Canadian participation in the missile program, believing that opting out would jeopardize NORAD — the U.S.-Canadian North American Air Defense command.
"There's an old strain of anti-Americanism that runs through an element of the Canadian political culture," said Jason Kenney, a Parliament member who is Conservative spokesman on U.S.-Canadian relations.
"It's always a bit of a dance," he said. "But most sober-minded Canadians realize we have to work with whatever U.S. administration is in power."
Pierre Martin, a University of Montreal political science professor, said the Liberal government is taking a pragmatic approach, perhaps sensing that complications will persist — notably in trade disputes — even if Kerry is elected.
Martin said many Canadians dislike Bush because of their perception that he is too beholden to conservative Christians and too willing to mix religion with politics. In Canada, religious groups have relatively little political influence, abortion is less controversial than in the United States, and gay marriage is on the way to becoming legal nationwide.
The most recent Canadian poll about the U.S. election, published last week in Montreal's La Presse, reflected deep unease over Bush's foreign policies, but also highlighted the dilemma of America's northern neighbor. A resounding 95 percent of the Canadians surveyed said it is important to maintain good relations with the United States.
At the White House and State Department, questions about Bush's low standing in Canadian polls were politely deflected. The administration's official line is that bilateral relations are good, the trade disputes are difficult but solvable, and Canada must make its own decision regarding the missile defense program.
"There are some issues where we have disagreed in the past, and some where we continue to disagree," Assistant Secretary of State Roger Noriega said in a recent speech. "It isn't always easy, but the relationship, I believe, remains strong."