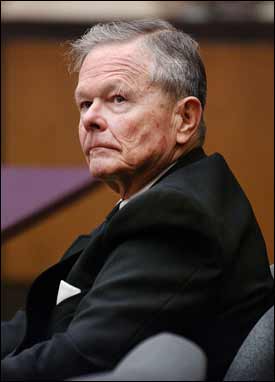 BOSTON — Former priest John Geoghan, a convicted child molester at the center of the sex abuse scandal that shook the Catholic church nationwide, died after apparently being strangled by a fellow inmate convicted of murder, authorities said.
Geoghan, 68, was attacked just before noon Saturday by Joseph L. Druce, 37, said Worcester District Attorney John J. Conte. Geoghan died at 1:17 p.m., shortly after he was taken to UMass Memorial Health Alliance, Leominster Campus, Conte said
Preliminary indications are that Geoghan was strangled, Conte said. An autopsy will be conducted Monday.
Druce, who received a life sentence in 1989 for murder, armed robbery and other counts, was placed in isolation and will face murder charges in Geoghan's death, Conte said. In 2001, Druce was charged with mailing a threatening letter containing white powder and indicating it was contaminated with anthrax.
The incident happened at Souza-Baranowski Correction Center, about 30 miles northwest of Boston, Department of Correction spokeswoman Kelly Nantel said. Geoghan was being held in protective custody to shield him from the general prison population, but he still had some contact with other inmates who were also in protective custody.
In civil lawsuits, more than 130 people have claimed Geoghan sexually abused them as children during his three decades as a priest at Boston-area parishes. He was convicted last year of indecent assault and battery for fondling a 10-year-old boy at a swimming pool. Prosecutors couldn't bring charges in other cases because the statute of limitations had expired.
Mitchell Garabedian, an attorney for many Geoghan victims, said he was "surprised and shocked" by Geoghan's death.
"Many of my clients would have rather seen Father Geoghan serve out his time in jail and endure the rigors of further criminal trials, so that his pedophile acts could have been exposed further," he said.
Geoghan often targeted boys from broken homes, ingratiating himself during frequent visits or fun outings. One victim said Geoghan molested him as the two were driving home from getting an ice cream cone. Others said Geoghan molested them after visiting their rooms at bedtime to tuck them in, sometimes while whispering prayers.
The church abuse scandal, which has had repercussions worldwide, broke in early 2002 with revelations that the Boston archdiocese had shuttled Geoghan from parish to parish despite warnings about his behavior.
The scandal mushroomed after a judge ordered the release of archdiocese files involving dozens of priests, showing repeated examples of the archdiocese shipping priests to different parishes when allegations arose.
Soon, dioceses and bishops across the country came under scrutiny for their handling of abuse allegations over the years, with the church tainted by scandal in many states. With the public outcry reaching a new crescendo, the bishops adopted a toughened policy against sex abuse and more than 325 priests of the roughly 46,000 American clergy were either dismissed or resigned from their duties in the year after the Geoghan case.
David Clohessy, national director of the Chicago-based Survivors Network of those Abused by Priests, said what made Geoghan's case more "than just a single case about a single predator" was that it revealed the corruption in the church.
"In many respects, Geoghan is not the pivotal figure, it's the people who he wounded and still came forward and the bishops who enabled him but were finally exposed," he said.
The Rev. Christopher Coyne, a spokesman for the Archdiocese of Boston, offered prayers for Geoghan's family.
"Upon hearing the news of the tragic death of John Geoghan, the Archdiocese of Boston offers prayer for the repose of John's soul, and extends its prayers in consolation to his beloved sister, Kathy, at this time of personal loss," he said.
Geoghan was defrocked in 1998 at Cardinal Bernard Law's urging. Law stepped down as archbishop of the Boston Archdiocese in December, 11 months after the release of Geoghan's files.
Geoghan was convicted in January 2002 for grabbing the buttocks of a 10-year-old boy in 1991. He was sentenced to nine to 10 years in prison.
In September 2002, the archdiocese settled with 86 Geoghan victims for $10 million, after pulling out of an earlier settlement of about $30 million.
One of those victims, Ralph DelVecchio, said Geoghan deserved prison but didn't deserve to be killed.
"I wouldn't say he deserved to die, you know?" DelVecchio said. "He was in jail — that's where I believed he should be."
DelVecchio said he didn't wish ill on Geoghan.
"It's over with," he said.
A recent report by state Attorney General Thomas Reilly estimated that more than 1,000 children were abused by priests in the Boston archdiocese in the last 60 years. The Boston Archdiocese has offered $65 million to settle cases filed by more than 540 alleged victims.
On Saturday, the archdiocese announced that four priests had taken voluntary leaves of absence in response to allegations of sexual misconduct with minors. The church had asked the priests to step aside until the alleged incidents — all said to have occurred decades ago — are investigated and resolved.