It was a hot day and I was wearing a light day pack, carrying mostly water. I had been down into the Horn Creek area before and felt I could follow the scant details in Harvey Butchart's book, Grand Canyon Treks, that would get me to the river.
I descended a steep slope full of crumbly Vishnu schist until at last I reached the river … except I didn't really. I was still about 20 feet above the water and there was no discernible way through the cliff barrier that flanked the river. So I turned around and hiked some nine miles back to the South Rim.
Fast-forward 37 years and I am about to make another try for this route. My interest has been rekindled by two things: I have gotten a copy of the first detailed map made of the canyon, which shows a trail through here to the river, and a couple of years ago a local hiker wrote up a short report of his grueling day hike over this route where he ended up at a small beach on the Colorado River.
Long gone are the days when I could do this as a day hike from the rim. I need to be camped much closer in order to make this work – two nights at Horn Creek would be ideal. Then I can day hike this route from my camp.
After three years of trying I was finally able to get this itinerary for the last weekend in October. There are two sweet spots for hiking in the Grand Canyon – October and March – and winning a prized permit during these times is cause for much elation.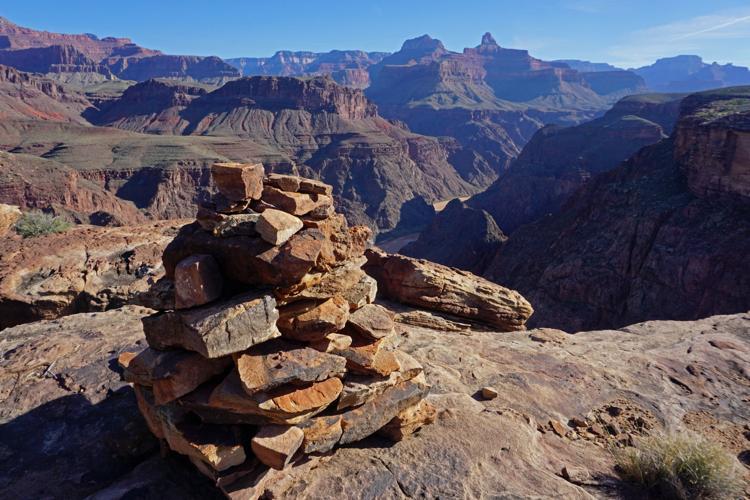 Accompanying me on this hike was longtime hiking companion John Eastwood. We left Flagstaff in mid-morning and lucked out in finding a parking spot in the ever-shrinking lot in front of the Bright Angel Lodge. We were on the Bright Angel Trail a bit before 11 a.m. on a day where the high temperature at the river was expected to be close to 90 degrees. But it is autumn, the sun is lower in the southern sky and most of our hiking would be on shaded north-facing terrain.
To add to our enjoyment of this hike, John brought along copies of some pages from the book Hiking The Grand Canyon's Geology so that we could note some features along this trail. Two that especially stood out for us were the Coconino-filled cracks in the Hermit shale formation and the brief appearance of the Temple Butte limestone below the Redwall. By 1:30 p.m. we had covered the 4.8 miles to Indian Garden, where we had lunch and filled up with water before continuing on our way. From here it is another 2.5 miles to Horn Creek.
We hadn't seen too many hikers on the trail. Quite a few that we did see were doing a day hike to the south rim from the north rim, which is most popular at this time of year. Once we left Indian Garden and started on the Tonto Trail, we met only one other hiker on our way to Horn Creek. We wouldn't meet anyone else until two days later when we got back close to Indian Garden.
We arrived at Horn Creek at 3 p.m. with plenty of time to set up our camp. This part of the canyon has designated camping sites for use, and there is only one at Horn. In years past there were warning signs here about uranium contamination of the water, but none here now. Still, on my hiking permit there is a rather nuanced warning about the water. But I have done some research on this and was quite comfortable drinking the slight flow of water that we found trickling down the bed.
At this time of year it is light for only about 12 hours a day – from 6 a.m. until 6 p.m. On our second day we were up at 5:30 a.m. but it took us two hours to finally get on our way.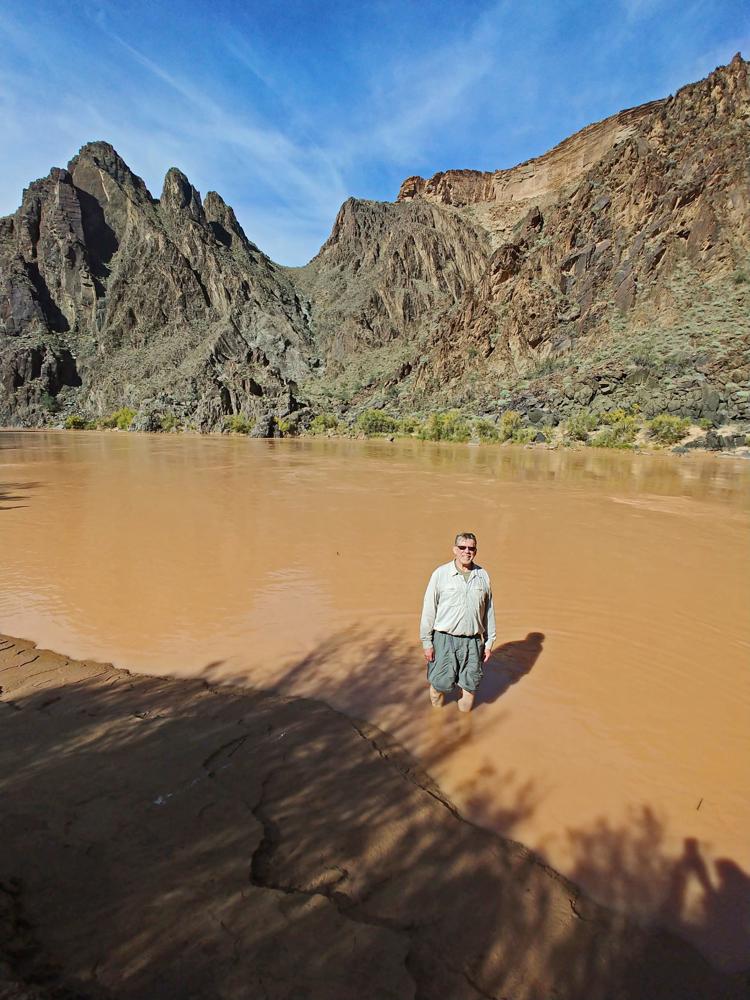 There are two branches of Horn and the campsite is on the east branch. The route begins by passing through the Tapeats cliffs in the west branch. The old map, published in 1906, shows trails that were passable with pack animals at that time. We were hopeful that with some careful study we might be able to still see some of this old trail. At the start of our descent, we found the best preserved section of this old constructed trail. It directed us down into Horn, but didn't last very long.
Once below the Tapeats cliffs and past the east branch there is a terrace on the east that has a path one can still follow, maintained today by the deer and perhaps the bighorn sheep. This will allow you to bypass a fall in the bed and to mostly avoid the thorny catclaw acacia that grows here.
This faint path comes back to the bed of Horn across from a high hill to the west, whose top is at the base of the Tapeats. We were able to locate a good route that angled up through the hillside that felt like it was the old trail. From here you must continue along a narrow slope that exists directly below the Tapeats. We followed a very faint trail here, sometimes aided by an occasional cairn. Often we would be somewhere in the middle of the slope, but sometimes we'd be right at the base of the cliff. Other times the route went low and I felt uncomfortably close to the cliffs that were below us.
At about 10 a.m. we rounded a corner and left the Horn drainage and were now flanking the Colorado River. What scant signs of an old trail that existed up to here would now completely disappear. It took us an hour to cross a large bay to the west, and when we were next at the base of the Tapeats we took a 45-minute lunch break.
According to the old map, we needed to go further west before descending through the steep broken Vishnu layer. It seemed far away and while we were quite sure that we'd get to the river, we were concerned about being able to get back out before dark.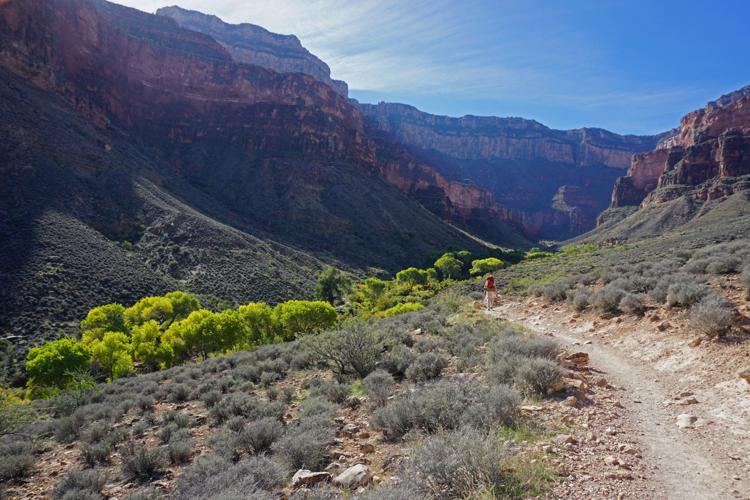 We decided to follow along the base of the cliff a short way to get a different perspective and in just a few minutes we saw a small beach down at the river. With some inspection it looked like we could work our way down here and not have to go further west. Our progress was slow, but after an hour we reached the beach. It was sunny and pleasant at the river, and we both waded out into the refreshingly cold water.
We kept our stay to a half hour and at 1:20 p.m. started back up the steep and crumbly slope. We found a more direct route that led to the base of the Tapeats where we had eaten our lunch. When we were about a third of the way up the slope we saw a river party float by. We yelled out to them, but I don't think they saw us.
We made good time on the return as we were now somewhat familiar with the route. We got back to our camp at 5:50 p.m. and 10 minutes later were fixing dinner with our headlamps on.
On our final day we were all packed up and on our way by 8:15 a.m. We made a detour to the rim of the Tonto Plateau, atop the Tapeats cliffs, to look at the river that is more than a thousand feet below us. We were back at Indian Garden before 11 a.m. We decided to wait and have lunch on the rim, so we hiked up the Bright Angel Trail without taking any long breaks. We reached the rim a bit past 1:30 p.m.
I can't imagine that this route down Horn Creek enjoyed much use even if at one time it was passable with burros. It is longer and harder than the Bright Angel Trail, which goes down to the river east of Indian Garden at Pipe Creek. Still, it was nice to tie up the loose ends of a hiking project begun almost 40 years ago.