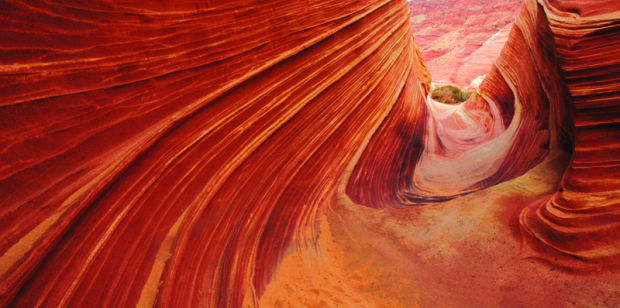 In the spring of 2003, I have a clear memory of setting off for the third of five different hikes I have made to The Wave in North Coyote Buttes, a rare sandstone formation on the Arizona-Utah border that has become popularized by countless photographs.
I remembered the most treacherous part of that journey came with piloting my Chevy Tracker across a more-rutted-than-usual House Rock Valley Road.
The grader had yet to make its seasonal pass down the 30-plus-mile backway, and the crossing of the mucky wash for Buckskin Gulch nearly trapped me.
I arrived pre-dawn at the trailhead and — with a knowledge of the route and topography from two previous visits — set off with two agendas: to spend time at The Wave and to wander the high-desert lands around it in search of new features.
I found a nice pace along the dry wash of Wire Pass, took the spur trail out toward North Coyote Buttes and reached the bluff and saddle that marked the point of route-finding.
Like all hikers, I was on my own for the last leg of the three-mile hike to locate The Wave.
It's hidden among the wild and complex jumble of slickrock, buttes, outcrops and sandy washes.
On this hike, I went up and over the saddle and I saw them: an older man and a middle-aged couple continuing straight on the other side of the saddle. They were headed in the wrong direction for The Wave. So, I called out for them.
The one guy looked over his shoulder, but they otherwise ignored me. I hurried down the sandstone slope and, when I cut the distance in half again, I yelled. They stopped.
"You're going the wrong way," I recalled saying as I pointed and caught my breath. "The Wave is in that direction."
"Not according to the GPS," the middle-aged man said. I guessed the woman to be his wife and the older man to be his father.
"Yeah, don't follow that," I said. "You need to stay higher up. If you go this way, it's going to be longer. The sand will be deeper. Why don't you just follow me? I've been there before."
The middle-aged man considered this. I could tell the notion of following the younger guy in Chaco sandals and scruffy beard did not appeal to him. But his wife gave him that don't-be-foolish look.
"Alright," he said. Although they gave me a good distance ahead — as if not really following me — they stayed behind and ended up at The Wave. Had they continued in their previous direction, they would have never reached it. Or they would have needed to backtrack or, as evidenced by recent events, something worse.
I remembered this story after reading about three different people dying while hiking out to The Wave in the past month. Most recently, a 27-year-old woman named Elisabeth Ann Bervel of Mesa died on July 22 while hiking to The Wave. She was with her husband on their fifth anniversary. They left their two young children behind with relatives.
A few weeks earlier, on Independence Day, retired couple Ulrich and Patricia Wahli of Campbell, Calif., were found dead in 106-degree heat. And in July 2011, a 30-year-old California man who spent much of a day at The Wave and tried to return after nightfall died after falling into a slot canyon.
These fatalities, though tragic, are not surprising to me. The hike to The Wave is surprisingly easy to get lost along during the route-finding section. It is concealed in the landscape. It is not something in plain view on the horizon. Hikers need to know where they are going.
And getting turned around one time in remote slickrock country — without its cairns and missing footprints on the stone — is enough to get a person lost.
The Wave is also challenged by its popularity. The Bureau of Land Management has limited the number of people that can visit it in a single day. But people clamor for the chance to see it and don't always make the best choices.
Last year, 48,264 people reportedly applied to visit The Wave, which has 7,300 permits available each year. Ten people a day get permits on online and 10 get them through a daily lottery held the day before in Kanab, 46 miles away from the hike.
The seemingly one-in-seven chance to see the formation are shakier odds than the primary years I visited.
This has created a scramble to grab a permit whenever available, even on 100-plus-degree days when the hike can be miserable — if not harrowing and potentially deadly. And in my experience, people with little hiking ability or background will go there because it has become a tourist attraction.
But they forget it is not Disneyland. It is backcountry wilderness.
It has been listed in many guidebooks and magazines as a "must-see." And I am guilty of making such claims. I have written up The Wave multiple times. And when I do, I search for the choicest modifiers and descriptions to try to capture the pure wonder of stepping into a natural geologic masterwork.
In an October 2006 article I wrote: "It's hallucination by sandstone. Ribbons of rock unfurl. It looks like layers of muscle. It feels like walking through a chamber of a giant heart, filleted open and bared to the sunlight. It is alive with movement."
Still, I watched a family of four, with a 16-ounce bottle of water between them, head out to The Wave on a late start on one of my hikes. I've also seen people in poor choices in footwear and clothing trying to make their way out there. I think they probably read about it in a magazine, saw the spectacular photos and needed to see it for themselves.
I continue my accolades for North Coyote Buttes and The Wave. I urge and suggest people visit the most stunning of intimate sandstone sculptures and ready themselves to be moved and altered. But I also encourage everyone to take precautions.
Try to make it, but don't obsess to make it in a way that leads to unwise choices. On a hot day, have a Plan B for the North Rim and a beautiful hike at 8,000-plus feet in the shade of an aspen grove. Survive to hike the desert again.
What: North Coyote Buttes and The Wave in the Paria Canyon-Vermilion Cliffs Wilderness Area
Where: Located along the Arizona-Utah border, about three hours from Flagstaff
Length: Six miles round trip.
Difficulty: Hard, as it is exposed with deep sand and route-finding is required. Consider using a guiding service, which are available through the BLM website.
Notes: This requires difficult-to-acquire permits through the Bureau of Land Management. But permits are available online four months in advance (by lottery) and on the day before from Kanab, Utah (also by lottery). Don't hike it in the high summer and have a Plan B hike in case of weather issues or not getting the permit.