Per April 4th column: "Venus-Pleiades embrace, -- " "the moon swings around Earth, and planets wander against the background stars," -- "every…
The sociologist Eric Klinenberg, in his 2018 book, Palaces for the People, defined social infrastructure as any place built by a community whe…
Mark Spencer writes to remind us that an ordinary flu season can cost the United States 61,000 lives. He thinks remembering this might remove …
The anti-Trump television media ridiculed Mike "My Pillow" Lindell's presidential welcome to join the battle against the virus to produce medi…
I was able to listen to the broadcast of President Trump last week when he was talking about hydroxychloroquine. Contrary to the AP article, h…
Mayor Coral Evans agrees with the governor about "...trying to prevent people from dying" yet entertains the idea of "wanting grocery stores t…
To don the mask or not? Wear a mask. Not only does wearing a mask decrease the transmission of our own respiratory droplets and thus protect o…
Flagstaff has always been an expensive place to live and wages have always been relatively low, hence the joke about "needing two jobs or two …
When it comes to the coronavirus, one thing appears to be clear: our experts at this point in time cannot be sure how the virus will continue …
Heroes abound in the midst of us. The heroes I am referring to are courageous, devoted, motivated and care immensely about the people of our c…
Moving to Flagstaff almost 30 years ago, being raised by depression era parents, I'm totally confused by what i see going on in a place where …
Oh to live in the "Land of Magical Thinking" that Bill Gibbs (letter 4/1) apparently occupies. After all, if we just open all the schools, bus…
Up until today, their was a ray of sunshine in our dark isolation: Bushmaster Park. My 8-year-old son could play with other children. Today, w…
Our front line healthcare professionals are facing, and will be facing, such traumatic events in the coming days, weeks and months. Things tha…
I was shocked to read "Two sue Flagstaff, state for closures" on the front page of the Daily Sun. The $2 trillion bill that just passed with o…
I am very concerned about the upcoming fire season in the Flagstaff region. Although firefighters are brave people and essential to our health…
Does anyone else see the great irony that we've spent the last couple years greatly debating the worth and value of lower wage workers as the …
Amid the Arizona Daily Sun's complete coverage of the COVID-19 pandemic, this past week there were two articles about a looming shortage in ou…
As the number of COVID-19 deaths in the U.S. reaches 4,000 we can appreciate the effort that is going into abating this deadly virus.
Coronavirus is not only a worldwide health threat, but an economic one as well. We must pull together and make the necessary sacrifices that f…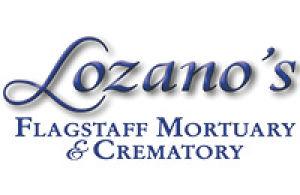 Lozano's Flagstaff Mortuary & Crematory
Last week ICE announced that they will limit arrests of undocumented individuals to only the most dangerous criminals until the coronavirus cr…
In the current pandemic, state elected leaders should do everything possible to help citizens survive, economically manage and reduce stress.
The coronavirus is real and it is now everywhere. Research on how this terrible virus spreads is now clear and national and state news outlets…
Politicians are listening to scientists about the present danger of COVID-19. They must also heed the advice of economists or the present dang…
Things in Arizona are worsening by the day, largely due to people not listening to "suggestions" from their government to stay home. At this p…
I would like to thank Mayor Coral Evans for taking this pandemic seriously and putting human life above economic gain. We need to continue to …
On March 16, 2020 Mayor Coral Evans and the Flagstaff City Council made the unprecedented decision to close many Flagstaff businesses - includ…