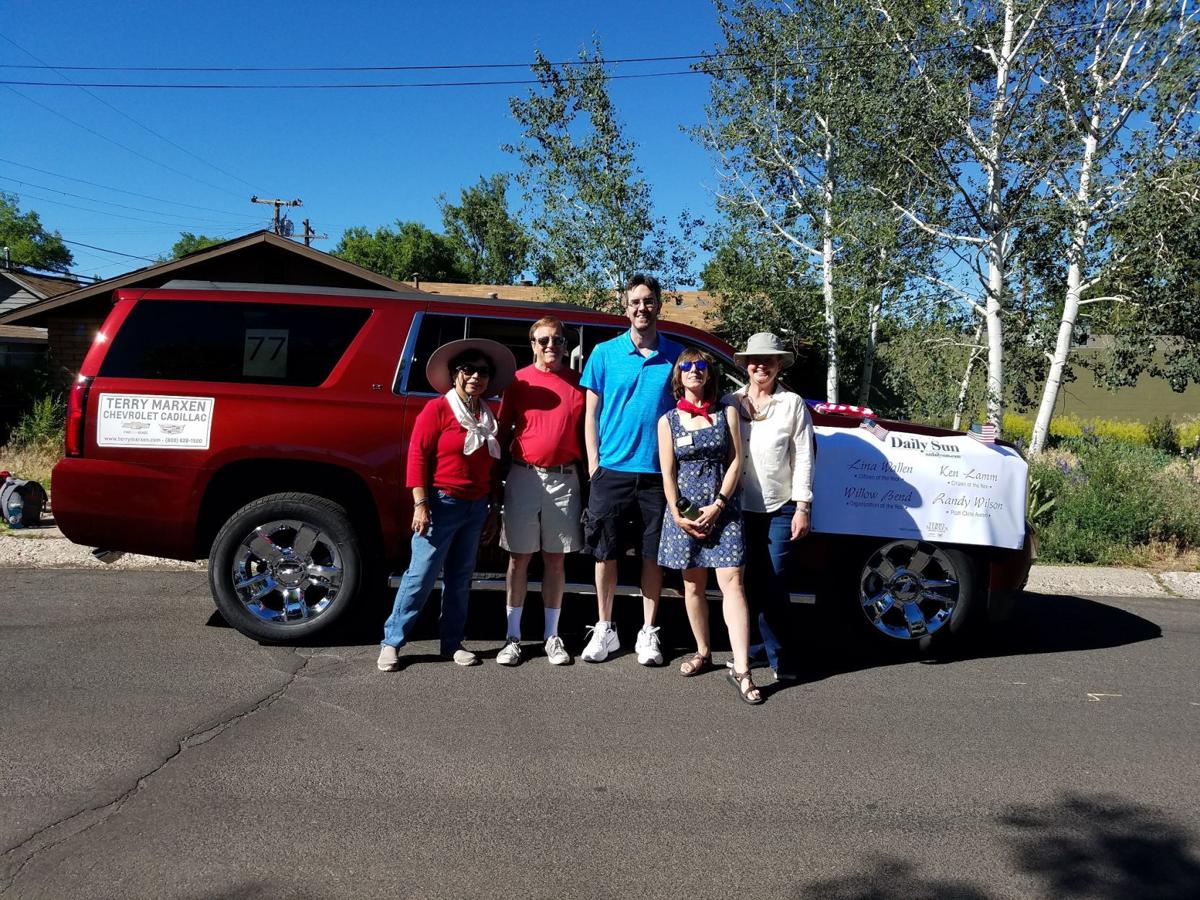 This week is all about Thanksgiving, so here's one way to give thanks: honoring a colleague, a neighbor, an acquaintance or someone you've admired from afar with a nomination as Flagstaff Citizen of the Year.
The Daily Sun has been sponsoring the award for more than four decades, and it now includes three categories: Man, Woman and Organization of the Year. The award recognizes someone who has made Flagstaff a better place in the past year as a volunteer, not in their main line of work. It can be a single project or a continuing cause. Civic groups can nominate this year's outstanding member, but it can also be a family member, neighbor or friend. Younger or older or in between – there are no limits on these awards.
There's also no application form. Just send Editor Chris Etling an email at cetling@azdailysun.com with a Microsoft Word attachment or a letter to him at Arizona Daily Sun, 1751 S. Thompson St., Flagstaff, AZ 86001. No faxes, please. For more information, his number is (928) 556-2274. We've been getting a good number of submissions, but just to make sure everyone has a chance, I'm extending the deadline to Friday, Nov. 29, at 5 p.m. Please keep submissions under 500 words.
Nominators should simply say why they think a certain individual or group has made Flagstaff and its region a better place to live because of their volunteer efforts. The full list of previous winners is printed below to avoid repeat honorees. (Individual nominees only -- no couples, please.)
You have free articles remaining.
Winners will be announced in the newspaper at the turn of the new year. Judging will be done by a panel of previous winners and not by the Daily Sun.
---
CITIZENS OF THE YEAR
Lina Wallen and Ken Lamm, 2018; Lora Trujillo and Barry Brennan, 2017; Brenda Silveus and Neil Weintraub, 2016; Sally Veazey and Jim David, 2015; Karen Kinne-Herman, Becky Lewis and Billy Weldon, 2014; Sarah Cromer, Gene Munger and Nat White, 2013; Mary Hostetler and Dr. Henry Poore, 2012; Barbara Packard, Hal Jensen and Joe Ray, 2011; Paula Stefani and Doug Rade, 2010; Bunny Gaylord and Jack Welch, 2009; Pam Turner and Bill Packard, 2008; Molly Munger and Dr. Richard Haag, 2007; Sister Elizabeth Carey and Dr. John Caskey, 2006; Susie Garretson and LaVelle McCoy, 2005; Stephanie Rust and Mike Cromer, 2004; Marj McClanahan, Jim Driscoll and Chris Bavasi, 2003; Jan Newton and Danny Neal, 2002; Patricia Hecht, Patrick Nackard and David McKay, 2001; Julianne Hartzell and Jim Dykes, 2000; Catharine B. Adel and Bill Williams, 1999; Florence Karlstrom and Dr. Walt Taylor, 1998; Hazel Robinson and Joe Donaldson, 1997; Barbara Cline and Paul Sweitzer, 1996; Lee Harsh and Douglas Jackson, 1995; Kay McKay and George McCullough, 1994; David Vaselaar and Peg Hebets, 1993; Jack Duffy and Doris Harper White, 1992. Also, Judy Feldstein and Pastor Harry Benson, 1991; Harold Weller and Nina Poore, 1990; Katherin Chase and John Montfort, 1989; Eugene M. Hughes and Barbara Conley, 1988; Dr. William Gaylord and Nancy Warden, 1987; Pat B. Curry and Nancye Setser, 1986; Marshall Knoles and Lorraine Curry, 1985; Anne Tinsley and Manuel D. DeMiguel, 1984; Frances B. McAllister and Dr. J. Otto Berg, 1983; Helen Earnshaw and David D. Chase, 1982; Rayma Babbitt Sharber and John J. Gisi, 1981; Phyllis Manning and Dr. Frank Besnette, 1980. Others include Billie Williams Yost and the Rev. William Denlinger, 1979; Robert Blaser, 1978; Henry Giclas and Robert Nauman, 1977; Platt Cline, 1976; Agnes Allen and John W. Stilley, 1975; H. Stuart Houston and Virginia Downum, 1974; Ralph Bilby, 1973; Dr. Garland Wood, 1972; Bernice Giclas and Sturgeon Cromer, 1971; Harry Brown, 1970. Other previous winners are Dr. Minnie Roseberry, 1969; State Sen. T.M. Knoles Jr. and Douglas Wall, 1968; Mayor Rollin Wheeler, 1967; J. Lawrence Walkup, 1966; Viola Babbitt, 1965; Ethel Sechrist and John G. Babbitt, 1964; No recipient, 1963; H.V. Emblen and Ione McCauley, 1962; and Walter Bennett, 1961.
ORGANIZATIONS OF THE YEAR
Willow Bend Environmental Education Center, 2018; Friends of Northern Arizona Forests, 2017; DREAMS, 2016; Forest Highlands Foundation, 2015; Flagstaff Leadership Program, 2014; Poore Free Medical Clinic, 2013; Flagstaff Festival of Science, 2012; Friends of Camp Colton, 2011; New Hope Cottage, 2010; St. Mary's Food Bank Alliance, 2009; Raymond Educational Foundation, 2008; Flagstaff Community Foundation, 2007; Court-Appointed Special Advocates, 2006; Sunnyside Neighborhood Association, 2005; The PEACE Project, 2004; Coconino Coalition for Children and Youth, 2003; Northern Arizona Center Against Sexual Assault, 2002; Theatrikos, 2001; Toys for Tots, 2000; Museum of Northern Arizona, 1999; Society of St. Vincent de Paul, 1998; Victim/Witness Services of Coconino County, 1997; The American Red Cross, 1996; Literacy Volunteers of Coconino County, 1995; Northland Family Help Center, 1994; Flagstaff Family Food Center, 1993; Northland Hospice, 1992; The American Legion and Legion Auxiliary, 1991; The Flagstaff Sunrise Lions, 1990; The Flagstaff Elks Lodge, 1989; Soroptimists Club of Flagstaff, 1988; Also, Flagstaff's Sheriff's Posse, 1987; No winner in 1986; Flagstaff Exchange Club, 1985; Assistance League of Flagstaff, 1984; Big Brothers of Flagstaff and Big Sisters of Northern Arizona, 1983; Pilot Club of Flagstaff, Inc., 1982; Flagstaff Corps, Salvation Army, 1981; Board of Directors, Flagstaff Symphony, 1980; Flagstaff Civitans, 1979; United Way of Flagstaff, 1978; Sunshine Rescue Mission, 1977; Flagstaff Hospital Auxiliary, 1976; and Coconino County Search and Rescue, 1975.