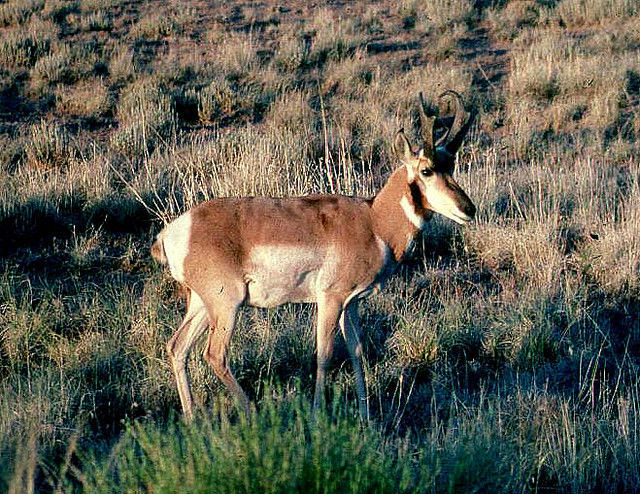 Water -- without it, life is impossible.
Habitat -- without it, life is impossible.
Pronghorn antelope are uniquely a North American animal existing only in the American West and Mexico. The Sonoran pronghorn subspecies is endangered while other pronghorn populations are doing well. It is often said there are more pronghorn in Wyoming than there are people.
The Sonoran pronghorn, the rare subspecies of pronghorn antelope that inhabits the sandy deserts of Southern Arizona and Northern Mexico, was on the verge of extinction due to the effects of long-term drought and politics.
In 1998 there were 140 Sonoran pronghorn in the Cabeza Prieta National Wildlife Refuge. By 2003 that number was 19.
What happened? Drought happened. Fawns were dying because their mothers did not have enough available water to produce milk for them.
Politics happened. Efforts to provide the antelope water was confounded by bureaucracy and anti-hunting groups. Conservationists contended it was not periodic prolonged drought, to which pronghorn have adapted well over the centuries, but the recent degradation of natural grasslands by grazing cattle, along with fencing, that led to the decline. Without taller grasses, newborn fawns lacked cover from predation by coyotes.
While still endangered today, the Sonoran pronghorn is making a comeback today, thanks to the hard work of the U.S. Fish and Wildlife Service, Arizona Game and Fish Department, Arizona Antelope Foundation and the Yuma Rod and Gun Club
Using an emergency clause in the Sonoran pronghorn management plan, the above groups obtained permission from the USFWS to construct a permanent water source for the remaining animals.
Additionally, some animals were captured for a breeding program and others were transplanted to other habitats to create additional populations.
Why did it take so long to act while the population plummeted? To be blunt, beyond the complexities of government it was because anti-hunting groups hate manmade water sources. They believe the only reason hunters help wildlife is so they have wildlife to kill. It did not matter that there is no hunting for Sonoran pronghorn. The groups blocked efforts to save the remaining animals at every turn even as the antelope quickly headed to extinction.
Despite the anti-hunter mindset and their fundraising schemes to fight their fight, hunters prevailed.
Today, in southern Arizona there are 160 Sonoran pronghorn roaming their hot and dry habitat and 110 in the captive breeding program. Another 240 roam Northern Mexico. Many drinking from manmade water sources.
Hunter groups continue to aid the Sonoran pronghorn, even though there is no hunting for the Sonoran pronghorn.
This story illustrates a lot of issues but the key item is that wildlife management today works like it has for decades and is even more necessary today with climate change and manmade changes to the habitats of our wildlife.