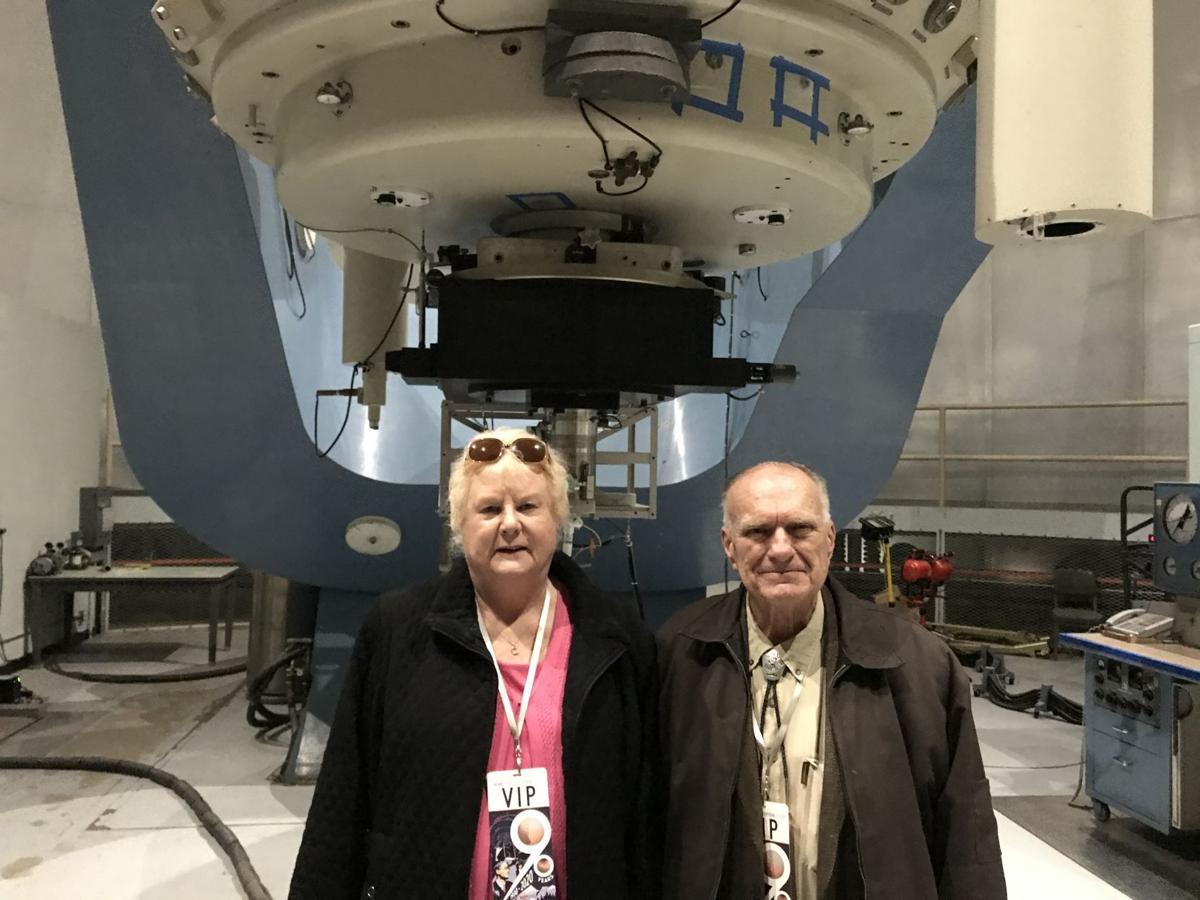 June 22 marks the 43rd anniversary of Jim Christy's discovery of Pluto's largest moon, Charon. Christy accomplished this feat while examining photographic plates taken at the United States Naval Observatory's Flagstaff Station (NOFS). This is just four miles west of Lowell Observatory, where Clyde Tombaugh discovered Pluto in 1930.
NOFS was established in 1955 to serve as the Naval Observatory's dark-sky site for optical and near-infrared astronomy. Christy began working here in 1962, spending much of his time photographing and precisely measuring the positions of double stars while studying astronomy at the University of Arizona. For his research he occasionally used Lowell Observatory's 24-inch Clark refracting telescope.
Christy earned his bachelor's degree in astronomy in 1965 and continued working at NOFS until a transfer took him to the Naval Observatory's headquarters in Washington, D.C. In the summer of 1978 he was splitting his time between moving into a new home and continuing a project he had started the previous year that involved measuring the position of Pluto in order to refine its orbit.
To make these calculations, Christy requested astronomers at his old stomping grounds in Flagstaff take several images of Pluto using NOFS's 61-inch telescope. Named the Kaj Strand Telescope, after a Danish astronomer who served as scientific director of NOFS from 1963-1977, this instrument saw first light in 1964 and is the largest telescope operated by the Naval Observatory. Located four miles west of Flagstaff, its iconic dome is a landmark to travelers along Interstate 40 near the community of Bellemont.
NOFS astronomer Anthony Hewitt took the requested Pluto images on April 13 and May 12, 1978, capturing them on photographic glass plates. They were then sent to Christy in Washington, D.C. and on June 22 he began examining these and other Pluto plates from 1965, 1970 and 1971. Christy used a high-precision measuring machine called Starscan that magnified an image 30 times and projected it onto a three-foot screen.
Many of the plates seemed to be of poor quality because Pluto appeared asymmetrical, with a bulge in the north-south orientation. What really got Christy scratching his head was the fact that the background stars didn't exhibit the same lopsidedness. Elongation of all the bodies—Pluto and the stars—would have been easily explained as defective images, but with only Pluto being distorted, the answer had to be something else.
In the foreword to the book Out of the Darkness: The Planet Pluto by Clyde Tombaugh and Patrick Moore, Christy wrote, "The elongation was fainter than the core of Pluto's image, which made it appear unlike any image caused by motion of Pluto in its orbit. I thought about the possibility of a flare of some sort being emitted by Pluto, but at the instant I realized that the 12 May elongation was north of Pluto and that the 13 April elongation was to the south, the concept -- moon -- jumped into my thoughts."
The next day, Christy detected the bulge on enough of the plates to determine that it migrated around Pluto over a period of 6.39 days. His colleague Robert Harrington made some orbital calculations that confirmed this observation. Thus not only did Christy have a new moon, but also knew its orbit.
As the person who discovered Pluto's companion, Christy had the honor of naming it. He initially favored Oz (from the Wizard of Oz) and Char-on (his wife's nickname plus "on" to make it an object, like electron), but these didn't hold with the convention of naming moons after mythological characters. However, in scanning through his dictionary late one night, he was astounded to see that Charon was a real name, the mythological boatman who ferried the souls of the dead across the River Styx to the underworld, which was the domain of Pluto. Christy had his name, one that followed appropriate scientific naming rules while honoring his wife. Charlene likes to joke, "Many husbands promise their wives the moon, but mine delivered."
Some of the coincidences with Charon's discovery are uncanny: The discovery plates were taken just four miles from where Clyde Tombaugh discovered Pluto in 1930; Christy made the actual discovery in Washington, D.C., not far from where Asaph Hall discovered the two moons of Mars in 1877, the same year Italian astronomer Giovanni Schiaparelli first detected the supposed canals of Mars. This had inspired Percival Lowell to found his observatory in Flagstaff, where he commenced a planet search that culminated with Tombaugh's discovery.
Jim Christy eventually found his way back to Arizona, working for Hughes Missile Systems (now Raytheon) in Tucson for 17 years. With his important ties to Pluto, it seems appropriate that, after retiring in 1998, he moved back to Flagstaff.