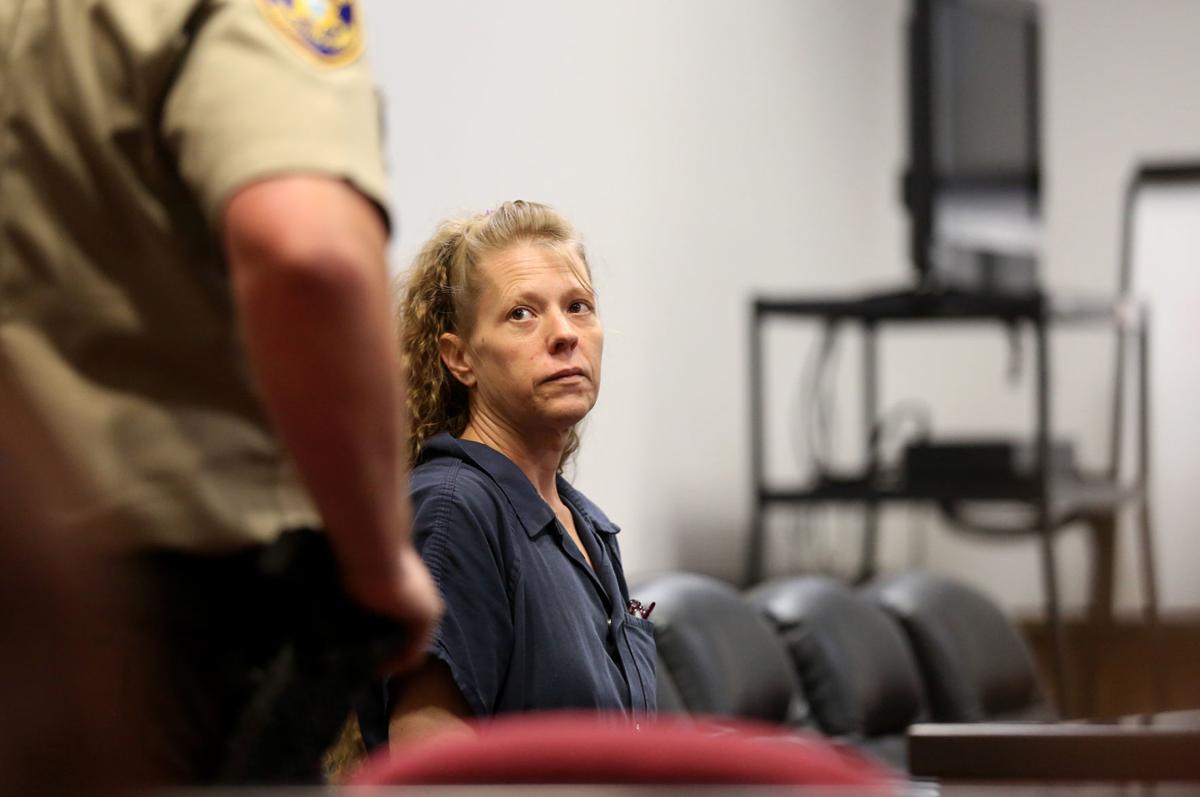 From the Flagstaff teacher being detained while the courts sort out their alleged sexual abuse charges to uncovering drug, burglary and underage prostitution rings, the Flagstaff Police Department, the Coconino County Sheriff's Office and the Coconino County court system has been busy in 2018. Here are some of the most important crimes and court hearings that happened this year in Flagstaff and Coconino County.
FLAGSTAFF TEACHER ARRESTED
Ted Komada, 37, a Flagstaff elementary school teacher, formerly named STEM teacher of the year in 2016, was arrested on suspicion of repeated sexual abuse in mid-January.
One of the children examined had injuries consistent with rape according to examination by the Flagstaff Medical Safe Child Center, and both victims told officials that Komada would frequently ask the children to perform sexual acts on him.
Komada resigned a few days before he was arrested and is in the process of negotiating with prosecutors for a plea.
UNDERAGE PROSTITUTION STING NABS 8
The Flagstaff and Prescott Valley Police Departments, and Federal Bureau of Investigations, arrested seven men from Flagstaff in a sting operation aimed at underage prostitution involving minors under the age of 16.
The arrests were conducted on March 9 after the officers fielded well over 100 calls and inquiries from would be suspects as a part of their operation. Eight men were arrested in total.
No minors were involved in the operation.
NAU STUDENT FOUND DEAD IN RIO DE FLAG
NAU student Kain Turner, 21, was found in the Rio de Flag near Beaver Street on Dec. 4 after he was reported missing the day before to the Northern Arizona University Police Department.
The man from Cottonwood was found in a flood-control channel near downtown Flagstaff by friends who led the search for his body after his missing person poster was shared on social media. While the cause of his death is still pending a report from the Medical Examiner's Office, the police said there are no signs of foul play.
A Flagstaff Police report said a woman saw Turner after he was kicked out of a bar seemingly drunk, stumbling through a ditch on Dec. 2. Turner was expected to graduate in 2020.
A semi-truck traveling westbound on the I-40 struck Logan Flake, 22, who purposefully jumped to his death from the Fourth Street overpass, Sept. 19, 2018.
The overpass has a gate on the sides of the bridges to help prevent people from jumping or falling, but Flake climbed around the side of the fence and climbed out to the center of the roadway. Multiple witnesses at the scene tried to convince Flake not to jump from the overpass, but did not succeed.
He landed on the highway before he was struck by a passing semi truck.
OAK CREEK CANYON SHOOTING
A Forest Service officer shot and killed a man who had been walking naked and bloodied after crashing his truck in Oak Creek Canyon. Tyler Miller, 51, had been traveling from his Kansas home to Sedona Wellness Center Soul Adventures according to family members.
Miller's son told police he was worried his father was suicidal and told police that his father had been depressed and acting strangely while going through marital separation.
"I could hear in her tone she was shaky and was speaking loudly, consistent with an intense situation," deputy Kyl Walter wrote in his incident report. "Shortly after, I heard across the radio, 'Shots fired.'"
Miller was unarmed at the time of his death, but a witness reported to a detective's report that Miller had been throwing rocks at vehicles traveling on 89A after he crashed his truck.
HUMAN REMAINS FOUND NEAR CAMERON
Investigators believe they found the remains of Jackie McClellan Jr., 43, in October who was reported as a missing person in 2007.
Hunters reported finding the remains near Cedar Wash. After the remains found were confirmed as human, Sheriff's detectives and the Coconino County Medical Examiner's Office responded to the area for further investigation. McClellan was last seen 11 years before walking from the family's sheep camp during a severe winter storm and had not been seen or heard from since.
THREE ARRESTED IN BURGLARY RING
In November, the Sheriff's Office arrested three suspects involved in a vehicle burglary ring that spanned multiple communities in northern Arizona.
The three suspects, Jonathan Hernandez, 18, Kaiden Cox, 18, and Hipolito Zavala Molina, 18, committed burglaries in Flagstaff and Sedona area. The suspects stole several firearms, personal banking credit cards, electronic equipment and two vehicles.
The suspects were all charged with first-degree burglary, theft and fraudulent use of a credit card.
Lillian Hester was sentenced to life in prison for first-degree murder of her 6-year-old nephew, who weighed 29 pounds at the time of his death in October.
Prosecutor Michael Tunink explained that 29 pounds is the expected weight of a 3- or 4-year-old. The boy, Jason Hester, was found with signs of dehydration, bruises on his body and an arm fracture that did not properly heal.
Jason Conlee, Lenda Hester and Kimmy Wilson, Lillian's boyfriend, mother and her mother's boyfriend were also found guilty for their actions in the case. Conlee faced three years of standard probation, Lenda faced four years of probation and Wilson faced one year of unsupervised probation.
NAU STUDENT COMMITS SUICIDE IN APARTMENT
An autopsy showed that the university student who was found dead March 21 in a campus housing complex died by suicide. His system showed that Joseph Bock, 21, had marijuana and methamphetamine in his system when he died.
The NAU Police Department originally listed it as an "unattended death," and investigated the case in conjuncture with Flagstaff police and Arizona Department of Safety.