As votes continued to be tallied throughout Tuesday night, Flagstaff City Council candidate Austin Aslan's lead continued to grow, cementing him as holding the second seat on the council.
"I'm really excited to get to work," Aslan said. "I'm really excited to work for Flagstaff and to bring in a new vision and bring a new dialog and a new narrative to town."
Aslan added the new councilmembers bring a mandate of caution from voters when it comes to growth, increased environmental stewardship, and improving the relationship between the city and the university.
But just as Aslan's lead has grown, the race for the third seat has gotten even closer. As of the end of the night on Tuesday, the final unofficial results showed candidate Paul Deasy had only a 12-vote lead over Regina Salas -- and now, it appears the result of that race may not be known for more than a week.
Coconino County Recorder Patty Hansen said those in the elections office still have many votes to count. As such, any conclusions may not be known until Nov. 16 as her staff continues to count votes throughout the upcoming weekend and Veterans Day.
At the moment, they have at least 8,800 early ballots that they still need to count. Of that, 7,800 either came in the mail or were dropped off at polling places and vote centers on Election Day, and 1,000 must be cast through duplicate ballots due to problems caused by the length of the city ballots.
With all the propositions that had to be fit onto the city ballot, the document was 17 inches in length with three folds, which Hansen said has proven difficult for the machines to read and ballots keep snagging on the counting board.
As such, they are having to duplicate 1,000 early ballots using mixed boards of Republicans and Democrats. One person will then read the votes on the ballot while the other person fills out the duplicate before they are cast, Hansen said.
There are also 1,775 provisional ballots, which are counted last, and 55 conditional ballots, which will be counted if the voter can provide additional identification. In total, there is a total of 10,630 potential ballots still uncounted.
These ballots, however also come from across the county and there is now way to quickly tell how many regard Flagstaff elections specifically. 
Hansen said the uncounted ballots usually look similar to those already counted, meaning both Shimoni and Aslan are fairly safe in their seats. But when it comes to the third council spot, Hansen said it could go either way. 
Salas said no matter the outcome, she gave the race her all and was honored to compete against such a field of candidates.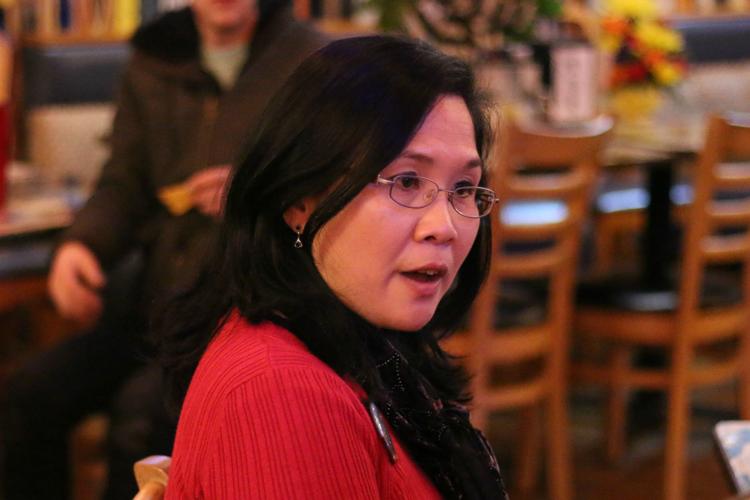 "I am just grateful just to have this opportunity, to just be part of this batch of candidates. I have so much respect for each of the gentlemen," Salas said. "All are highly qualified and have the passion to serve the community. Whatever the result is, I will remain steadfast and committed to my mission to work for a thriving community and a thriving economy whether on city council or as a citizen."
Deasy, who said he spent election night with friends and family, said he ended election night "stewing in uncertainty." He said after a long campaign, he will be preoccupying himself with work and home life until the results come out.
"I feel good about how the campaigning went," Deasy said, adding he is feeling relatively confident.
According to state law, there will be an automatic recount if the number of votes separating Salas and Deasy is 10 votes or less.
This outcome is similar to the council race in 2016 in which councilmember Charlie Odegaard came from behind to beat Adam Shimoni for his seat on council by only 59 votes.
Shimoni will now join Odegaard on the council after his own Tuesday night victory.
Results roll in
Flagstaff Unified School District also has two new board members. Carol Haden won her seat with 42 percent of the vote while Anne Dunno won the second seat, receiving 33 percent. Philan Tree drew the short end of the stick, getting only 23 percent of the vote.
When it comes to the three transportation bonds on the ballot, Prop 419 -- which renewed a current tax dedicated to transportation -- easily won Tuesday night, but Props 420 and 421 were much closer.
Prop 420, which will allow the city to build an overpass connecting Lone Tree Road with Route 66, passed with 52 percent of the vote.
Voters were even more closely split on Prop 421, which barely failed to pass. That proposition would have allowed the city bus system to double the number of buses on the roads, reducing wait times to as little as 15 minutes on weekdays during business hours. But the yes side received only 49 percent of the vote.
Updated at 10:11 a.m. on November 8.