Trapper plays with gator until it tires, pulls it from pool, and more of this week's weirdest news
A shark was bitten by an even bigger shark, and country singer Gretchen Wilson was kicked out of a hotel. Here's a look at the stranger side of news from the past week.
Trapper plays with 'gator until it tires, pulls it from pool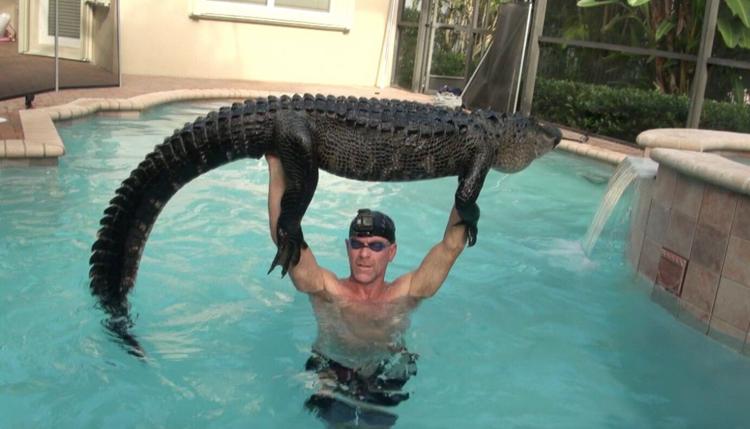 PARKLAND, Fla. (AP) — A Florida animal trapper says he corralled a large alligator by playing with it until it got tired after it hopped into a residential swimming pool.
Celebrity trapper Paul Bedard, who is contracted with the state's nuisance alligator program, said Thursday that he was dispatched to a house in Parkland, Florida.
Bedard said he was able to pull the nearly 9-foot (2.7-meter) animal out of the water once it grew tired from playing with him in the pool on Wednesday. He put a snare on its mouth and taped it.
He described the reptile as "mellow" and named it Cool Hand Luke after the 1967 film starring Paul Newman.
Bedard said the alligator weighed 185 pounds (83.92 kilograms).
Bedard starred in Animal Planet's reality show "Gator Boys.
San Diego woman living in van gives up all 300 of her rats
SAN DIEGO (AP) — A woman living in a van in San Diego with her pet rats has agreed to give them up — all 300 of them.
Authorities found rats had clawed into upholstery, burrowed into the seats and gnawed the engine wiring.
Capt. Danee Cook says the woman wasn't hoarding the animals — she'd started with just two pet rats. But rats can give birth every four weeks and produce a dozen in a litter.
Cook says the woman acknowledged things had gotten out of control.
Authorities collected about 320 rats, and more than 100 are currently ready for adoption.
The woman, meanwhile, has found a new place to stay.
Police: Man used Uber to transport meth in Utah
PROVO, Utah (AP) — An Uber passenger in Utah is facing charges after police say he used the ride-hailing service to transport nearly 11 pounds of methamphetamine.
The Provo Daily Herald reports Edgar Esteban Ramos Valdez was arrested Friday following a confrontation with a Provo, Utah, officer who spotted the Uber passenger acting nervously.
According to a police report, an Uber driver picked up the 22-year-old Valdez at a Provo hotel and came into the vehicle with the bag of meth.
The Uber driver drew police attention by following too closely and making improper lane changes.
The suspicious officer brought in a K-9 to the scene and found the bag of drugs.
Valdez was charged with possession of illegal drugs with intent to distribute. It was not known if he had an attorney.
Hotel ousts singer Gretchen Wilson following noise complaint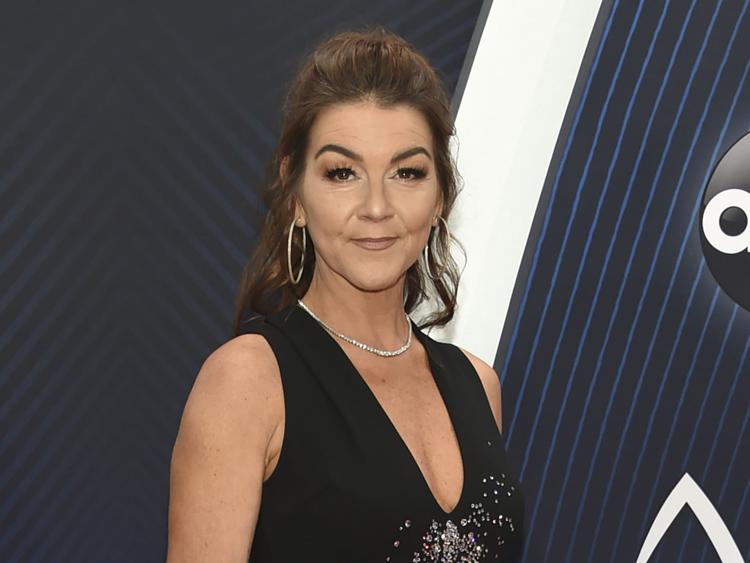 LAS CRUCES, N.M. (AP) — Country music star Gretchen Wilson, whose hit song, "Here for the Party," features the lyrics, "And I ain't leaving till they throw me out," was ousted from a New Mexico hotel over noise complaints.
The Grammy Award-winning artist was asked to leave the Hotel Encanto de Las Cruces following multiple noise complaints last Sunday morning, the Las Cruces Sun-News reported Wednesday.
Las Cruces Police Department spokesman Dan Trujillo said Wilson, 46, and other guests had "worn out their welcome" and police helped security remove them.
"(Police) were going to issue a trespass card but the occupants agreed to leave," he said.
A trespass card is given to a person suspected of trespassing. The person signs the card acknowledging that if they continue to trespass, they may be charged with a crime.
The episode came after Wilson performed at the 7th annual Las Cruces Country Music Festival on Saturday.
According to the "Redneck Woman" singer, she got to her room at 12:30 a.m. and was reprimanded for talking. In a 911 call, a hotel employee said Wilson's volume level for talking was the equivalent of yelling.
After she was kicked out, the musician tweeted the hotel asked her to leave "in the middle of the night for no reason." She also called on her Twitter followers to "all band together to put Hotel Encanto out of business."
Heritage Hotels & Resorts, which owns Hotel Encanto, did not immediately respond to a phone message and email.
A representative for Wilson did not immediately return a message seeking comment.
In August 2018, Wilson was arrested at a Connecticut airport after what was described as a minor disturbance on an incoming flight. She was later charged with breach of peace.
Deputies ask man to quit calling about his stolen marijuana
DADE CITY, Fla. (AP) — Authorities say a Florida man repeatedly called 911 to report that his roommate had stolen his marijuana.
A deputy for the Pasco County Sheriff's Office posted a Twitter response to the man's calls Saturday night: Stop calling.
Deputy Neal Zalva says in the Twitter video that he called the man back to tell him to quit contacting the sheriff's office about his stolen marijuana. Zalva recorded the video as part of the agency's #TweetAlong program, which allows viewers to get a behind-the-scenes look at the police work by the deputies.
Recreational marijuana use remains illegal in Florida.
A sheriff's office spokesman says no charges were filed against the caller.
Sheriff's office communications director Kevin Doll said Tuesday they just wanted the man to stop calling about the stolen weed.
Deputies: Naked man wreaked havoc on business, then showered
CAPE CORAL, Fla. (AP) — A Florida man who was found nude inside a plumbing business is facing charges after being accused of using a forklift and a hammer to wreak havoc before taking a shower there.
The News-Press reports 24-year-old Joseph Michael Bieniek was confronted by an employee at United Plumbing on Friday.
The employee told Lee County deputies he was working late in the warehouse and went to investigate a noise when he found Bieniek standing naked and clutching a hammer. The employee said Bieniek didn't threaten him.
Surveillance video showed Bieniek causing destruction to the plumbing business and a neighboring business.
Bieniek was released Sunday on $26,500 bond and faces two charges of burglary and charges of resisting arrest, larceny and criminal mischief. It's unclear if he's retained an attorney.
Giant pumpkin weighing 2,175 pounds sets California record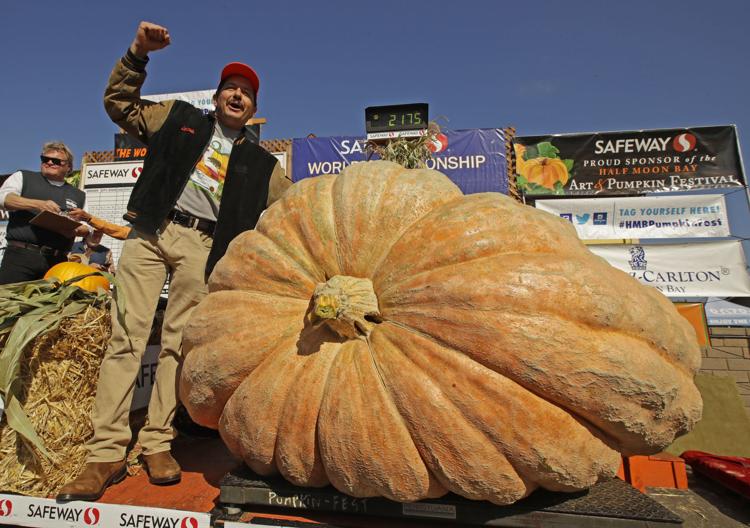 HALF MOON BAY, Calif. (AP) — A Northern California pumpkin hobbyist has won first place at the 46th annual Safeway World Championship Pumpkin Weigh Off, setting a record for the largest in California.
Leonardo Urena of Napa won $15,000 Monday when his pumpkin logged 2,175 pounds (986 kilograms).
Weigh-off spokesman Timothy Beeman says Urena's pumpkin is the second largest in the contest's history. A pumpkin from Washington state weighed nearly 2,400 pounds (1,088 kilograms) and won in Half Moon Bay in 2017.
The 51-year-old says he took up the hobby in 2000 and says he enjoys the pumpkin growing community. He also won the Half Moon Bay contest in 2011.
Urena says he always tells his pumpkins he's proud of them and he encourages them to keep growing.
Researchers say 13-foot shark bitten by even bigger shark
CHARLOTTE, N.C. (AP) — Researchers say they've come across a nearly 13-foot great white shark with teeth marks on its jaw and head. They say it was likely bitten by an even bigger shark.
The Charlotte Observer reported Wednesday that the heavily scarred 1,164-pound shark was captured and released earlier this month off the coast of Nova Scotia. Satellite tracking shows the shark named Vimy has since traveled more than 600 miles south to the coast off Maryland.
OCEARCH Founding Chairman Chris Fischer said he has two guesses about why the shark might have been bitten. It was either competing with other male sharks for a female. Or he tried mating with a larger female, and she bit him.
Fischer said the teeth marks suggest the attacker was two or more feet longer.
Iowa man finds 5 inches of animal blood flooding basement
BAGLEY, Iowa (AP) — Blood may be thicker than water, but it'll still flood your basement.
Nick Lestina found this out the hard way two weeks ago when he discovered 5 inches (13 centimeters) of blood, fat and other animal tissue flooding his family's basement in Bagley, which is about 45 miles (72 kilometers) northwest of Des Moines. He told the Des Moines Register that he hasn't been able to clean it up because it's still seeping in.
The waste is coming from a neighboring meat locker, where blood and tissue from slaughtered animals was washed down a drain. Officials say a clog or break in the pipe sent the waste into Lestina's basement through a floor drain.
A state environmental specialist traced the waste to Dahl's Custom Meat Locker and says the company is now pumping its into a large tank.
The Lestina family has temporarily moved in with a relative.