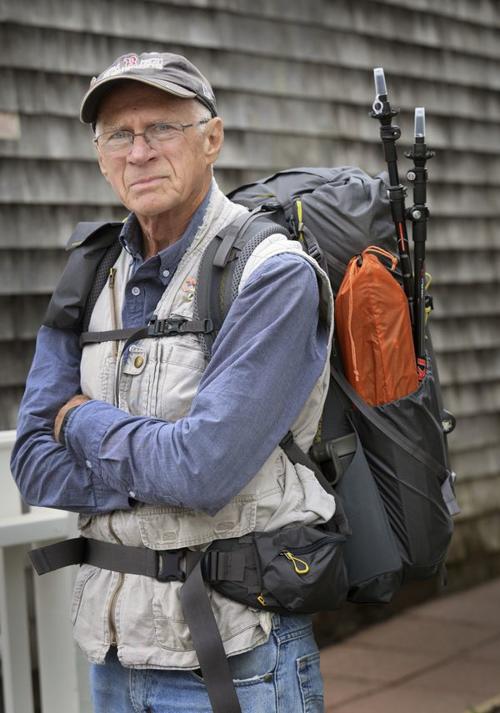 If you happen to be driving on Highway 89 north of Flagstaff Wednesday morning and see an older gentleman walking south, hoisting a bulging backpack and brandishing trekking poles, feel free to pull over.
To chat, not to offer him a ride.
William Shuttleworth, a 71-year-old retired educator from Newburyport, Mass., is walking for a purpose. It says so right there on his backpack: "Vets Don't Forget Vets. Coast to Coast. Ask Me!"
We asked. And Shuttleworth, in a phone interview earlier this week from Tuba City after he finished the 25 to 30 miles he has logged every day since spring, is eager even in the midst of his enervating journey by foot across the U.S. to raise awareness (and funds) for disabled veterans.
"I want people to stop me," he said. "That's why I don't wear headphones to listen to music on the walk. I want to be available to people. I walk on busy state roads so people can stop and ask me what I'm doing. And they do. Like today, from Shonto to (Tuba City), I had 10 people stop me on the road."
When he hits town in Flagstaff, Shuttleworth plans to meet with vets at the American Legion Post on Birch Avenue and get a reception by the city.
You have free articles remaining.
This 3,000-mile trek by Shuttleworth, who spent six years in the Air Force before working in school administration, has nothing to do with him and his endurance prowess and everything to do with helping amplify the plight of veterans down on their luck — those homeless and bereft of proper medical attention, addicted and alienated from society —  through the walk and a GoFundMe page.
The germ of the idea was planted a year ago, when Shuttleworth spent his summer running the Sycamore Canyon Campground in Point Mugu State Park in California, just north of swanky Malibu. There, a stone's throw from multi-million dollar homes, he encountered homeless sleeping rough. He reserved three camp sites for the homeless and listened to their stories.
"Day and day, they told the same stories: that they couldn't get services, were suicidal, hooked on pain drugs the VA provided for them and then withdrew when the opioid crisis became evident," Shuttleworth said. "We've let these poor guys down. They signed on the bottom line to protect our country, and that was the thanks they got."
When he returned to Massachusetts, Shuttleworth hit upon walking to raise aware. One day in May, he walked out of his front door with 32-pound backpack holding a tent, clothes and barest of provisions. And he's been walking west ever since. He's nearing the home stretch, relatively speaking. Provided all goes well in the Mojave Desert, Shuttleworth is due in San Diego on Labor Day weekend for a big gathering at a military base.
Though he says he's raised money for disabled vets and prefers to guide the many media interviews he's done toward veterans' issues, Shuttleworth will recount his adventures on the road. He's endured ice storms in New England, torrential rain through Pennsylvania, two tornado warnings in the Midwest, a mild heat stroke in Keenesburg, Colo., the latter of which slowed his progress for a few days. He's worn through five pairs of shoes and cinched his belt on his slim frame a few times.
Still, he walks on, adding memories to the miles. He said his best day came in tiny Mount Sterling, Ill., 92 miles south-west of Peoria.
"I came into town the day they were building a home for a disabled homeless vet," Shuttleworth said. "At 7 in the morning, there was nothing but a cement slab. At 5 that night, (the vet) had Cheerios in his cupboard and milk in his refrigerator. A hundred people built it. It was magical."
No such building project is planned for Shuttleworth's short stay in Flagstaff. But he said if he can help a struggling vet or two just by listening to their stories and urging Congressional action, it's the least he can do.