Unaware of the lasting consequences and despite city and school policies, Flagstaff students remain latched onto the newest form of substance abuse - vaping.
Like other schools throughout the country, Flagstaff Unified School District middle and high schools saw a drastic increase in vaping- and electronic-cigarette-related incidents during the last school year, causing school and district administrators to add vaping to existing disciplinary policies and to notify the school community during registration events for the current year.
As the policy now states, possession of an electronic smoking device on school property, like any other tobacco product, can be treated with suspension and, if repeated, expulsion.
Early last month, Flagstaff City Council passed an ordinance that treats e-cigarettes and vaping in the same way as commercial cigarettes, therefore banning the use of such products in enclosed public places including schools, banks, bars and restaurants, retail stores and reception areas.
Nevertheless, student use has continued.
In total, Flagstaff High School, Coconino High School, Mount Elden Middle School and Sinagua Middle School have registered approximately 65 vaping-related incidents since the beginning of the school year. There have also been a few isolated incidents at the elementary schools.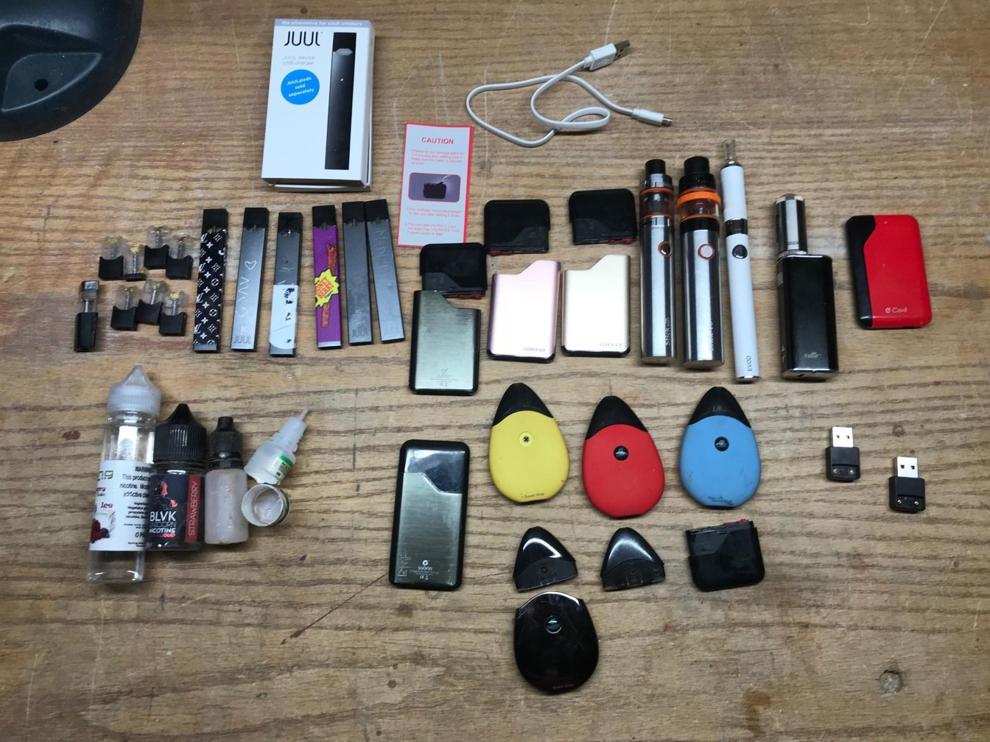 "I think the kids see it as something they know they're not supposed to do, but they're curious about," said Tom Safranek, principal of Mount Elden Middle School. "There's an exhilaration of breaking the rules."
The problem extends beyond these incidents, though.
"What we discovered at the high school level is just a small percentage of the students that are using," said Mike Sifling, FUSD safety officer and safety resource officer for CHS.
Students are often exposed to these products by parents and siblings who are using them to quit smoking; it is easy for these students to slip such products into their backpacks – without parental knowledge – and take them to school. Once they are confiscated by school officials, though, they will not be returned to families.
Tari Popham, principal of Sinagua Middle School, said students will sell devices stolen from family members to other students. They also lie about their ages to order such products online.
Administrators have reported that vaping is not limited to one student group; rather, it has been seen among all demographics.
NOT JUST FLAVOR
The National Institute on Drug Abuse reported that, because manufacturers are not required to report the ingredients in their e-cigarettes, 66 percent of teens believe their devices contain just flavorings.
During the Jan. 8 FUSD Governing Board meeting, FHS Principal Tony Cullen said, "They have no idea they're getting high…So many kids are just passing them around not knowing what's in them."
FUSD has partnered with the Coconino County Public Health Services District (CCPHSD) to participate in a free program through the Attorney General's Office, where confiscated devices will be tested and destroyed. Results from those sent in at the beginning of the school year are still to be finalized.
Juul, a slim, rectangular device that looks like a refill pack of pencil lead, is the most common vaping product found in student possession, Sifling said. According to the company's website, all the Juul flavor pods are 3 to 5 percent nicotine, or about 200 puffs – the amount of nicotine in an entire pack of cigarettes.
Devices come in all shapes and sizes and can often be mistaken for common products like flash drives, an idea the district hopes to communicate to teachers and parents.
"If you can think of it, they can make it," Sifling said as he described a new vaping product hidden in the drawstrings of a sweatshirt.
Although addiction is certainly a component to this issue, Stacie Zanzucchi, CHS principal, noted that vaping is predominantly social in nature. Students are more likely to participate in a group than alone; however, because adult presence has now increased in concentrated areas during the school day, high school students are found using these devices in their cars during school breaks -- when they are found at all.
"Students know that we are aware now, so it happens out of school, when they are away from us," Zanzucchi said.
Middle school users have been discovered vaping in bathrooms between classes and, in the case of Sinagua, across the street at Foxglenn Park.
The district's goal is to stop the problem by increasing student education on the effects of nicotine; however, they have to battle against marketing strategies that seem to target youthful users.
Safranek said, "A lot of the marketing, the packaging, is kid-oriented. It smells good, like candy. It doesn't have that tobacco smell that most people don't care for."
Flavors include enticing desserts like strawberry shortcake as well as catchy names like Neon Dream and Vivid Vanilla. Zanzucchi noted the names sound like innocent smoothie flavors.
School leaders agree the act is also appealing to students because the direct effects of vaping are still largely undetermined. Popham compared the trend to that of cigarettes in the 1950s: both are popular social habits, but the bodily damages caused by their use will not be accurately determined until years after the damage is done.
STOPPING THE TREND
Because shocking stories and statistics on vaping and e-cigarette use have not been uncovered yet, many students believe that it is not harmful to them and that, if it is, it does not compare to smoking tobacco.
To combat this mentality, school and CCPHSD representatives have presented the dangers of nicotine to students of all ages this year in health classes and other ongoing presentations. The Coconino Anti-Tobacco Students, known as the CATS, have also been working to publicize the dangers of vaping to the CHS campus.
On their first offense, during the procedural in-school suspension, Sifling said students receive one-on-one information on the dangers of vaping. So far, Sifling said there have not been any second offenders.
"The idea is, with the first offense, we want to bring the student in, we want to educate them as best as we can. We need them in school, so we try to make it a teachable moment," he said.
Students found with the devices are also connected with addiction resources.
Additional awareness and education is still needed from parents and community members, though, to prevent the vaping that is occurring outside of schools. Parents are encouraged to familiarize themselves with the diversity of vaping products and to have conversations with their children about the dangers of smoking and peer pressure.