From her window in Flagstaff's U.S. District Court office downtown, Camille Bibles can see the first summer rains pour on the beloved San Francisco Peaks as people walk in front of the Coconino County Superior Court.
Bibles was raised throughout the west, she says, and helped prosecute cases throughout the world. But despite a repertoire that has even led her to prosecute crimes against humanity in Europe, she has always felt most grounded and at home here in Flagstaff.
And because of her accomplishments, she was recently appointed to the position of full time U.S. magistrate judge of the Arizona District Court. As a magistrate, Bibles will serve for an eight-year term and help to reduce the large amount of federal cases for district judges who have lifetime appointments.
"I have the best job in the world. I'm the only federal judge in northern Arizona," Bibles said. "It's the culmination of an entire career of work."
Her path began when she was raised in western states like Idaho, Montana and California. In these states, her love for the outdoors was nurtured and led her to pursue a degree in zoology with a minor in history and philosophy.
All along the way, teachers and professors pushed her toward law. It wasn't until a biology professor successfully pushed her to take the bar  exam, and when she scored in the 99th percentile, that she realized it might be time to forge a new path.
But for Bibles, her mind still sees the connection between science and law.
"What I didn't anticipate is that a lot of the scientific process — the way it makes you think — is the same as legal analysis," Bibles said with a laugh.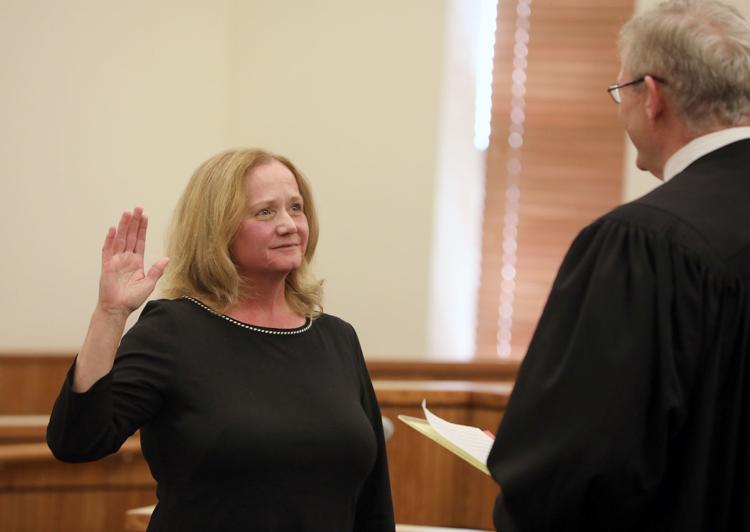 She landed her first job with the county attorney's office in its civil division in 1987. There she saw the lines between science and law connect again when she later was transferred to the office's criminal division to use her background in biology to work on the case against Ricky Bible.
The case was one that shook the town of Flagstaff to its core, as one Arizona Daily Sun headline wrote years ago. In 1988, Bibles remembers people left their doors unlocked at night and felt safe letting their children ride bikes down their streets alone.
But in June of that year, when 9-year-old Jennifer Wilson's body was found beaten and molested atop Sheep Hill on the east side of town, all of that changed.
The Bible case would be the first in the state of Arizona to convict a person using DNA evidence, largely due to the help of Bibles' background in biology. After she checked to ensure she and the suspect shared no relation, it took three weeks before the trial and three weeks during the trial to properly introduce the DNA evidence at the time.
Bibles now laughs at the thought, because lawyers and judges today hardly bat an eye over DNA evidence.
After the convicted man was sentenced to death by Judge Richard Mangum, Bible was executed in 2011.
She still thinks about the case, and says people continue to stop her on the streets of Flagstaff because of her work years ago. Despite the atrocious nature of the case, she said there was a silver lining to it.
"The community also realized how important a community is," Bibles said.
After the case resulted in a conviction, Bibles went on to become a chief deputy county prosecutor. She would also go on to hire a young probation officer out of Maricopa County who was just starting his legal career, but would later make waves of his own in Coconino.
You have free articles remaining.
Register for more free articles
Stay logged in to skip the surveys
Presiding Judge Dan Slayton remembers his first interview and how nervous he was of Bibles' reputation.
"I wondered what kind of attorney it took to see [the Bible case] through to its end," Slayton said. "And as I sat through my interview with then-county attorney Terry Hance and his chief deputy Camille Bibles, I knew I was in the presence of someone very special."
The two's friendship would grow beyond work as a result of the countless hours they spent working on cases. Earlier this year, Slayton spoke at the professional gathering to honor of Bibles' ascent to magistrate judge.
In his speech, he spoke with a fondness that hinted at how the two have remained friends even after Bibles left the county attorney's office in 1998 to work as an Assistant United States Attorney in Phoenix; in that job she continued to handle northern Arizona cases.
He also described her eventual transition from being a federal attorney to a prosecutor in a world court as a "natural a progression as night turning into day."
In 2001, Bibles was picked support the United Nations' International Criminal Tribunal for the former Yugoslavia. She worked to help prosecute a man people called the "butcher of Bosnia." The man known as Ratko Mladic was charged for genocide after ordering the Srebrenica massacre of more than 7,000 Bosnian Muslim men and boys in 1995.
When she arrived at the tribunal overseas, she realized many things: One was how much more experience United States lawyers have with criminal cases and forensics than other countries due to the way crimes are prosecuted. But despite her forensic experience, every day she and her team of lawyers from around the globe were faced with new, unforeseen challenges.
As she shared her memories about the case in her office, from her window, the dark grey clouds could be seen slowly crawling across the sky. She often looked at one of the tokens on her wall — a poster made for a documentary covering Mladic's trial, with the suspects face staring into the room — as she remembered what compelled her to travel far away from the home she loved.
"When you looked at the former Yugoslavia and looked at Bosnia, that was something that I found really difficult to comprehend," Bibles said. "I also felt a responsibility. I think we should all have responsibilities, not just locally, but globally."
Mladic was eventually sentenced to life in prison with Bibles' help.
She eventually returned from leave to continue to cover her Flagstaff cases as a district attorney, but said the Mladic trial gave her a renewed appreciation for the tiniest details of judicial processes. To her, the interviews with military men who described letting small injustices pile up until the country was at war was an example of how important the rule of law was to her.
"I saw how they destabilized communities, and one of the fastest ways to destabilize communities would be to put in judges who would not impose the law equally," Bibles said.
And now, she hopes to continue her passion from her magistrate position. Her appointment comes as federal legislation waits for a presidential signature to add Flagstaff to the map of places where district court cases can be held.
For northern Arizona, juries were once drawn and trials used to take place in Prescott. They no longer do. By adding Flagstaff to the formal places where district court can be held would help make it so northern Arizona juries would not have to travel hours to Phoenix for trials.
"Federal judges have always been concerned about having northern Arizona cases tried here. The issue is just making that happen," Bibles said.
And she is happy to see the county progress and grow with their new merit selection system and work on their specialized courts.
"As Flagstaff grows and Coconino obviously changes — as we all grow up — it'll be interesting to see how that [growth] takes place," Bibles said. "But I think the courts have shown they want the court to reflect the community and the community's interests."
And from her office, covered in pieces of art she selected in the hopes of representing parts of northern Arizona's diversity — both past and present — she has a great view to do it.