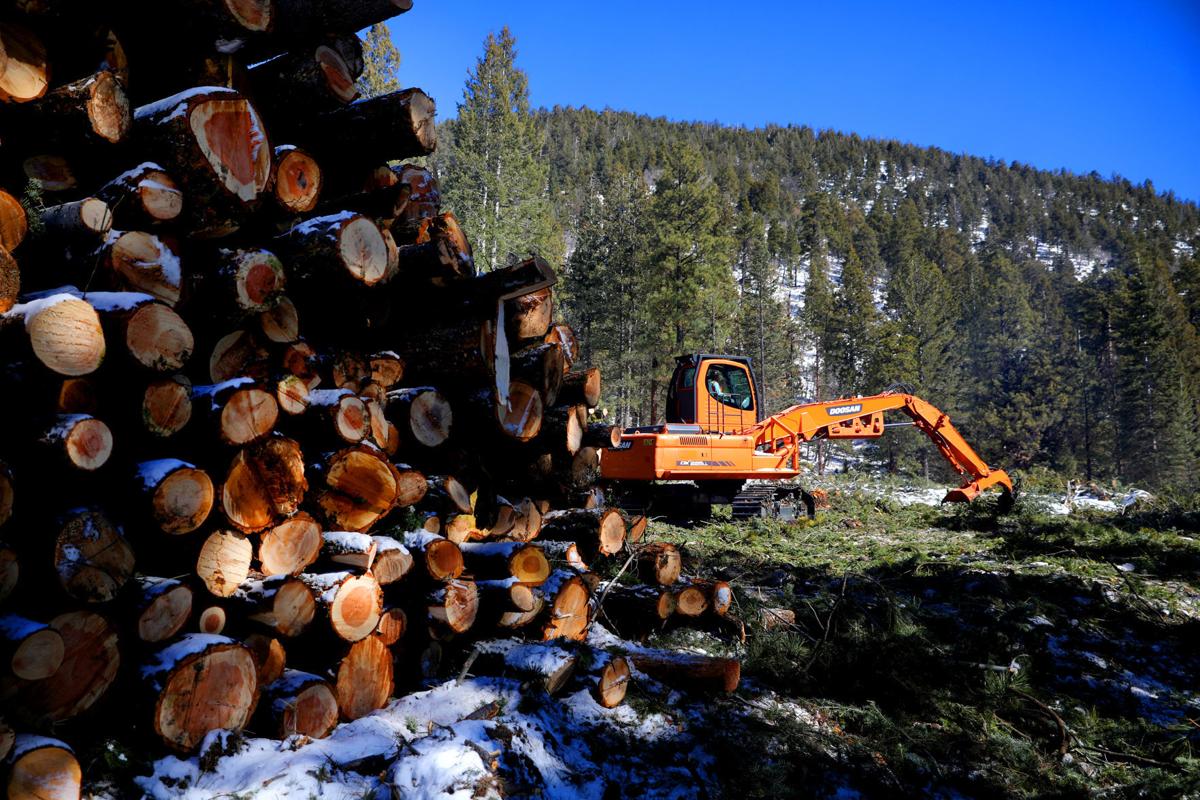 The U.S. Forest Service in Washington D.C. changed its national policy on the price of selling Forest Service timber in a way they hope will help forestry projects clear cut timber off of its thinning areas.
Across the country, Forest Service officials are now able to sell bundles of logs for a new minimum price that applies to trees regardless of its diameter — 25 cents per CCF. As 5 CCFs can fill a log truck, the new metric means a truck could be carrying a load worth only about $1.25 in areas with low-value lumber. John Crockett, Deputy Director of Forest Management, Range Management and Ecology at the Forest Service in Washington D.C., expects the change will not impact areas where trees are sold at high value, and will only help areas that are struggling to remove unhealthy swaths of trees.
The Four Forest Restoration Initiative (4FRI) works across four national forests and offers timber sales and stewardship contracts to clear unhealthy forests around northern Arizona. The new minimum rate will help 4FRI lower the cost of the wood, in the hopes that a business might be able to save money on the wood and afford the costs of removing it from the site.
Without businesses willing to buy the wood, unhealthy and potentially dangerous wood can sit on the landscape and continue to cause a fire risk for unhealthy forests.
Crockett said the Forest Service had been working on this new minimum rate for some time before a letter was sent out by Acting Deputy Chief Christopher French early last month outlining the changes.
"The change is to better align our culture, policies and procedures with current and future forest restoration needs in order to increase the pace and scale of restoration and improve forest conditions," French said in his letter.
In the 80s and 90s, Crockett said the country was cutting about 12 billion board feet on average. This past year the Forest Service cut 3.2 billion board feet.
In addition to a reduction in scale, the quality of the wood being thinned in states like Arizona has also diminished. States selling wood work their own minimum rates set by their region. Arizona's region also includes New Mexico and is designated as the Southwestern Region.
4FRI's project mainly cuts small diameter ponderosa pine trees that normally sell at low value. When it does sell, the regional minimum rates are $1 for smaller diameter, $3 for medium diameter and $5 for large diameter, according to Dick Fleishman, operations coordinator at 4FRI.
Forest Service authorities in D.C. decided to lower the national minimum selling rate even further from these numbers to allow the regions more space to set low selling rates for low-value trees.
"When you have areas that you have paid to have a restoration treatment happen in the forest, a lot of those materials are now decked up. You're left having to figure out how to get rid of the decks, so decks don't become a fire liability on the landscape," Crockett said.
Crockett explained that some other areas in the west are facing similar difficulties with clearing forests, citing forests in Colorado that are dealing with mountain pine beetle infestations. He also listed Utah and southern Idaho as places that could benefit from the new minimum.
"Any place across the system where the value of the timber is not what it used to be, you don't have significant saw timber assets on that landscape that would pay its way out of the woods," Crockett said.
In all of these places, until the wood is sold, the cut logs have nowhere to go. Fleishman said the area was reconsidering its rates in light of the new minimums in the hopes of creating more space for business owners to purchase wood.