The current winter storm is causing problems on the road as snow packs up on roadways, cars and homes in the northern Arizona area.
The National Weather Service expects Flagstaff and Williams area to receive a total of 8 to 12 inches of snow during the storm, while the North Rim could see 10 to 16 inches.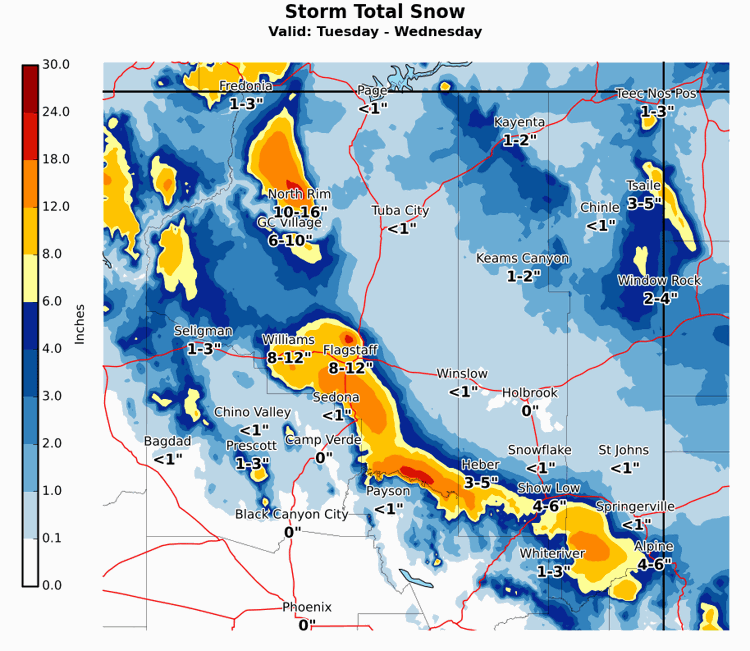 Many of the areas at and below Sedona and Payson have a Flash Flood Watch in effect as the storm rolls through, while Flagstaff, Williams and the North Rim have a Winter Storm Warning in effect.
Wind gusts in Williams, Flagstaff and Winslow are expected to range between 40 and 46 mph. The same range of wind gusts are expected for areas such as the Grand Canyon Village and Snowflake.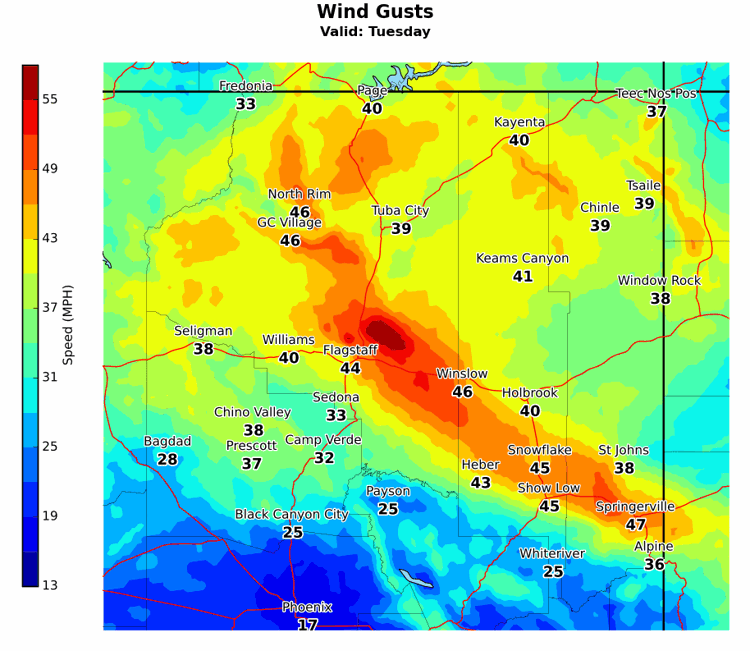 The Arizona Department of Public Safety and Arizona Department of Transportation have been responding to crashes and sending out snowplows to handle their calls for service, Tuesday afternoon.
The Department of Public Safety reported that a three-vehicle crash on the eastbound I-40 near Parks caused a road closure at noon on Tuesday.
An SUV overturned at the location, and a semi and box truck are involved, according to Bart Graves, spokesperson for the Arizona Department of Public Safety.
Graves reported injuries at the scene and that the troopers are looking to open up one lane of traffic.
The Arizona Department of Transportation suggests people delay travel if possible while the winter storm warning is in effect for northern Arizona.
"If delaying travel isn't possible, expect the unexpected by packing an emergency kit, including extra blankets, warm clothes, food and water, a fully-charged cellphone, and a first-aid kit in case you experience an extended highway closure," ADOT  said in a media release.
ADOT also reported another crash on the I-17 involving a semi-truck that closed the southbound portion of the highway earlier Tuesday morning. The I-17 collision was removed and traffic is moving again, ADOT reports.
ADOT also released further tips for traveling through the winter storm warning, including inspecting your windshield wipers, keeping your gas tank at least three quarters full, drive slow, maintain a safe distance between your vehicle and the one in front of you, don't cross flooded washes, and never pass snowplows.