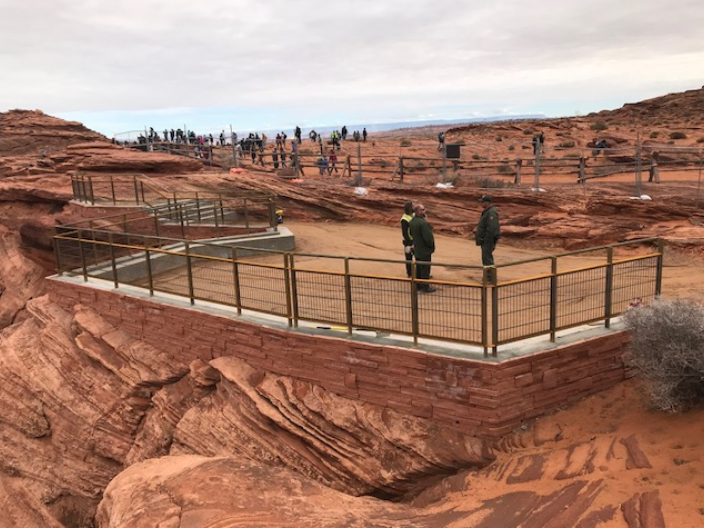 Between March 26 and April 3, three fatalities occurred at the Grand Canyon, prompting public interest from a plethora of local and national media outlets including Time and USA Today.
Details on the victims and their falls have been released slowly, with the National Park Service releasing new information on the victim of the most recent fall on Friday. Nothing has linked the cause of the deaths, besides their close time frame, with the falls occurring at different parts of the canyon.
On March 26, National Park Service rangers responded to a visitor fatality in a wooded area away from the rim. Further information on this is still pending, though NPS said the visitor was an international male.
Two days later, a man in his late 50s was taking pictures at an overlook at Eagle Point Observation area near Grand Canyon West when he slipped and fell. The Macau resident was with a tour group from Hong Kong.
Eagle Point and the nearby Skywalk, owned and operated by the Hualapai tribe, were closed for the rest of the day while a helicopter search and recovery operation took effect. The fallen man's body was recovered 1,000 feet below the rim.
On the afternoon of April 3, 67-year-old Michael Obritsch fell over the edge of the rim, east of the Yavapai Geology Museum at Grand Canyon National Park. Obritsch's body was discovered 400 feet below and he was a lone visitor from Santa Rosa, Calif.
While three deaths in an eight-day span may seem excessive, when compared with the yearly total of deaths at the Grand Canyon in general, the numbers aren't as shocking, according to John Quinley, spokesperson for the national park.
"In 2018, there were four fatal falls from the south rim, one of them a suicide. There were five other search and rescue related deaths, and the balance were medical or other causes," Quinley said.
The number of fatalities in the park for all causes has remained fairly even over the past several years, he added.
"The 10-year average is 16 fatalities per year. In 2016, there were 16. In 2017, there were 19. Last year, there were 17," Quinley said, adding that at the same time, "visitation to Grand Canyon National Park has increased steadily from 4.7 million in 2014 to 6.3 million in 2018."
Flagstaff resident Michael Ghiglieri, co-author of "Over the Edge: Death in Grand Canyon," shared sentiments that the amount of people who fall over the edge each year is an "incredibly tiny number" in the scope of overall visitors to the park.
Ghiglieri compared Flagstaff's population, more than 70,000 in 2017, to the 6.3 million Grand Canyon visitors in the north and south rims.
"Flagstaff has a few murders a year – expand [its population] up to six million people and it would be a few hundred [murders]," he said.
Due to the small number of falls (four in 2018) compared to the overall amount of visitors, Ghighlieri said he wouldn't say the Grand Canyon National Park necessarily has a problem with people going off the edge, and called the recent deaths closeness in proximity a fluke.
"There is a big difference between a tragedy and a problem," Ghiglieri said. "It's tricky because if the fall [near the] Skywalk had not happened, I don't think it would be resembling an epidemic."
Epidemic or not, there have been efforts to curb the falls at the park.
"Some people for whatever reason, consciously or not, end up in a position where they might fall and that is fortunately a very small number, but that is not a zero number," Quinley said.
Some safety precautions the park has taken include putting up caution signs in dangerous areas and notices within the handouts visitors receive  when they enter the park. Park rangers also reinforce safety to visitors in group presentations and individuals they see doing "something particularly hazardous or unwise," Quinley said, but added because there are only 400 employees in a given day, they know their reminders only reach a fraction of the visitors.
"Stay six feet from the edge, hold on to your kids, don't lean over the edge or go past the railings," Quinley said. "And then because selfies are popular, don't keep backing up without looking where you're going."
The park's pipe railings or stone barriers have been placed in the most popular and most visited overlooks. Quinley said although there has been past discussion within the park to build some kind of barrier along all 277 miles of the canyon, the consensus was that it was not practical.
"Park visitors, and safety in general, would not be well-served using limited park funding on that sort of construction since many of those areas are difficult to access or see few visitors," Quinley said.
HORSESHOE BEND OVERLOOK
Just two hours north of the canyon's south rim, Horseshoe Bend Overlook sports a new rim viewing platform and safety railing.
The City of Page partnered with Glen Canyon National Recreational Area in 2017 in order to "address the rapidly escalating need for visitor services at the location" as it grew increasingly popular with tourists, according to a press release.
Mary Plumb, spokesperson for Glen Canyon National Recreational Area, said that there have been six deaths at the overlook – three of which were accidental.
The first fall was a Greek tourist in 2010, before the overlook gained its current popularity, Plumb said. The visitor was standing on an overhanging rock when it crumbled beneath him. Afterwards, they placed a sign for visitors to be aware of the foundation they are standing on, with a visual so everyone can understand despite their language.
The most recent fall was that of a 14-year-old girl from San Jose, Calif. who was visiting with her family on Dec. 24, 2018. The girl's parents originally reported her missing, and Search and Rescue located the girl's body 700 feet below the overlook, retrieving it via helicopter on Christmas Day.
Horseshoe Bend's railings, which were originally built so that the area could be compliant with the Americans with Disability Act, were finished July 2018, months before the girl fell. According to Plumb, visitors have the option to use the rails or not, and are ultimately responsible for their own safety.
Ghiglieri, a former Northern Arizona University anthropology professor and current canyon river guide, said the national parks and areas have "done about as well as they can in these situations."
"If you just put railings here and there, then people walk to the end of the railings and go around it," he said, adding that whether there are barbed wire fences, electric fences or any other elaborate methods to prevent people from falling, there are some people who will find any avenue to deliberately put themselves in harm's way.
"The issue with a very small number of people is they don't process danger as a normal human being processes danger," Ghiglieri said. "The vast majority of people show common sense when it comes to self-preservation [yet] there's always a fringe number that doesn't. Fixing [the parks] so that [the falls don't] happen again is virtually impossible."