It was a warm August morning when the group of about eight volunteers descended the short distance into Picture Canyon carrying shovels and large blue plastic bags.
The volunteers, members of the Picture Canyon Working Group, are targeting invasive plants -- as they have done every other Wednesday for several years -- and today the target is primarily scotch thistle.
Karen Enyedy is one of the volunteers. Thrusting her shovel into the root system of a thistle, she uses her light blue leather gloves to pull the plant out of the ground and snips off the most mature of its flowers.
This year has been a bumper crop for scotch thistle, which they previously had a fairly good handle on in Picture Canyon, Enyedy said. This year's wetter than normal spring provided scotch thistle with the perfect weather in which to grow, Enyedy said, adding she has seen the plant in areas it's never been before.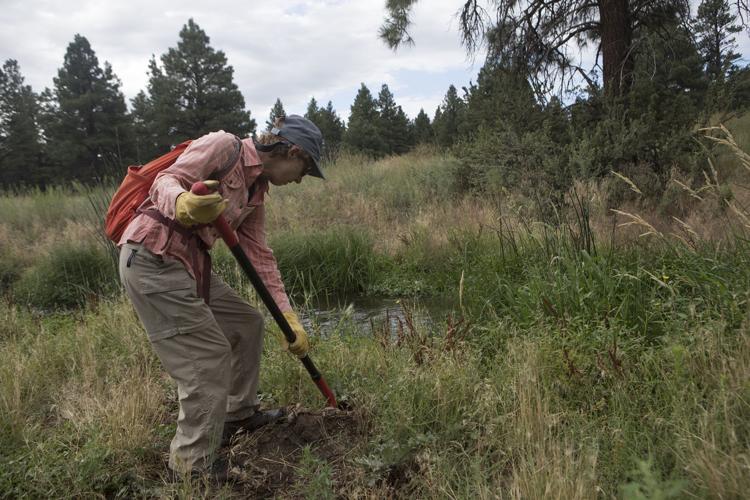 Invasive plants can be important to manage as depending on the circumstances, they tend to take over ecosystems and can out compete native plant communities, said Botanist with the Coconino National Forest Debra Crisp.
Some weeds can also be poisonous to grazing animals and certain weeds, like Scotch Thistle, can also impede recreational activities, Crisp said.
But even this year's bumper crop of thistle is nothing compared to what Picture Canyon looked like as recently as 10 years ago, Enyedy said.
At that time, instead of the meandering creek that runs through the field of native bunch grasses and riparian vegetation, the water flowed through a strait channel flanked by hundreds of scotch thistle and other invasive plants.
That changed after the Wildcat Hill Wastewater Treatment Plant, which feeds water into Picture Canyon, and the city worked with the company Natural Channel Design to restore the area's natural riparian habitat, said Cathy Scudieri, who works for Natural Channel Design.
Scudieri wasn't working with the company at the time, but she is now a regular volunteer helping to eliminate the weeds that remain and keep them out every year.
The project included money to fight weeds for only a few years after it was completed, but since then, the majority of the work has been done by volunteers from the Picture Canyon Working Group.
Those volunteers have learned to respect their adversary. Unlike native thistle, which is a kinder looking plant, nearly every centimeter of scotch thistle is covered in prickly leaves.
"I've never met a plant like [scotch thistle]," Scudieri said. "This plant is an amazingly strong plant."
Careful to ensure it is not a native thistle, Enyedy pulled another plant and again clipped off the flowers and put them in her plastic bag.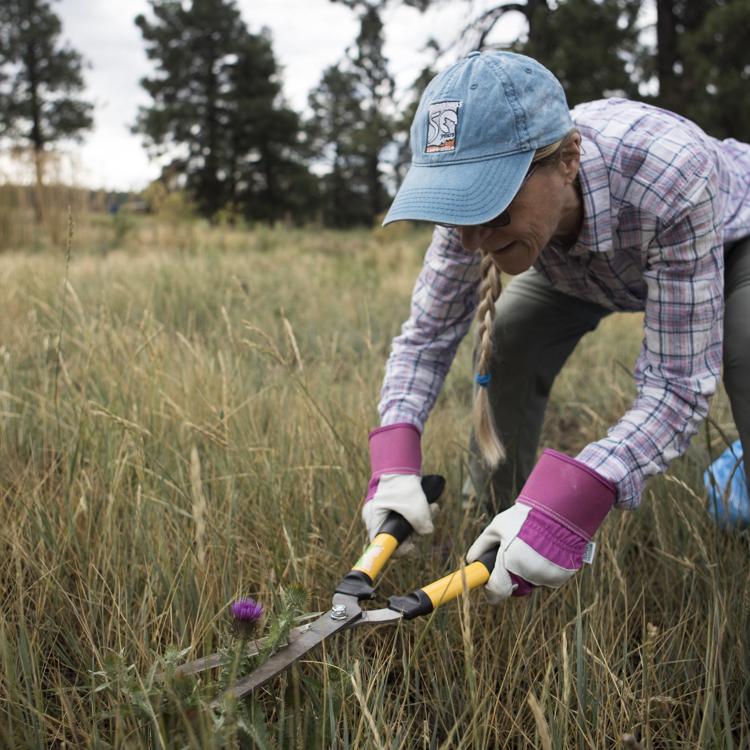 "If we were to just pull this out of the ground and leave it, there's enough energy in the stalk that those flowers can go ahead and open, be pollinated and set seed," Scudieri said.
And with thistle able to produce as many as 40,000 seeds, that's a possibility they do their best to avoid, even disposing of the flower heads they collect in a county incinerator rather than throwing them away, Enyedy said.
You have free articles remaining.
Register for more free articles
Stay logged in to skip the surveys
But this year, those volunteers have gotten some help. In 2018, the City of Flagstaff and the Picture Canyon Working Group were awarded a state grant to help combat the weeds, said City Open Space Specialist Robert Wallace.
The grant provided the city $20,000 to treat invasive and noxious plants in and around Picture Canyon, with local partners providing a $20,000 match.
The local partners that helped provided the local match were property owners and businesses that surrounded the Picture Canyon area including the county, the Wildcat water plant and Kinder Morgan, which runs the gas pipeline in the area.
One issue they have had with weed management in the Picture Canyon area is that although volunteers have eliminated many weeds inside Picture Canyon, the property surrounding the area has not seen the same attention.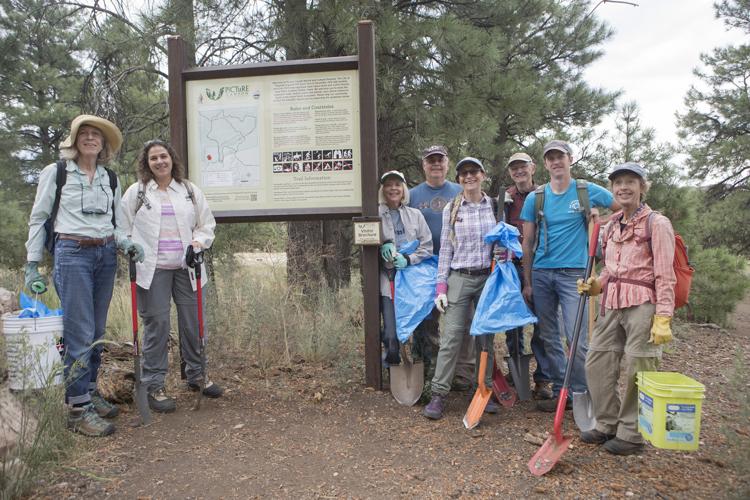 As it turns out, weeds care very little about property boundaries. Wallace said they have had invasive plants like scotch thistle move into the area from surrounding properties.
And with the grant money, and the cooperation of surrounding property owners, Wallace said they have been able to treat many of the surrounding properties and help develop weed management strategies with some of the surrounding properties.
With the help of the grant, members of the Picture Canyon Working Group and community volunteers have contributed over 78 hours of labor toward planning and removing weeds. Over 190 acres have been treated, 58 acres with grant funds and 133 acres with in-kind match, according to Wallace.
While volunteers typically do their work with hand tools, the money has also allowed the use of herbicides to more quickly kill larger numbers of invasive plants.
Invasive plants following the Museum Fire 
The money provided by the grant ends this year, but Enyedy said they are considering applying again, but this time not to benefit the Picture Canyon area. Instead, they are hoping to get the grant to help deal with invasive plants in the aftermath of the Museum Fire.
National Forest Botanist Debra Crisp said invasive plants often become an issue in a fire's aftermath as so many of them grow well in disturbed soil.
Crisp said cheatgrass is everyone's favorite invasive grass to hate and will likely grow in the burn area, but she is more concerned about Dalmatian toadflax spreading throughout the burn area. In part, that's because they have records of toadflax in that area before the fire began.
Because of these concerns, Crisp said in the Burned Area Emergency Response team's report, she requested money for weed management efforts in the Museum Fire burn area. That may be done through the introduction of specific insects that will kill the weeds, herbicide or possibly by hand.
The fire also may have meant the introduction of other kinds of weeds along roadways as trucks and fire personnel from across the region rushed to help fight the blaze, Crisp said. Seeds can be carried on the undercarriage of vehicles, stuck to tires or on people's clothes.
Generally, the Forest Service asks employees to wash their clothes and vehicles before traveling to help prevent the spread of invasive plants, but in an emergency such as a fire, those concerns are not as important.
Because of this, Crisp said she also asked for additional funds to look for weeds along some of the forest roads frequented by fire personnel. In those cases, they may be looking for knapweed and scotch thistle.