Goopy clay oozes between Tyrone Thompson's toes, making sort of a rhythmic squishy sound with each step. His wife, Felicia, adds more water to the mix, then shovels in a bit more soil for him to knead and form into a sticky, muddy plaster with his bare feet. Thompson nods; it's the right density now.
When the mud finally thickens, Thompson reaches down and scoops up two handfuls. Then he slaps the clay onto the partially eroded side of a  traditional outdoor oven at the STAR School, just outside the Navajo reservation and 20 miles from Thompson's farm in Leupp. He shapes and rounds off the muddy molding, adds deep thumbprints throughout to make sure it adheres, just as his mentors and elders had taught him.
Satisfied, Thompson plops down on a nearby bench hewn from harvested pine. He presents quite a sight: dried mud caking his arms almost to the elbow and from toes to mid-calf, too. It's a contrast to the man sitting next to him, STAR School CEO Mark Sorensen, in a spotless button-down shirt and pressed pants.
The two resume the discussion they had started while Thompson was in the midst of squishing mud in advance of the school's annual harvest fest on Thursday.
"I don't really like it," he tells Sorensen, the subject being public funding Thompson has received. "I'm more about hands down, working, not having hands out, know what I mean?"
"But," Sorensen counters, "grants can help. That's empowering to people."
Thompson stares at the cracked dirt on his palms and flicks off a few clods.
"The government has us trained that way," he tells Sorensen. "I don't want to be dependent."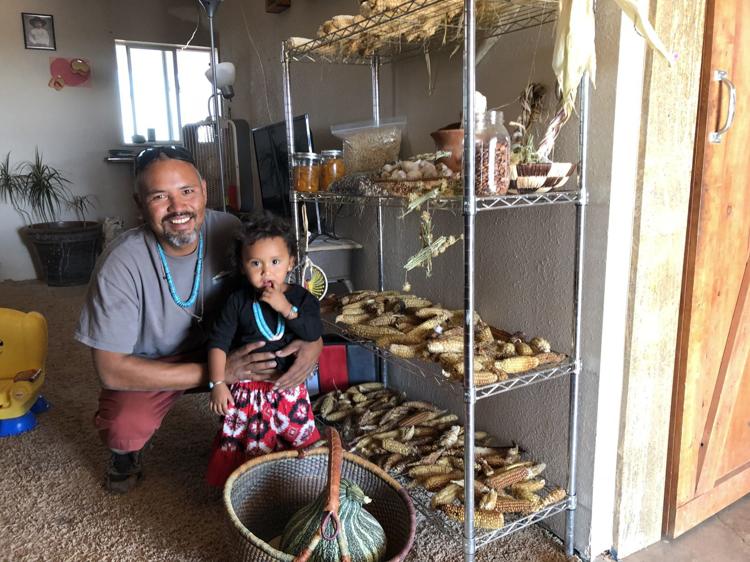 Sorensen presses on. He tells Thompson that the work the 39-year-old Leupp farmer has done to help his fellow Navajos and other indigenous people — teaching sustainable family farming techniques on the reservation, about healthy eating using nontraditional vegetables such as kale and arugula, about regaining one's personal and communal sovereignty through taking control of their own land and water — makes a difference and is deserving of funding.
Thompson eventually is won over.
"I guess now that I've given 10 years of my life giving back (to the community), I don't feel so bad taking something for teaching people things," he says.
He smiles, outstretches his soiled hands, palms up, to a visitor, as if to show he's literally not afraid to get his hands dirty.
"Ch'ishie," he says, smiling broadly. "This is what I'm talking about. Ch'ishie. Dirty. Humble. That's what we're about."
It's one of Thompson's favorite Navajo words, and it's why he used the name Ch'ishie Farms for his farm and start-up business to build hoop houses (akin to greenhouses) and advise schools and communities about cooking with fresh vegetables. Last month, Thompson was one of 11 Native American entrepreneurs selected to participate in the Change Labs Business Incubator, which makes him eligible for up to $10,000 in micro loans.
"Change Labs really helps Native businesses," he said. "I was honored to be selected."
That's just the latest accolade for Thompson. The STAR School, off-the-grid and with its own elaborate gardens and greenhouses, recently received a grant from Indian Health Services to, as Sorensen put it, "employ Ty to help set up gardens for families in the community."
Along with tending his own patch of land, on which he grows corn, beans and all types of leafy greens, Thompson spends considerable time on the road promoting sustainable farming on and off the reservation.
He routinely gives lectures and demonstrations at the Museum of Northern Arizona in Flagstaff, educates on farming at the Little Singer Community School in Winslow, was an ambassador to Food Corps, a nonprofit promoting healthy foods in schools, and gives seminars for Tonali Lake Enterprises, a nonprofit Native American community development corporation. He also was featured in the influential 2015 book, "The Color of Food: Stories of Race, Resilience and Farming," by Natasha Bowens.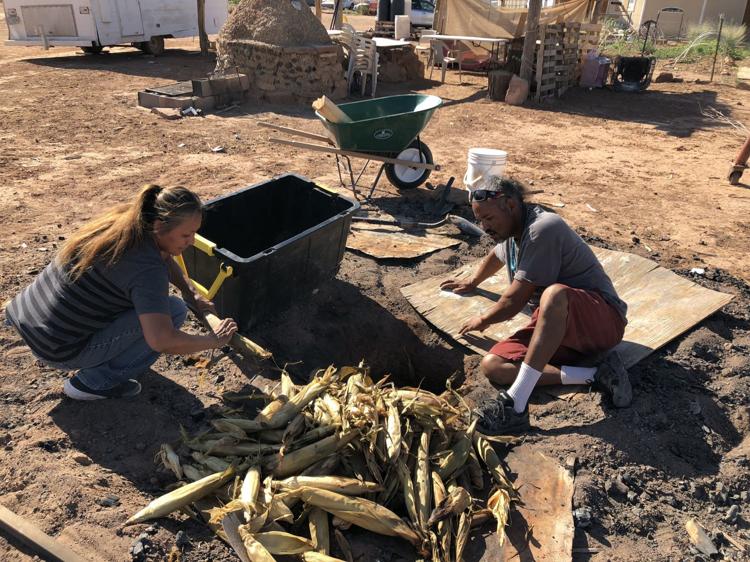 And, sometimes, Thompson is something of a food historian, traveling far and wide on the reservation to remind Native Americans of their roots the best way he knows how — through their stomachs. Just recently, he and his family (Felicia, and three young children) traveled to a senior center in Monument Valley, where he cooked earth-roasted corn and sheep for the elders.
You have free articles remaining.
Register for more free articles
Stay logged in to skip the surveys
"They had tears in their eyes," he said. "We brought back all the traditional ways that are forgotten."
As grounded as Thompson is in Navajo tradition, as respectful as he is to elders in the community, his overarching goal is to boost personal autonomy and economic freedom through promoting family farms on the reservation. He notes the poverty and high rates of Type-2 diabetes among his people and, instead of relying on the government (federal or Navajo Nation) to find answers, he's taking the initiative himself.
"Between Navajo, Hopi and other indigenous people, we have answers to the problems here," said Thompson, back at his farm, where he was busy taking more than 50 ears of corn out of the underground oven. "What we're modeling is regenerative agriculture.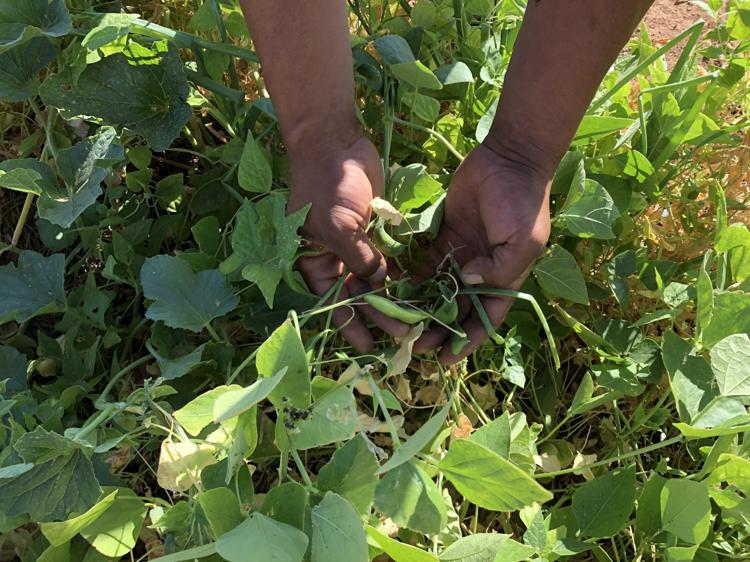 "How do we have communities take ownership of these places and spaces? How do we actually implement this food sovereignty we're talking about? We want to feed ourselves first. After we feed ourselves, maybe we can feed the community and then maybe we can feed our nation."
What Thompson sees is potential wasted. Leupp and other towns on the reservation may be dubbed "food deserts" (areas in which it is difficult to buy affordable or fresh food) by experts, but it doesn't have to be, Thompson said.
One of his favorite expressions is: "From Winslow to Cameron, we can be the breadbasket for Arizona."
Standing on his parcel of land on a warm mid-September morning, the landscape looks sere and slightly forbidding. But Thompson begs to differ. "We sit on one of the largest aquifers in the state," he said.
What's missing? The will and resources to do it. Thompson hopes to change that.
In a way, Thompson seems an unlikely choice as a leader. His mother was Navajo and his family lived in and around Leupp for generations. But his father was African-American, and Tyrone spent much of his youth in the Phoenix area. He learned a trade, marble and granite fabrication, and built his life in the Valley.
Then came the recession in the mid-2000s. The housing market dried up, and Thompson looked homeward, back to the rez, in an effort to reconnect with his roots and carve out a new life for his family. Farming came to him naturally, he said, though he credits the late Navajo farmer and educator Justin Willie for teaching him the fundamentals and "modeling" ways to spread the word about family-farming practices.
"Justin worked in 'healing gardens' with the NAU Diabetes Prevention Program," Thompson said. "I'd follow him around."
Thompson, like Willie, is a dynamic personality, loaded with enthusiasm and brimming with plans and ideas. "Usually," Thompson said, smiling, "the Good Indian is the Quiet Indian. I'm half Navajo, half African-American, and I'm a dreamer out to help end the oppression the colonizers put on us. But we can get people to commit getting back to the land.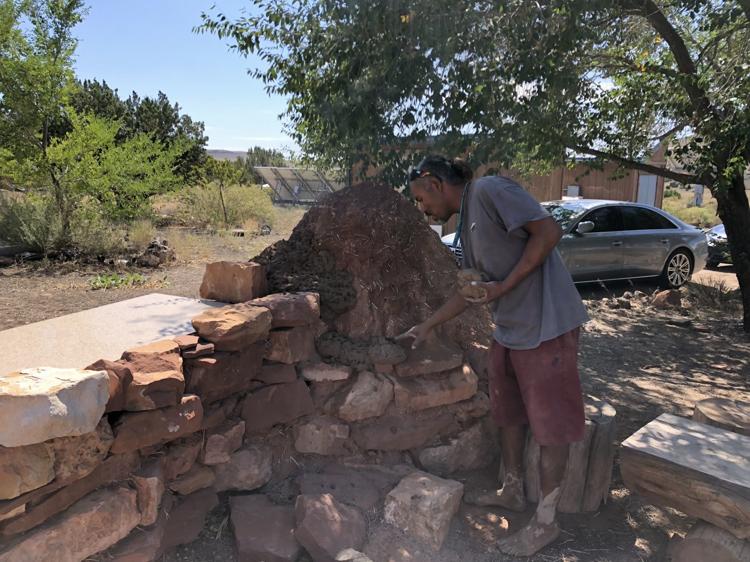 "The challenge is to educate people on how to eat these kinds of foods. We can grow, like, kale. We can grow arugula, all these high-end things that Flagstaff people will pay for. The challenge is to educate them to use kale, how to make recipes. I've had had elders tell me, 'What do you think we are, sheep?' I give them all these really good high-end edible greens, and they need to reconnect to the land to accept it."
To that end, Thompson has worked hand-in-hand with the STAR School, which has reached out to the wider community.
"Tyrone's really passionate and helped us teach the kids about food," said Pauline Butler, the school's Community Happiness Coordinator. "The students now expect kale and greens. They know we want them to eat healthier, to make it part of the culture."
Thompson added: "They make this blue corn tortilla with kale at school – the kids love it."
On this day, Thompson brought bushels of earth-roasted corn, other vegetables and grapes that he tossed in his truck for the kids and the community. When he arrived, he was greeted with smiles and hugs. Everyone seemed to know him.
"We're not out here for the fame," he said. "We're not glamorous. We just want to connect — with people and with the land. Ch'ishie. Humbleness."