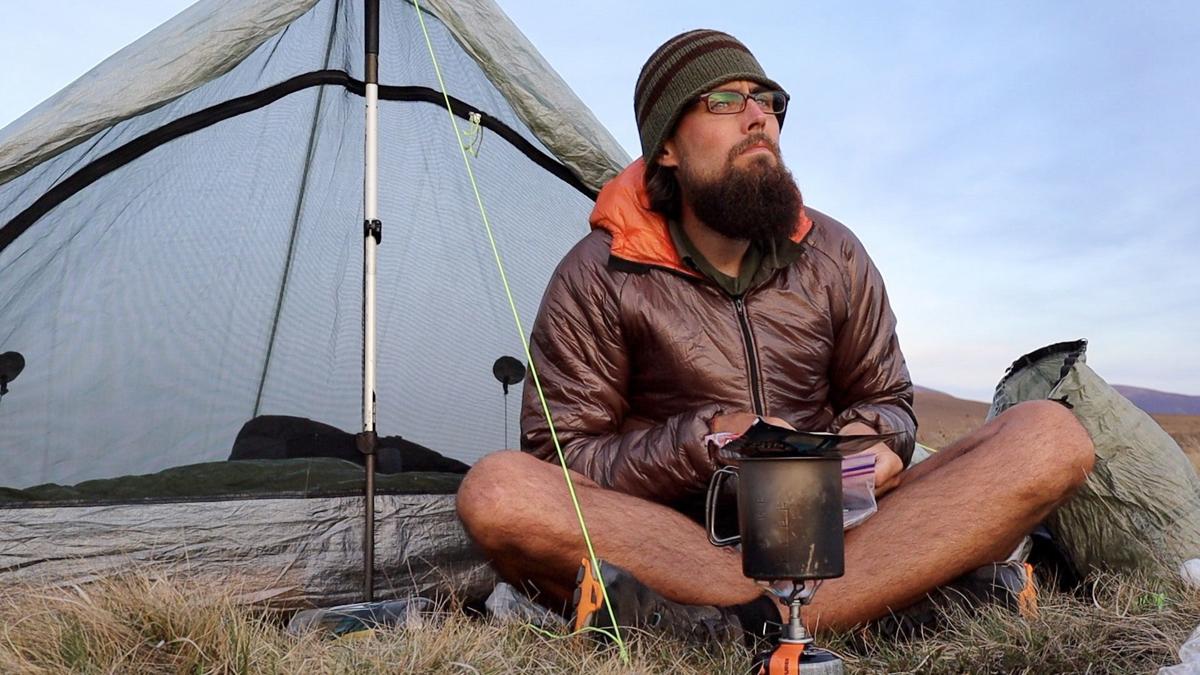 Off the trail and in captivity at the Kickstand Kafe, Darwin seems slightly uneasy, perhaps yearning for a return to his native habitat. His piercing blue eyes dart around when a big truck rumbles up North Humphreys Street, and he stops moving altogether when an ambulance, siren wailing, zooms past.
The sounds of civilization: so intrusive, so distracting. Just so, so much. An assault on the senses.
For someone who spends a vast swath of time immersed in nature and actually makes a living at it — his YouTube channel, "Darwin on the Trail," had 204,013 subscribers at last count — Darwin perhaps can be excused for feeling corralled at a Flagstaff coffee shop to talk about the transcendent wonders of the Arizona Trail, the 800-mile path stretching from the Mexican border to the Utah state line that never ceases to be a source of self-discovery for him, the latest inspiration being an upcoming documentary on the trail.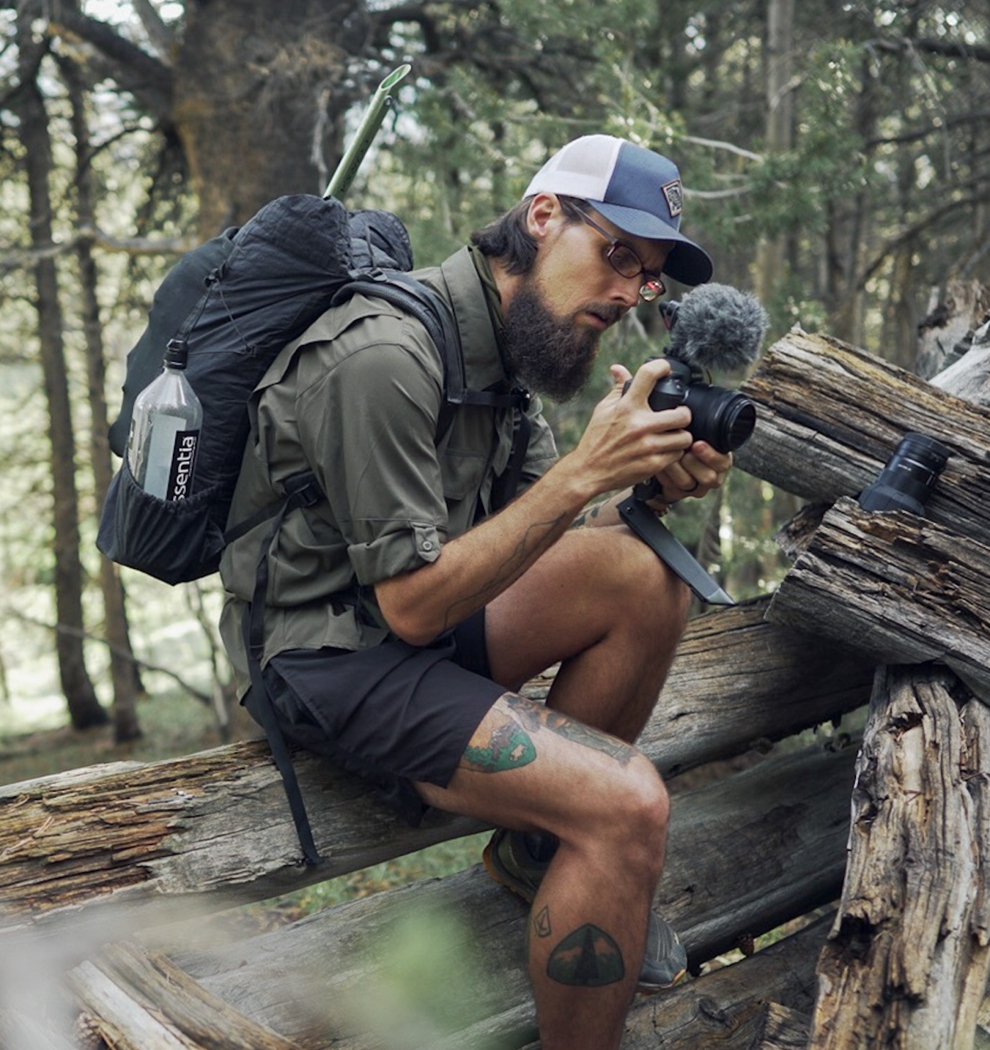 Really, he should be waxing poetic about the Arizona Trail on a climb along the Mogollon Rim or crossing the Gila River or, heck, even sauntering along the pine-lined path not even 10 miles from where he's sitting at an outdoor table sipping coffee with oatmeal milk.
Incongruity aside, Darwin pushes on beyond the distractions with the same verve he exhibits as a thru-hiker. In time, the cacophony of downtown Flagstaff seems to recede and he is transported, in his mind's eye at least, back to the trail. That's because no matter where Darwin is — Saturday, he will be the keynote speaker at the Arizona Trail Day celebration at Buffalo Park — part of him is always on the trail.
As a self-described social-media creator — he abhors the "influencer" label — the 34-year-old filmmaker and outdoors enthusiast has thru-hiked the country's iconic trails, the Appalachian and Pacific Crest, but he holds a special place for the AZT.
Such passion is evident in Darwin's 11-part YouTube series chronicling his trek earlier this year. But that series, which garnered hundreds of thousands of views and significantly raised the profile of the AZT, is merely the outtakes, or a coming-attractions trailer, if you will, for his main project: a deep-dive into the trail itself; its formation from idea to actuality; how a band of dedicated people blazed the path and devote untold hours to maintain it; and how, on an emotional level, it has affected the lives of people who hike, run, bike or ride horseback along its many diverse and challenging sections.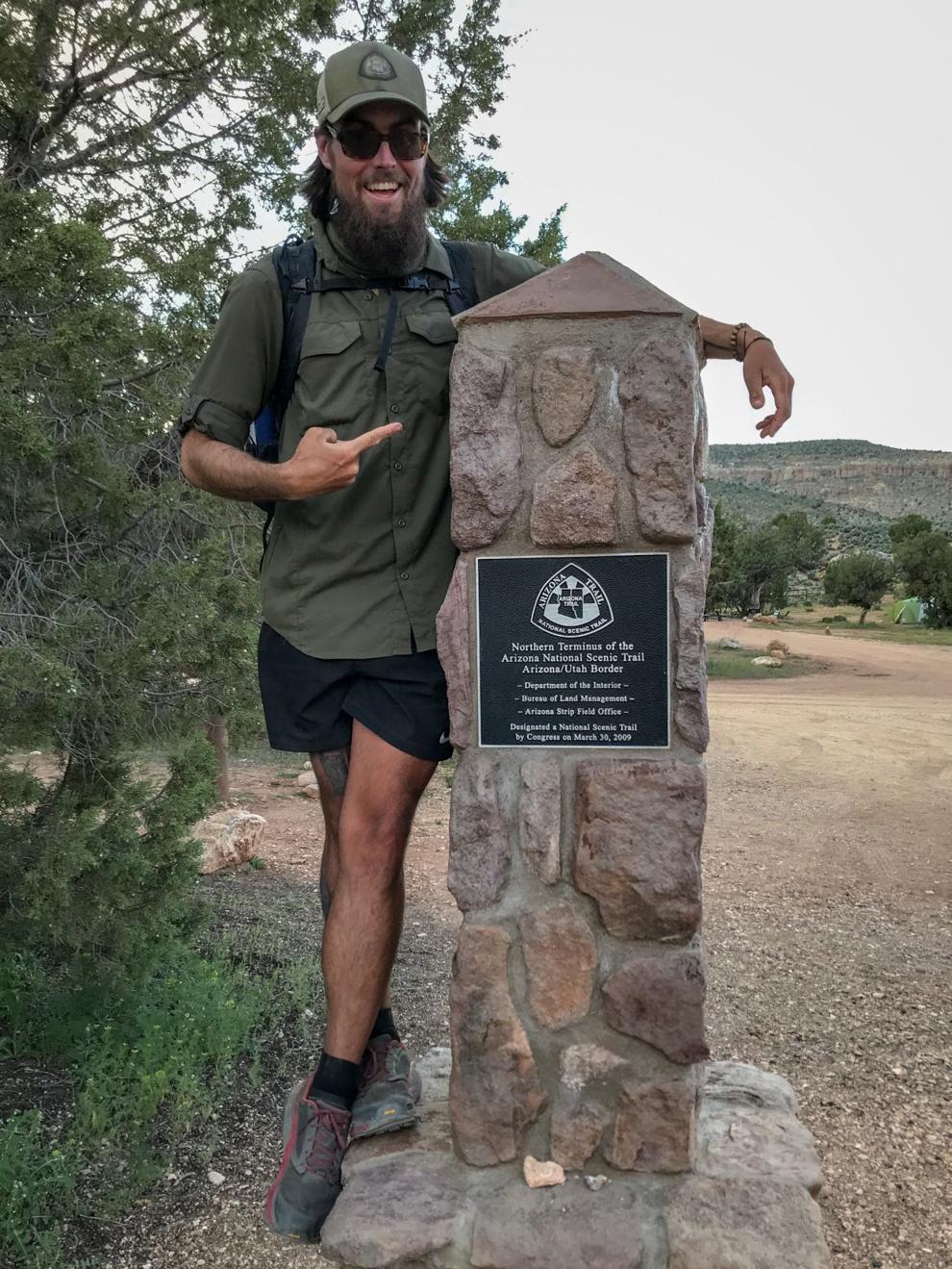 Undertaking this comprehensive project meant turning the camera away from himself, which may appear antithetical for someone who makes what he calls "passive income" from YouTube, a platform dismissed by some as vehicle for a selfie-obsessed, all-about-me generation.
But for Darwin — that's his "trail name," by the way; he prefers to be identified only as such — doing just that was a relief. Much as he is appreciative of the notoriety of racking up big numbers on social media platforms and getting recognized as something of a rock (and root) star on the trail, he said he realizes his love of the Arizona Trail overshadows personal achievements.
The trail gets top billing, always. He's merely holding the camera, talking to the supporting players in the Arizona Trail Association, as well as trail stewards, land managers, local community officials and those fellow travelers with their own transformative stories to tell. Occasionally, the quirky Darwin persona seen on YouTube will surface, but merely to provide context to keep the viewer grounded.
Ask Darwin when the film might be completed, and he tugs nervously on his impressive waterfall of a beard — a true John Muir type of beard, by the way, dark and dense as a forest — and says he still needs more shots, more interviews, more of everything, because the AZT is so multi-faceted he could shoot footage for years and perhaps still not get to the essence.
That said, expect it sometime in 2020.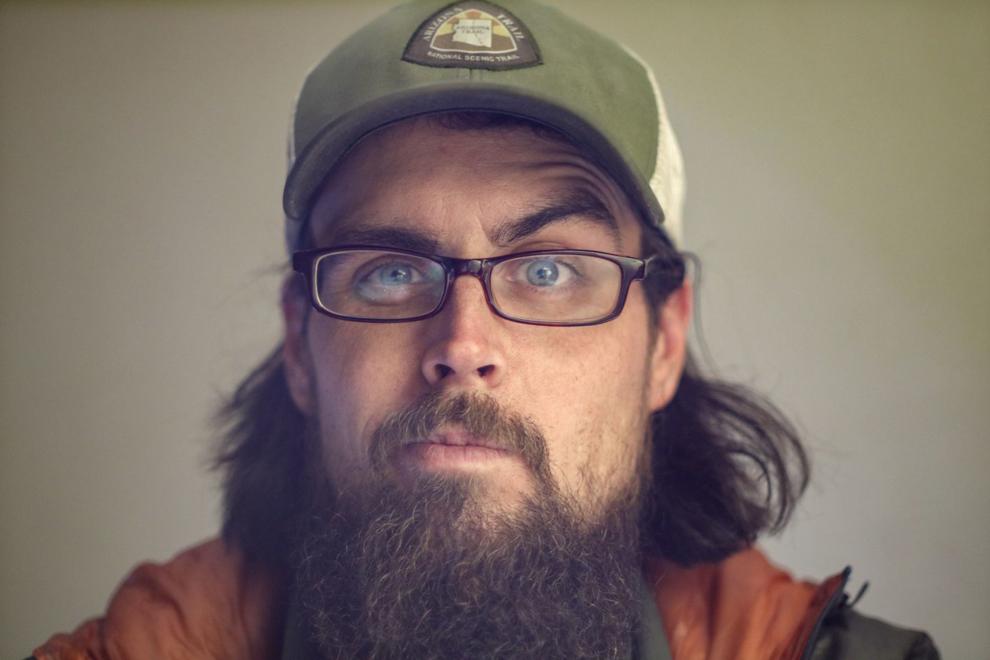 "I thought I'd make a standard documentary — here's the trail, here's the history, you know," he said. "It's kind of tongue in cheek, but I keep telling everybody, 'I went out to make a documentary and wound up making a love story — a romantic comedy, if you will.'
"People poured their heart out, telling how the trail really changed their life and intimately sharing their story. I met somebody who said the trail saved their marriage. I met somebody who was lost and didn't know what to do with their career, and the trail took them down this whole different path. I've met people who've devoted their lives to the trail. I'm just the captain of the ship, guiding the story."
It's not as if Darwin and his cameras needed the Arizona Trail Association's permission to tell this story — the trail, after all, is open to everyone and many have produced "personal journey" documentaries and penned memoirs about it — but association executive director Matthew Nelson said Darwin's commitment is unprecedented and that the organization was happy to help.
"A lot of these videos are from the first-person (perspective)," Nelson said. "What makes Darwin different is that he completely gets the trail is bigger than that; it's the connective tissue to the whole state. I haven't even seen any B-roll yet, but I think it'll be unlike anything done before to document the trail."
Though it's not likely to make the documentary's final cut, Darwin's own story of how the AZT shaped his unconventional life gives clues to his motivation for launching the project.
He is not an Arizona native. Not even a resident (though he is currently crashing in Flagstaff to edit and shoot more footage), not even familiar with the trail's topography before 2016, Darwin seems a curious choice. Until, that is, you hear of his AZT epiphanies; then it makes more sense.
A little background first, though: An Indiana native, Darwin chose his trail name because "I'm constantly evolving; and the beard, too." In his 20s, he raced triathlons, owned a restaurant, built a professional recording studio, worked as a tool and die machinist, was a spin and yoga instructor, fixed slot machines at a casino. By his 30s, he had a house, two cars and "all the toys." But he and his wife (trail name: Snuggles) felt "tied down," stifled. They yearned to "get rid of everything and hit the reset button," and so they did.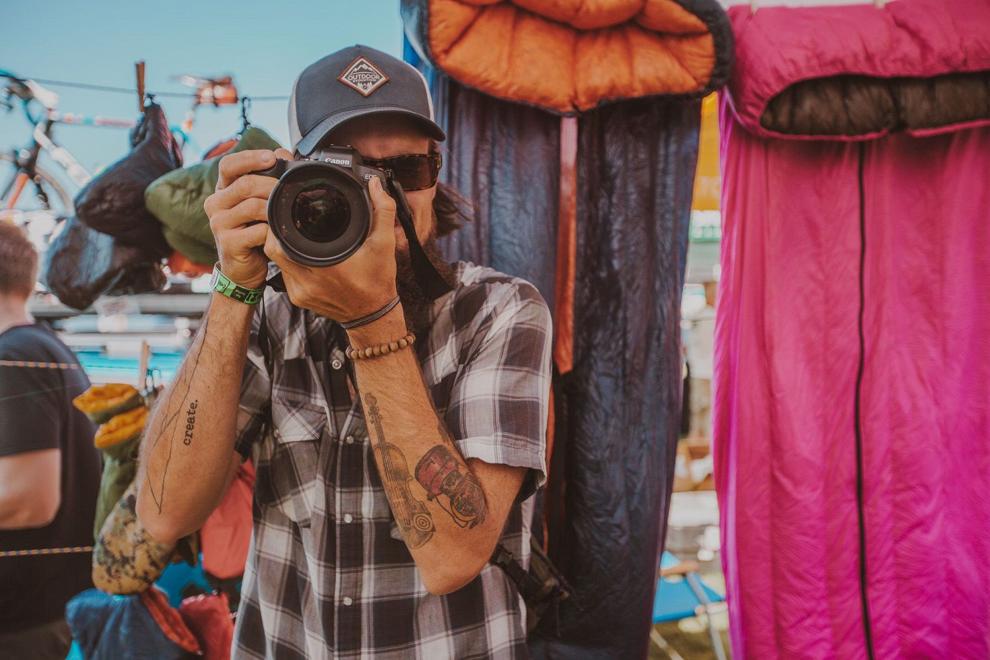 As with so many others, his journey of self-discovery began on the Appalachian Trail, which he thru-hiked in 2015. But he made it only 1,600 miles in to Great Barrington, Mass., when calamity struck. Within a few days, he contracted Lyme disease, broke a tooth and was informed that his wife's grandmother had died. Darwin vowed to return and complete the trail, which he did. But he also started recording YouTube videos, mostly about hiking gear, that drew, at most, about 2,000 views.
Depressed in the summer of 2016, Darwin found himself working part time in a bike shop in Albuquerque and hiking sections of the Continental Divide Trail is his spare time. He'd also taken up bikepacking, and happened to watch an REI-produced video about a distanced biker who tried (and failed) to ride the AZT, north-to-south.
Off Darwin went on his bike. When he got to the Grand Canyon, he paid to have his bike shuttled across, and he walked rim-to-rim. That rekindled his love of hiking.
As he climbed Bright Angel Trail to the South Rim, Darwin's first realization struck shortly after he stepped wrong on a rock and tore the meniscus in his right knee: "If my knee ends up being fine between here and Flagstaff, I'll finish the (bike) trail. If not, I'd get off and take the rest of the money I saved for this ride and invest it in a better camera and a tripod and commit to making as many videos as possible. Coming into Flagstaff, my knee was the size of a softball. I sat at Lumberyard Brewing, had a beer and waited for my wife to pick me up. I closed the bar that night, dreaming up ideas."
Shortly after producing videos full time, Darwin recorded the one that propelled him into the YouTube stratosphere. Titled "How the Appalachian Trail Ruined My Life," he humorously recounted that chain of misfortune on his first thru-hike.
"It blew up," he said. "The channel grew by 10,000 in a month and kept going. By August of 2017, I was making enough passive income to travel and thru-hike."
It was on the PCT in 2018 when Darwin's second epiphany hit. He was just outside Mount Shasta and feeling weary.
"My channel was at 100,000 subscribers and every day on the trail people are walking up to me wanting to take pictures with me," he said. "I felt like some second-rate K-Mart celebrity. I was thinking, 'Am I doing this for money and celebrity, or do I want to inspire people?' That morning, doing the film came into my head. I was wearing my AZT hat that day. I realized, I owed my (career) to the AZ Trail, and I wanted to share it."
The project's germ had been planted. When he finished the PCT, Darwin plunged ahead. In the past year, the AZT has been his passion. Not only has he thru-hiked it with camera rolling, but he has doubled back and driven to towns along the way to talk to "trail angels" (people who leave water and food along the way) and stewards who make sure the trail is maintained properly. He's delved into the history and asked about preservation efforts for the trail's future.
"To me, there's a spiritual feeling about this trail I can't quite figure out," he said. "Sometimes, I think the trail doesn't want me out there, mainly because it kicks my ass all the time. It's rough and tough. It's extreme. Snow and post-holing one day, dealing with extreme heat and exposure the next. I don't know if I want to figure it out. I like the mystery."
And, judging by the look in his eyes, it was clear Darwin couldn't wait to get back out there.