Through President Rita Cheng's Distinguished Speaker Series, Northern Arizona University students descended in droves to see actress Angela Kinsey speak at Prochnow Auditorium on Thursday night.
When theme music from NBC's Emmy-winning show "The Office" began playing from the stage before Kinsey's appearance, the sold-out crowd went into an absolute tizzy – cheering, gasping and hyperventilating.
Though Kinsey has appeared in a variety of TV shows, films and specials since "The Office" ended its nine-season run in 2013, she is still best known for playing the stone-faced, cat-obsessed, uptight accountant Angela Martin on the show.
Even though many NAU students were preschoolers when the comedy series premiered in 2005, they proved a new generation of fans were back with a resurgence. Kinsey even commented on how she gets recognized more on the street now than when she was in the show because Netflix users are able to stream and binge-watch.
Even though Kinsey is nearly 50, the actress knew how to play to her Gen Z fans well. As she came onto the stage to deafening cheers and claps, she held her smartphone out in front of her.
"Will you guys be in my Insta-story?" she asked before capturing a video of the crowd, which let out a renewed rendition of excited shrieks.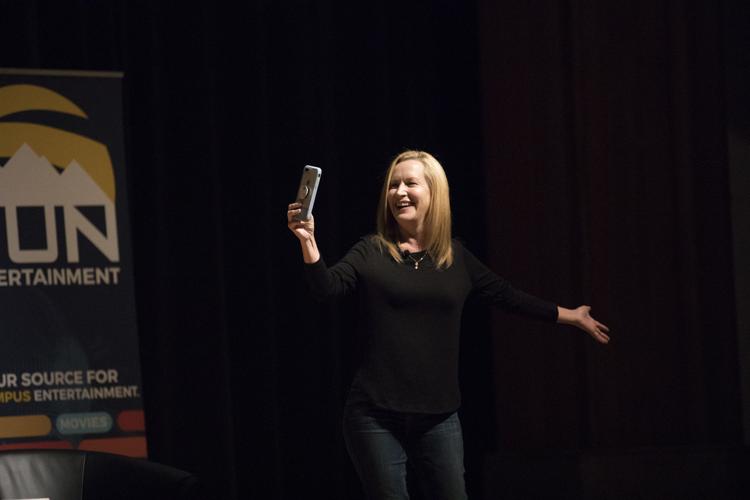 "I'm going to write it right now," she said while settling in a chair opposite NAU alumni interviewer Danielle Donaldson. "'Heeeyyy, woo!' Oh my god. That is so fun. Okay, I'm done. I did a thing. I made a color. I posted it. Universe, I present you!"
"WTF, Welcome to Flagstaff," Donaldson said, asking if it was her first time in town.
"It is my first time here. I kind of feel like a dork because I was like, 'there's so many trees,' Kinsey said, spreading her arms out animatedly. "And then your mascot made perfect sense to me."
Kinsey said that she and her husband, actor Joshua Snyder, went to a lookout point in Flagstaff before the interview.
"It was beautiful. I want to come back and do an Airbnb and hang out," she said.
During the question and answer session, one student asked Kinsey if she and Snyder were planning on eating at any local restaurants during their stay. Kinsey asked her for suggestions and the student offered Biff's Bagels and Northern Pines, adding that Kinsey was welcome to have her mother's free employee appetizer at HuHot.
The crowd shouted out their favorite haunts, with Martanne's coming in the loudest and Mike & Ronda's a close second.
Kinsey spoke about her upbringing in Jakarta, Indonesia without television and how upon moving to a small town in Texas as a 12-year-old, she became "obsessed" with TV shows and started dreaming of being in them.
You have free articles remaining.
"All my life, all I wanted to do was make people laugh," she said.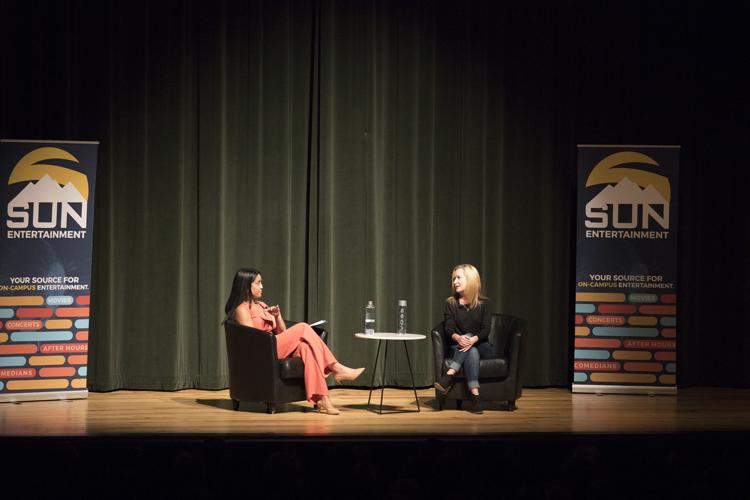 She spoke about her new Netflix movie, "Tall Girl," and how she will be filming new comedies with "The Office" alums Rashida Jones in "Black Excellence" and Mindy Kaling in her show "Never Have I Ever."
She also has ongoing side projects: "Baking with Josh & Ange" – a Youtube cooking show she and Snyder do for fun in their kitchen – and a podcast about "The Office" that she is starting with Jenna Fischer, who played Pam in "The Office" and is Kinsey's real-life best friend.
She gave advice to NAU's aspiring entertainers: "Find how you connect to performing and what your voice is in it and also what people respond to in you when you perform and I would just go as hard I could that way."
She talked about what made her stay strong and successful in the industry: "My mom would always tell me that no one gets to define your worth. You define your own worth. That's huge. And that was really empowering for me to learn and to sort of realize."
Briefly, she spoke about her celebrity cause, Oceana. The conservation organization aims to restore the world's oceans by creating more biodiversity, campaigning to policy makers around the globe. In 2010, Kinsey and comedian Rachael Harris traveled with the organization to Mexico to visit the sea turtle population and make a public service announcement about helping to save the turtles by not creating ocean waste.
When Donaldson asked how students in particular could live a more eco-conscious life, Kinsey said everyone could try to not buy single-use plastic products like water bottles.
"I'm really big about recycling water," she said, adding that she has a pitcher she uses to collect rain and dump unused water from her kids' glasses to water her plants. "I know they're really small, but they're things that I can accomplish in a day, and then it feels good and then you can try something harder and move on from there."
Although one student commented during the question and answer session that he really respected what Kinsey was doing with her charity, his question mimicked the majority: "What's your favorite episode of 'The Office?'"
Kinsey happily replied that it was Season 4, Episode 13, "The Dinner Party," and seemed as excited as her fans to delve into behind the scenes moments, ongoing jokes with the cast members and theories on who the Scranton Strangler was (Toby, she thinks). She even threw in one or two "that's what she said"s.
She said she had been asked many times if "The Office" would be too outdated for a reboot.
"The reason I think 'The Office' works is because of the relationships on the show," she replied. "We all have the idiot boss. Even in your homeroom there's a Dwight and probably an Angie. To me it's the personalities and the dynamic."
Perhaps that's also what transcends the show's generations of fans.