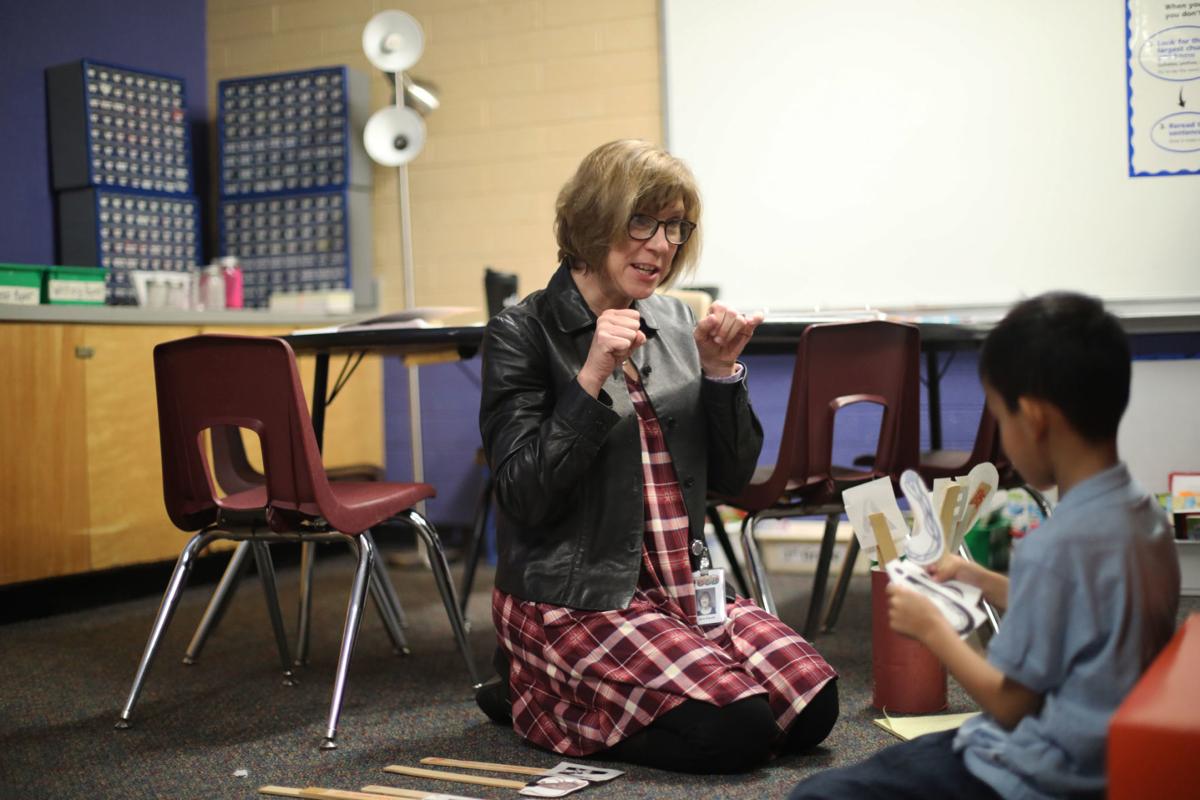 Walls of calming blue and shelves bursting with learning activities surrounded instructional specialist Sara Klause as she worked with a student on letters and phonetics Thursday morning at Puente de Hozho Elementary. The two sat together on the floor of Klause's classroom, linking the letters of the alphabet to their various sounds, a representative animal and hand motion in order to improve the student's reading skills.
Klause was the only Flagstaff Unified School District teacher to receive National Board Certification in 2018, after 27 years of teaching. She joins seven other FUSD teachers with previous certification.
"Teachers that achieve National Board Certification exemplify the best practices in our field," said Robert Kelty, principal at Puente de Hozho. "I would highly encourage educators who are completely committed to this craft to consider this journey."
This certification is a rigorous, voluntary process that has been successfully completed by 122,155 teachers throughout the United States. As of 2018, Arizona is home to more than 1,400 certified teachers; 86 new National Board Certified Teachers (NBCTs) were named in the 2017-18 year and more than 700 teachers are currently pursuing certification in the state.
Though many teachers apply, not all receive certification. Klause said of the 14,000 teachers throughout the nation who submitted their paperwork to the board this year, only 4,000 passed.
She said the process took immense perseverance and practice. For her, this meant dedicating three years to completing the introspective instructional work required of NBCT candidates, by diving deep into educational standards, compiling detailed reports of her teaching methodologies and even reviewing videos of her work with students.
She said the process has made a difference in even the smallest parts of her day because of the time she spent evaluating her actions and proposing better alternatives for the future.
"It helped me to solidify the beliefs that I held about education, but it also helped me to be more confident in my ability to make moment-by-moment decisions," she said.
Although each candidate's progress is personal and shared only with a mentor, Klause said she joined a group of other teachers led by Coconino High School's Angela Buzan, who received her certification in 2013. Although Klause started after the rest of the group, she said it was a valuable source of support.
The National Board for Professional Teaching Standards awards 25 different certificates, representing a variety of subjects and specialties for PreK-12 teachers, to those who meet the board's standards for the completion of four training components. The first is a test of content knowledge, while the following three require supplying evidence of National Board Standards in use in the classroom and reflecting on their influence.
Sara Kondratuk, assistant clinical professor at Northern Arizona University, has been an NBCT for eight years. She says these trainings strive to make candidates' educational practices more intentional.
"Everything has a goal, a reason, a purpose. … It's not just what you're teaching, but how [students are] learning," she said.
Klause said certification is a form of professional development that is an affordable alternative to a supplementary college degree. Additionally, there is funding available through organizations like the Arizona K12 Center, which was created at Northern Arizona University in 1999 to support teachers seeking such development.
The organization has since expanded to provide resources to teachers statewide, but is still involved with NAU, which serves as its fiscal agent and helps provide financial support for certification candidates. The Arizona K12 Center also hosts various professional development events – and even a podcast – to provide teachers with ideas to improve their practice.
Kathleen Wiebke became the first NBCT in Arizona when she received her certification in 1996, and is the current executive director of the Arizona K12 Center. Through various partnerships, like the one at NAU, she hopes for the center to provide support to as many teachers as possible.
"This is something I want every teacher to have access to. It makes for stronger classrooms throughout Arizona," she said. "Even if you live in some of our most remote parts of Arizona, we can provide candidate support."
As the center celebrates its 20th anniversary this summer, Wiebke says the goal is to better incorporate teachers' voices in their own professional development and to use their diverse areas of expertise to improve statewide education.
For teachers like Klause, professional development is about more than a salary increase – it's about the students and their potential.
"Monetarily, in FUSD, it means I'm going to make an extra $400 a year," she said. "It's not huge monetarily, but it is really worth it in the sense of the difference I hope to be able to make with kids."
Though Klause was the only FUSD teacher to receive certification this year, she said her colleagues are equally dedicated to learning and growing for the benefit of their students.
"They're people who are marvelous educators who have so much to give to our profession," she said. "My colleagues here are so incredible and they all have amazing things going on in their classroom."