Part two of a two-part series.
"Do you want me to place them on standby?" asks a correction officer outside the women's unit of the Coconino County Detention Center.
"Yes. And if you don't mind, ask them to bring their yellow folders with them," Richard Parsons, Literacy Center volunteer, responds.
With the amount of female inmates at the county jail around only 11 percent of the total population, the women don't have a full re-entry program like the men. However, they do have resources like optional weekly Literacy Center classes.
When the five women who opted in for the Jan. 23 class file into F-Pod's religious studies room, their standard-issued orange sandals slapping the linoleum floor, Parsons hands them informational papers they can utilize after their release: a felony-friendly employee list, programs that assist mothers in need and homelessness, and federal bonding program paperwork.
The federal bonding program covers the first six months of employment of hard-to-place employees, like those previously incarcerated, at no cost to the employer.
"So if that lady who owns the business thinks you might walk out with the cash register, you can give her this form," Parsons said. "Cause they'll judge us, won't they? We're all being judged and it's not fair."
Parsons is sure to explain what the Literacy Center has to offer inmates after their release. Besides writing, the center's 125 trained tutors can also help teach math, GED classes and learning English as a Second Language, he says.
"We help with whatever it may be in getting along in this world, which is tough if you don't have literacy," Parsons tells the women. "You've got to be able to speak, write and read English."
Unconquerable Souls
This week, Parsons has brought the group some poems he picked out for them. He explains the background of the Victorian-era poem "Invictus," by William Ernest Henley. When the author was a young man, he had to have his leg amputated due to tuberculosis complications. Despite being in extraordinary pain and spending an extended amount of time in an infirmary with screaming patients all around him, his determination to stay strong helped him get through it.
After going through some vocabulary together, one inmate reads the four stanza poem, and then Parsons goes over each stanza individually with the women.
"Out of the night that covers me, Black as the pit from pole to pole, I thank whatever gods may be, For my unconquerable soul," the poem reads.
"What do you think unconquerable means here?" Parsons asks.
Inmate Dina Etsitty doesn't hesitate to share her opinion.
"Things won't bring him down, even though he's in the hospital and like almost dead...," Etsitty said. "He's still got himself together and staying happy."
Parsons praises Etsitty's interpretation, and adds his own, and they move onto the next lines.
"In the fell clutch of circumstance, I have not winced nor cried aloud. Under the bludgeonings of chance, My head is bloody but unbowed," the poem continues.
"Somebodies bludgeoning the heck out of him with something. What do they call that stick the police carry?" Parsons asks.
"A baton," the women answer in unison.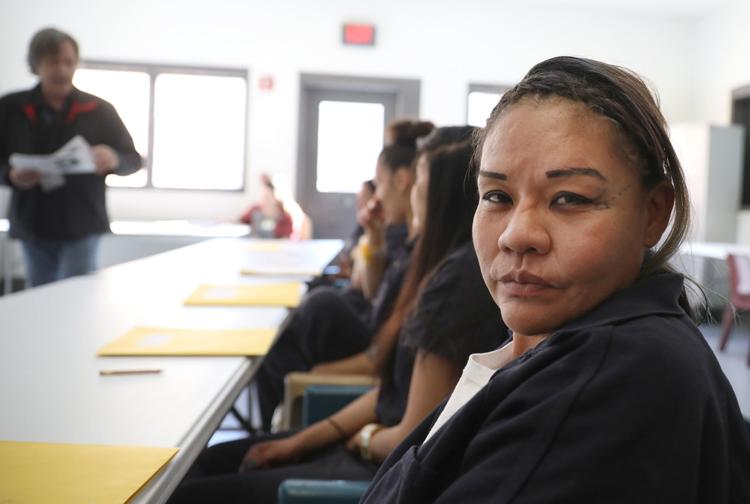 Register for more free articles.
Stay logged in to skip the surveys.
"If you think of somebody bludgeoning you, you might be down on your knees in bad fortune, bad things are happening to you, you're getting bludgeoned – life is giving you a rough time," Parsons continues on to the women. "It's your own battle, you're just not gonna let it get to you. You know, you're going to be tough."
"Beyond this place of wrath and tears, Looms but the Horror of the shade, And yet the menace of the years, Finds and shall find me unafraid," the third stanza of "Invictus" reads.
Etsitty is the first to respond on her take of 'menace.'
"We ourselves are menacing," she says. "It's how they put us as 'a menace to society'."
"That's true. They kind of name you that way, don't they?" Parsons says.
"It's how they define you," Etsitty adds. "A menace to ourselves, a menace to our life."
"It matters not how strait the gate, How charged with punishments the scroll, I am the master of my fate, I am the captain of my soul," the poem concludes.
"I like how he put 'I am the captain of my soul,' Etsitty says. "He's taking the punishment. But he is still himself."
"I think he's just happy to get by," another woman suggests, before they move on to Maya Angelou's "I Know Why the Caged Bird Sings."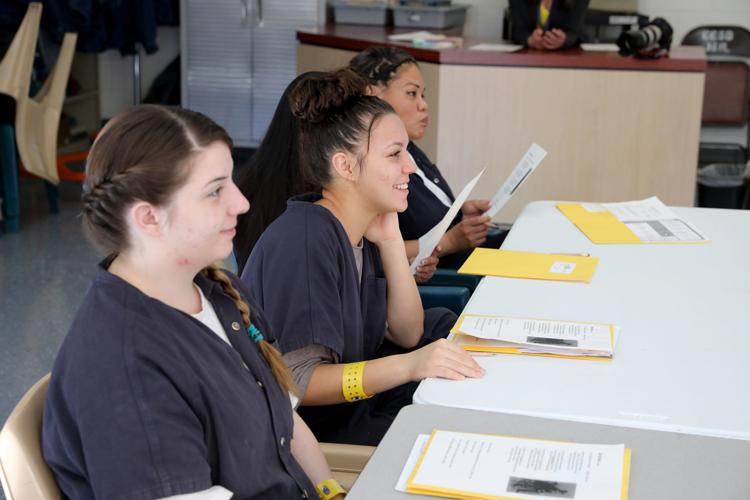 Teaching the teachers
Parsons said he believes that sharing literature with inmates broadens their perspective in life.
"Many of the women especially, have emotional wounds and disabilities," he said. "I think [literature] helps them see life and the world through others' eyes. It may help them develop empathy."
At one point during the "Invictus" reading, Etsitty put her hand on her chest. "His heart hurts," she said of the poem's speaker.
Inmate development specialist Crystal Luna attempts to bring any self-development and educational opportunities to the inmates. Luna believes it is exposure to the arts through the Literacy Center, as well as the substance abuse classes, parenting classes and meditation classes that the jail offers, that ultimately leads to changes in the incarcerated, which then lead to a safer and healthier community when they are released.
"The [Literacy Center] has positively increased the participants in reading, art, personal writing, storytelling and poetry," Luna said. "It allows individuals to learn different ways of expressing themselves and offers a moment to step outside of incarceration for two hours a week."
David Richardson, a retired teacher and attorney who has been volunteering with the Literacy Center since its 2012 inception, said there is a pressing need for more of what they do at the jail.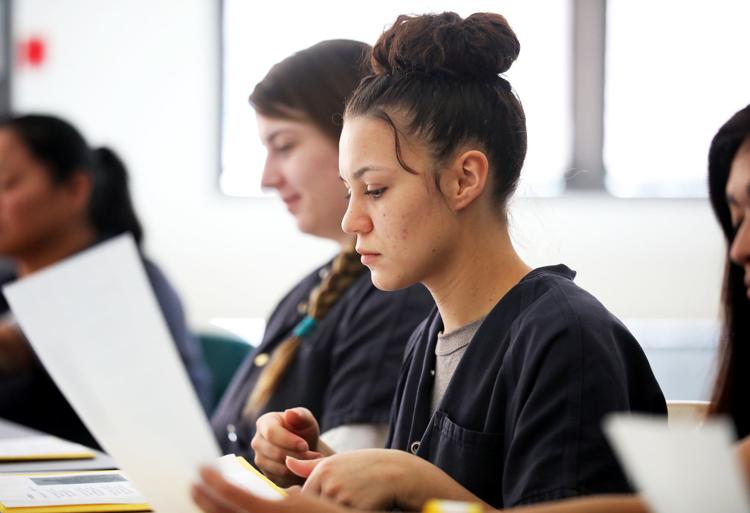 "The inmates that we deal with are uniformly grateful for our time and efforts," Richardson said. "They often let us know that we are one of the few outsiders who seem to care at all about them in any measure and in any way."
Richardson and Parsons agreed they have never felt unsafe around the inmates and said they have learned much from them.
"Don't get me wrong, I know there are many truly dangerous people in our jails and prisons, and they should be kept away from the rest of us," Parsons said. "But we incarcerate too many people. And many of these folks can lead good lives when they get out. If we can help them do that, it will be good for the individuals... and for society at large." 
"These people in terrible surroundings are not terrible creatures, but simply ordinary human beings who have made some bad choices," Richardson said. "Most of them are aware that they have made mistakes and most truly want to do better and are willing to do whatever is needed to get to a better place. It takes real strength and purpose to exist in our jails and to try, and to keep on trying. It is hard, and I admire the men and women we deal with who are not quitters, who are not defeated."