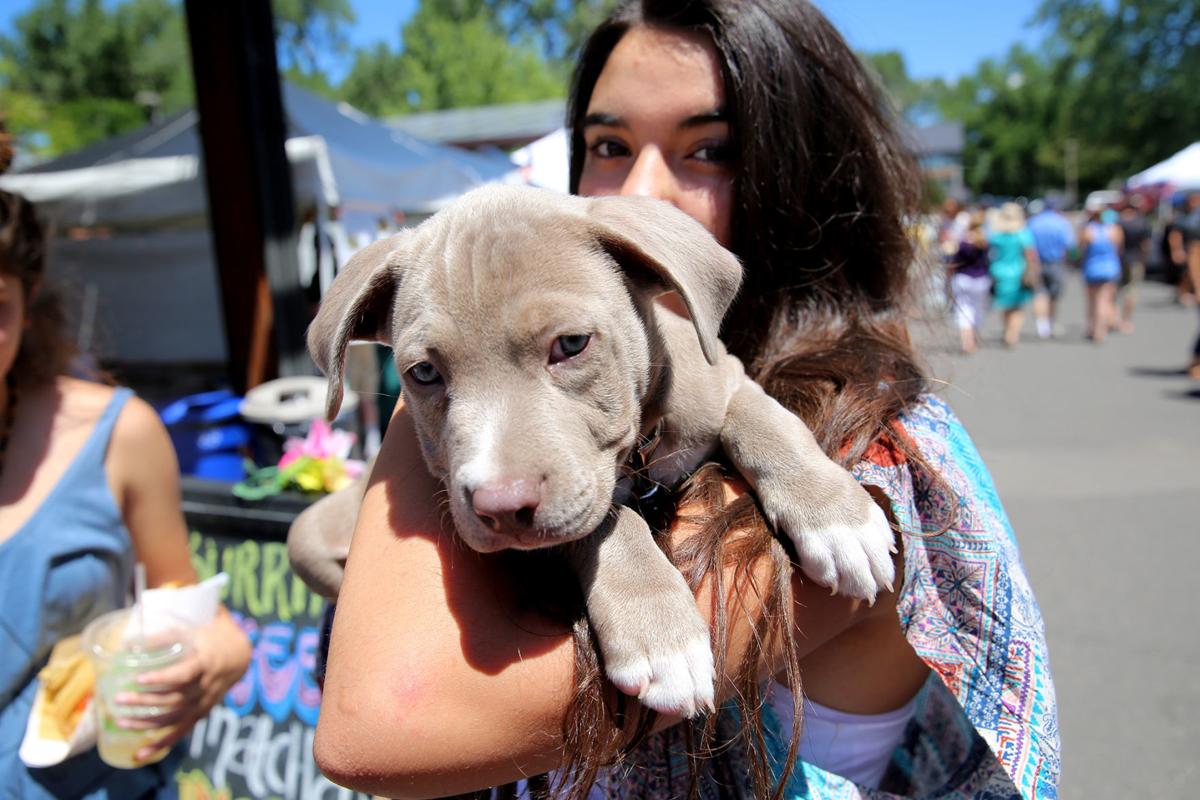 Between all the dog-friendly restaurants and stores, one thing is clear: residents of Flagstaff love their dogs. But now, there will be one destination that will be mostly dog free.
The Flagstaff Community Market announced this week it would no longer allow dogs to enter the market for the majority of the time it is open.
Coconino County Supervisor Art Babbott, who helps run the market, said as of Sunday dogs will only be allowed during the first hour the market is open.
That means dogs will be allowed in from 8 to 9 a.m. but from 9 a.m. on, dogs other than service animals won't be permitted within the market. That is the same time-frame Babbott said the market is the busiest.
Babbott said they made the decision for safety reasons. As the market has grown in popularity, managing the mix of human and canine crowds has become difficult, especially as some dog owners don't keep their animals on a very short leash, he said.
"We have had a couple of higher intensity dog-to-dog interactions this year," Babbott said. Social media posts by the Community Market also referenced some incidents in which people have been nipped by dogs.
As many of the booths at the market sell food, Babbott said there are also many kids walking around with food at snout level.
Nonetheless, Babbott said banning dogs was not an easy decision.
"Flagstaff is a place where we love our dogs," Babbott said.
To inform the public, Babbott said they have made a strong push on social media and there have been signs warning visitors of the change at the last few markets.
Peggy Pollak of Tree A'Lolly Farm, who sells the vegetables she grows at the market every week, said she had no strong feelings about the policy change but wondered if it could cut down on some of the business they do.
Even so, Pollak said she couldn't imagine the change will turn that many people away. The majority of the people who visit the market probably don't come simply to walk their dogs but to enjoy the market and shop, Pollack said.
Pollak said as a dog owner herself, she also can't imagine anyone waking up earlier just so they can visit the farmers market with their dogs. She said generally there is a certain group of people who come at 8 a.m. and that group rarely changes.
Pollak did wonder if it might make more sense to allow dogs not at the beginning of the market but only at the end. Parts of the market begin to empty out as the market draws to a close, she said, and allowing dogs at that time could be a good way to drum up business during the lull.
Flagstaff is not the only place seeing restrictions placed on dogs at farmers markets.
The Prescott Farmers Market board of directors decided that their market would also no longer allow dogs other than service animals. Much like in Flagstaff, in their announcement, the board cited incidents in which dogs have "jeopardized the safety of our community."
Katrin Themlitz, director of the Sedona Farmers Market, said she too is now considering making the change, although they have not had any troublesome incidents involving dogs.
She added she typically likes when people bring their dogs to the farmers market as long as the dog is well behaved.
However, Themlitz said some dog owners look at the market as a training ground for young dogs, which she doesn't like as such animals are more likely to become a problem.
Adrian Skabelund can be reached at the office at askabelund@azdailysun.com, by phone at (928) 556-2261 or on Twitter @AdrianSkabelund.