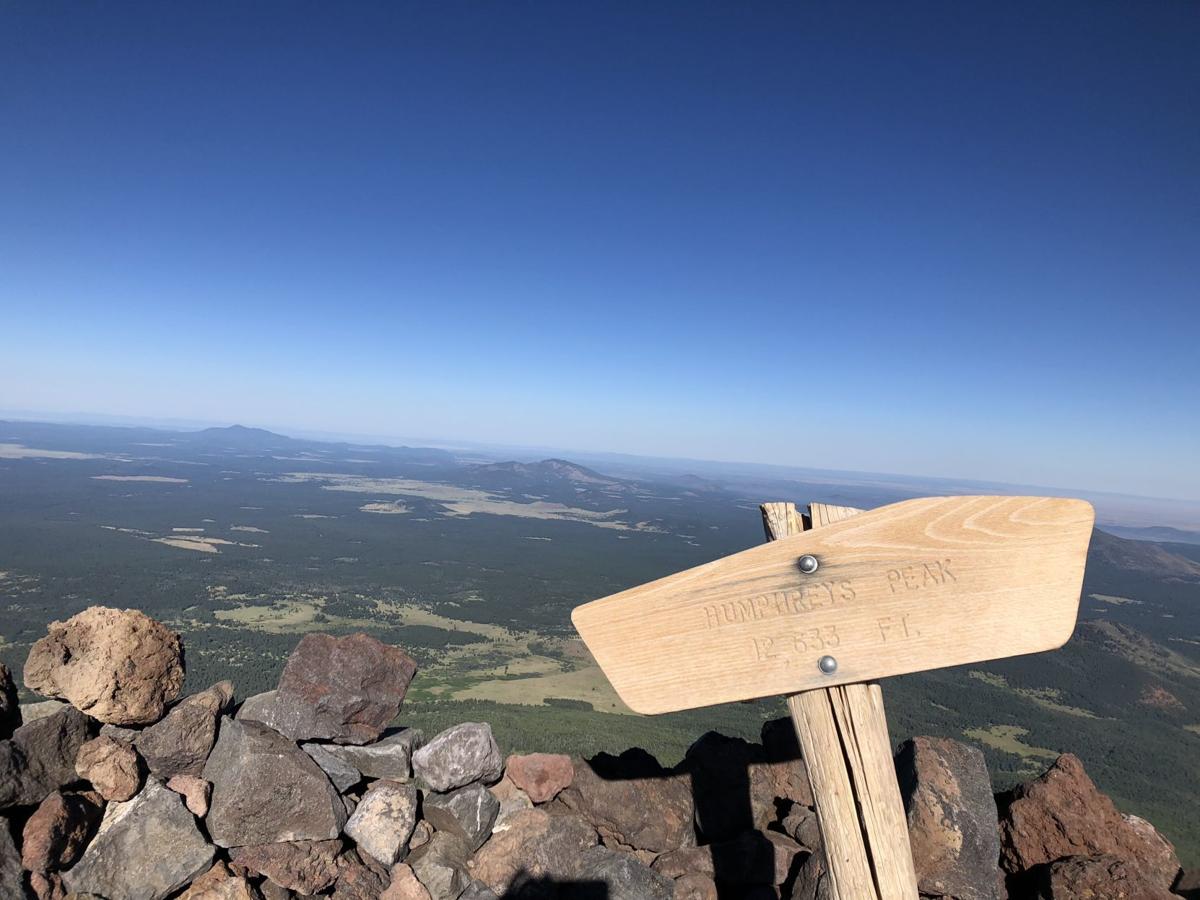 Above the treeline, beyond the saddle, higher even than the ancient bristle cone pines that wave their gnarled branches in the breeze, you still must climb (onward, ever onward) to reach Humphreys Peak, the highest point in Arizona.
The trail grows faint, the air thins above 12,000 feet, the scree increases to rock piles of granite slabs and jagged igneous, the wind whips and the cold takes hold on even the sunniest day.
But are you going to pack it in at this point, give up and retreat back to the relative safety and comfort of the lower reaches of the trail?
You are a new Flagstaff resident, all of three months in town. But you've acclimated to the climb — graduating from the FUTS, to the Secret Trail, to the Heart, to the Inner Basin and then to Weatherford — so what's a little discomfort in this last push of about a half mile on a trail so obscured that helpful wooden posts are needed to point the way?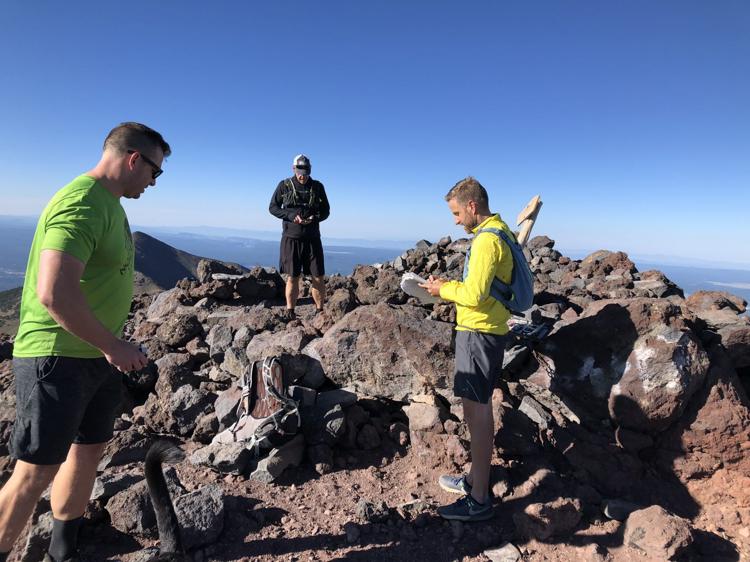 After two (or was it three?) so-called false summits, at last, there's just one more ankle-ligament-stretching trudge to the top. Even though you left the trailhead at the Snowbowl at 5:30, just around dawn, you see a yellow Day-Glo figure ahead ascending. You pick up the pace, ignoring the thin air and maximum 22% gradient. Was this the guy who passed you at the 3-mile mark, back when you were still running and hadn't been reduced to what you fool yourself into believing is "power hiking?"
Not that you're competitive or anything, but you left early because you wanted to be the first to summit on this day, to have the peak to yourself for a few precious minutes. So much for that. Your other foolish goal is to make it to the top in under two hours, which gives you about five minutes to conquer this final uphill.
Your windbreaker, purported by Outside magazine's crack gear testers to be resistant to gales and squalls of any severity, apparently has met its match. You are chilled by this point; you stopped sweating a mile or so ago and now are a bit shaky and shaking. This is not altitude sickness; thank goodness you've avoided that. Instead of trying to run this last bit, you put hands on knees, lean into the gust and power through.
Upon arrival, topping out, you hear voices. Plural. Though it's not even 7:30 in the morning, three other people have beat you to the peak. Wait, and a dog, too? Yes, a dog wearing what looks like those Vibram Five Fingers minimalist shoes.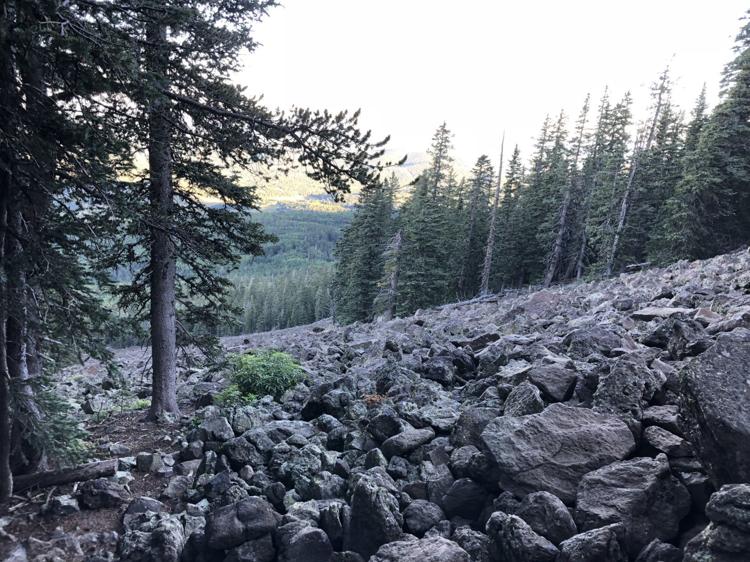 "Good morning," the Day-Glo guy exclaims with way too much gusto.
He tells you his name — you forget it immediately — says he's from Los Angeles and always wanted to climb Arizona's highest peak, then adds that it's nothing compared to California's Mount Whitney (14,505 feet compared to Humphreys' paltry 12,633). Another guy, svelte at 70, says he's from Phoenix, used to weigh 300 pounds and wants to hit every peak in the Southwest. The guy with the dog doesn't relate his story, preoccupied as he is with adjusting his pooch's booties.
You tell them you're a newcomer to Flagstaff and joke that it's a requirement for all new residents to summit Humphreys Peak. You say it snarkily, but they seem to take you seriously.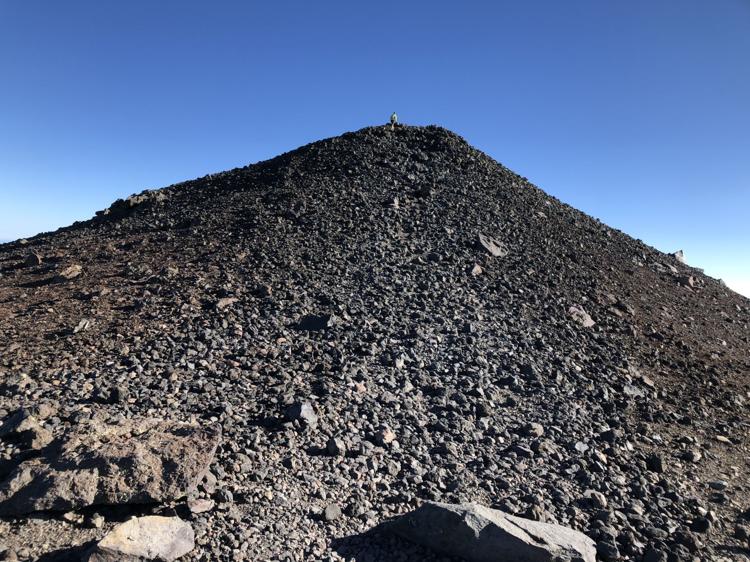 And maybe they're right. Maybe it is expected of Flagstaffians, hearty outdoors women and men all. Can you really call yourself a local without having at least once looked down upon the rest of the state from such lofty heights?
That certainly is the way it's portrayed online, where commenters aren't shy about sharing their experiences on Humphreys. Strangely, for the internet, much of the advice is spot-on.
For instance, no one claims this is an easy hike. Both the experts at the Coconino National Forest page ("rating: strenuous") and someone named Kristy O on alltrails.com ("This trail is rated hard for a reason. There are many exposed roots and rocks") attest to that.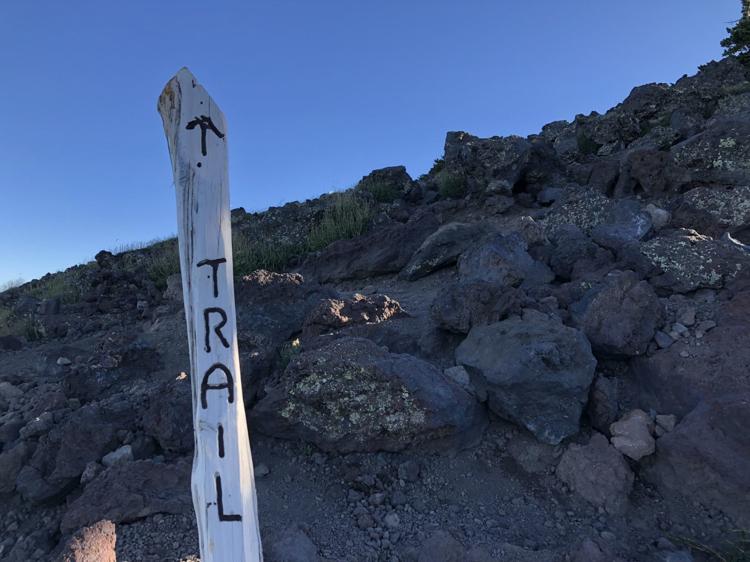 You need to listen to the admonitions that the weather can change quickly and that, in winter months, you need to be an experienced alpinist used to ice. This forest service warning should be tattooed on the palm of all Humphreys hikers: "Here it may snow during any month of the year. In late summer monsoon storms can set the high country snapping with lightning. Be prepared to turn around and head for lower ground if a thunderstorm is brewing."
You, however, chose a day in mid-August at the height of the "nonsoon" season, the curious dearth of afternoon thunderstorms, so the weather was not a factor.
But here's one thing few warn you about:
Descending can be tricky, too.
Sure, you lose elevation, lose the wind and get to remove your outer layer when the warmth of the sun takes hold, but you're moving faster downhill amid a minefield of jagged rocks, exposed roots, other hikers heading up the trail.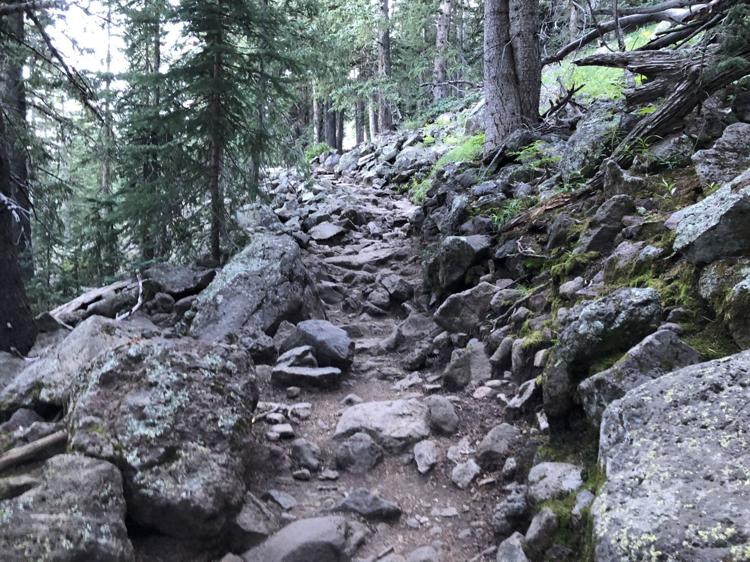 Plus, you're tired by this point and — yup — down you go on a teetering slab, getting a nasty gash and leaving your Type-O blood on the rocks.
There is perverse satisfaction, though, in cruising down-mountain and smiling at all of those ascending, whose faces are a rictus of effort.
Does that make you a true Flagstaffian now?
Be the first to know
Get local news delivered to your inbox!