Updated at 4:10 p.m. on Thursday, Dec. 6.
Sinagua Middle School and Flagstaff High School were evacuated due to a "hoax" bomb threat on Thursday. Students safely returned to the campuses soon after.
Flagstaff Unified School District reported to the Flagstaff Police Department that Marshall Elementary and Knoles Elementary went into "shelter in place" in response to the threat. Shelter in place is used to lock the school's exterior doors and leave students in their classroom.
Students were evacuated from Sinagua and Flag High at approximately 1:20 p.m., according to Cody Bashore, Associate Editor with the Arizona Daily Sun, who was photographing the Pepsi Holiday Tournament. A fire alarm was used to alert students and those in attendance to evacuate the building.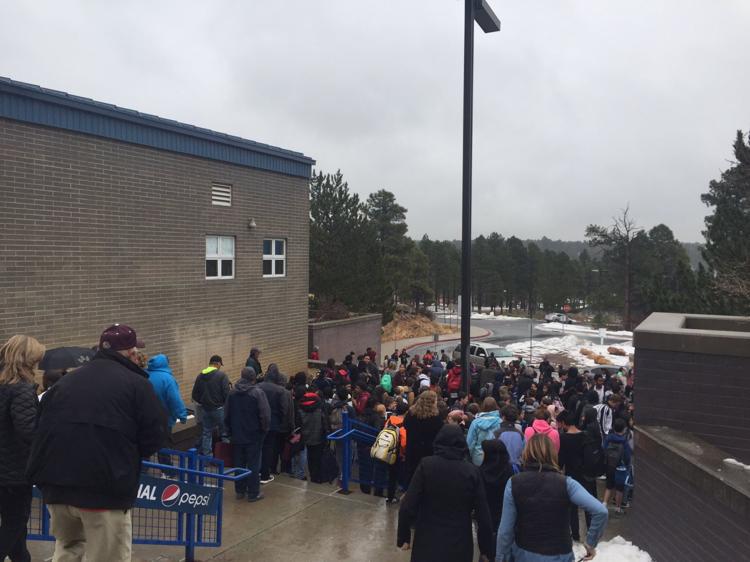 Officers investigated the campuses to look for any device, and finding none, the students were quickly sent back onto their campuses, explained Cory Runge, spokesperson for the Flagstaff Police Department. Runge added that they are still investigating the source of the call, but dismissed the threat as a "hoax." 
Zachery Fountain, associate director of communications for the Flagstaff Unified School District, whose first day was Monday, explained that the district's actions were made to ensure no one would be injured.
"The Flagstaff Police Department was immediately contacted, investigated the source of the call, and both buildings were cleared," he said. "All students from all four campuses were released for dismissal as normal. We are thankful for our partnership with the Flagstaff Police Department to secure the buildings."
Students were evacuated during Sinagua's annual Pepsi Holiday Basketball Tournament, where students were competing at the time.