Retirement? Really? Bill Smith is actually going to retire?
Surely this must be a mistake, some type of misprint — though with Smith himself in charge of the Arizona Daily Sun press room, at least for two more days, and with his eagle-eye penchant for ferreting out typos, that's highly unlikely.
No, it's been confirmed. After 45 years running the pressroom, first in the Daily Sun's downtown digs and for the past 22 years at the current facility, the man largely responsible for this newspaper being physically produced and eventually finding its way to your doorstep is washing his ink-stained hands and leaving the building.
Such a notion seems antithetical to Smith's ingrained work ethic, goes against every fiber in his being, but there it is. The man, even at 74, is indefatigable. Even after ascending to the masthead as operations manager, Smith routinely worked seven-day weeks, performing tasks well below his pay grade because, well, the job needed doing and he was around.
One recent Sunday morning, for example, he was in his cramped office on the borderline between the pressroom and the newsroom working on payroll, when he heard the main phone ringing out front.
"A woman called and she said her mother was 92 years old and really wanted one of those (special section) lunar magazines we did, but that she didn't know how to access it online," he said. "I found a copy, drove it out to her place on 89 South beyond the fairgrounds, put it on their porch."
A small gesture, perhaps, but a service that cements a relationship between a community and its newspapers. So many times, through his  four decades at the Daily Sun and four ownership groups, Smith has performed feats both extraordinary and routine to keep the presses running and make sure the physical product of the paper — pulp-and-ink, as opposed to pixels-and-bandwidth — remained a daily part of Flagstaff life.
Talk about extraordinary. There was the time, in the late 1970s when the Daily Sun was an afternoon paper, that a lightning strike during a monsoon hit the control panel of the press and burned out the motor. Even as the motor was still smoldering, Smith and coworkers launched into action. It was 10 a.m. when the lightning hit, three scant hours before deadline, and the paper in Prescott had agreed to print that day's Daily Sun. While three other workers drove the motor to Phoenix for repairs, Smith gathered up the pasted-up pages, boarded a piper cup airplane and flew to Prescott.
"Then, I rented a U-Haul truck and drove the papers back (to Flagstaff)," Smith said. "We still got the paper out by 6 in the evening — we usually got it to people by 5 p.m."
Even now, decades later, that hour's delay still seems to rankle him, just a bit. Smith is a self-described deadline-obsessive, or as former Daily Sun publisher Don Rowley put it as "a stickler and old-school when it comes to making deadline. He may be the most dedicated employee about that I've ever worked with."
Smith, to be sure, brooks no slacking off and will accept no deadline failure without a fight. The Daily Sun does commercial printing jobs for other publications, including the Red Rock News in Sedona. Once, about five years ago, a pre-print advertising insert for Red Rock's Sunday paper never made it to Flagstaff. The trucker mistakenly sent it to the town of Window Rock, 300 miles to the east. It was a Saturday morning, early, when Smith was told of the snafu. It was snowing and the roads dicey.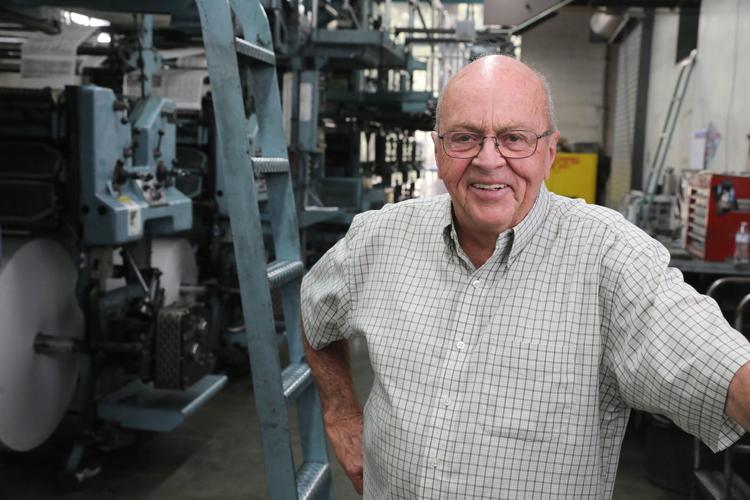 "Bill tells me what's going on, and I knew we were going on a road trip," Smith's wife Debbie said, chuckling. "It was fun. I got to see Window Rock."
The missing inserts were small, as Smith recalled, so he and Debbie hopped in the couple's Toyota Camry and headed toward the New Mexico state line, packed the inserts in the trunk and back seat, and drove 300 miles back as if it was just a typical Saturday.
"Don was happy," Smith quipped. "I never heard back from Red Rock."
At the risk of "tooting my own horn," Smith grudgingly acknowledges that he logged long hours and picked up the slack when needed because "I truly love this newspaper." But, he added with a sly smile, "I got paid for doing all this stuff, too."
The Daily Sun, of course, is not flawless and, occasionally, typos and production mistakes have made it into print. But Rowley said there were untold times during his two stints at the paper before retiring late last year when Smith caught errors on pages, invoking in classic newspaper lore, "Stop the presses!" Smith, actually, has never uttered that clichéd phrase. Usually, when there was a delay to production, he muttered something, probably unprintable, under his breath.
"Bill and the pressroom, they've caught things the newsroom has missed just out of sheer contentiousness," Rowley said. "That's not something they're required to do. He's caught mistakes like the folio being the wrong day, a headline missing, a wrong cutline. That's because Bill has always insisted on accuracy. I mean, it's his newspaper."
Indeed, it seems Smith could never fully grasp the concept of a 40-hour work week. Years ago, when his daughters (Elizabeth and Jennifer) were in college and finances were tight, Smith essentially worked three jobs at the paper. He'd handle pressroom duties, making sure the press run went off on time at 1 a.m., then drove daily Grand Canyon Visitor's Guides that the Daily Sun printed up to the South Rim, drove back near dawn and delivered papers on his small route.
"I'd get tired, but, you know, adrenaline kicks in," Smith said.
You have free articles remaining.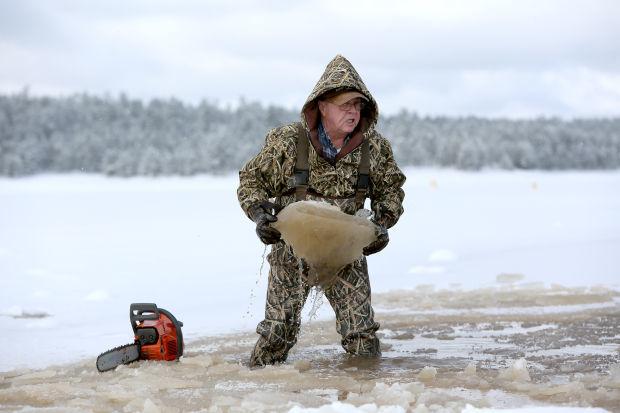 His wife Debbie recalls that the family readily accepted that Bill was on-call seven days a week, that printing the paper was akin to being a public servant. "We always had Thanksgiving on the day after, Friday, because Thanksgiving was the biggest paper of the year," she said.
Rowley admired not only Smith's work ethic but his verve and energy.
"I rode with him one time on that route he had, and it was the only time I've ever gotten car sick," he said. "He was a madman when it came to delivery. There's an art to slowing down just enough and throwing a paper on a driveway. But he also got to know the customers on a personal basis."
Part of that personal approach was on display each New Year's Day, when Smith, former editor Randy Wilson and local outdoorsman Jack Welch staged an annual Polar Plunge in Lake Mary. Smith's job: fire up a chain saw and cut out a large hole in the ice. It's physically demanding, especially as he reached his 70s, but Smith is of hardy Maine stock and could handle it. (He plans to continue ice-cutting duties, even in retirement.)
"Long time ago, I used to guide at a sporting camp in Maine, cut off blocks of ice, pack them in so the sporting types could have ice for their martinis or whatnot," Smith said.
Smith likes to portray himself as a working class, handyman type of guy who can be gruff and take no guff. Which is accurate, in many respects. But, as Rowley pointed out, there are "several dimensions" to Smith.
His father, also named Bill, was a former owner of weekly newspapers on the East Coast, mostly Maine. Young Bill was book-smart, like his dad, but he didn't particularly want to be tied to corporate life.
"The (high school) principal in my town told my dad, 'Billie can do the work, but he thinks he's the social director of the school,'" Smith said. "That summer, my father had me take some tests at the University of Maine to find out what I should do with my life. The test results came back, and it said, 'Don't put this guy behind a desk.' I'm a mechanical guy."
Eventually, Smith's father sold his interest in newspapers and retired to Sedona in the early 1970s. Young Bill ("I'm Bill Smith II, not 'Jr.'") had just gotten married and his father lined up three prospective jobs in Flagstaff for his mechanical-oriented son: at Northland Press, which printed Kachina doll photos and other Western arts reproductions; at Nagle Printers for commercial jobs; or at the Daily Sun.
But only for a year. The Daily Sun paid what Northland did ($4.50 an hour) but "they offered me all the hours I could eat," Smith recalled. "I ended up working six days a week and, on the seventh day, I did maintenance."
That was back when the Daily Sun office and press was downtown on Santa Fe Street, next to the VFW Hall. It was a cramped pressroom, with typesetters running linotype machines and compositors setting hot metal type onto galleys and laying down metal plates onto flatbed presses. Smith, who sported a beard and hair halfway down his back in his salad days, soaked up the atmosphere and came to love this side of the newspaper business.
In addition to the cumbersome production press, Smith recalled some crazy times downtown, such as the day a reader who was angry with an editorial stance threw a Molotov cocktail through the front window, or the night a scofflaw tunneled in through the roof and tried to rob the safe.
In the late 90s, when the Daily Sun moved west to Thompson Street, Smith had the luxury of more room and faster presses. Yet, in this century, as the newspaper industry evolved and the digital version — the paper's website — began to supplant the print edition, Smith found himself pining for the old days.
"I know that's the way things are rolling now," he said. "I know people want (information) from the internet. But I think everybody's too damn busy because of it. Look at families in restaurants, they don't even talk, just stare down at their phones."
Rowley: "For Bill, the real newspaper has been the one you hold in your hand and touch and turn pages. As the guy who actually prints the paper, I guess that's to be expected."
Debbie said Bill is "sad" about the gradual decline of print. But Smith doesn't cite the industry's digital transition as the reason for stepping aside.
"It's just time," he said.
Typical for Smith, he plans to launch into retirement with the same energy he put in his work. A hiker, hunter and fisherman, he's looking forward to duck hunting season in October and wants to hike at least up to the Inner Basin, maybe even to Humphreys Peak. He and Debbie also plan to hit the road and travel the country to see family and friends.
Who knows, they might even make another stop in Window Rock.