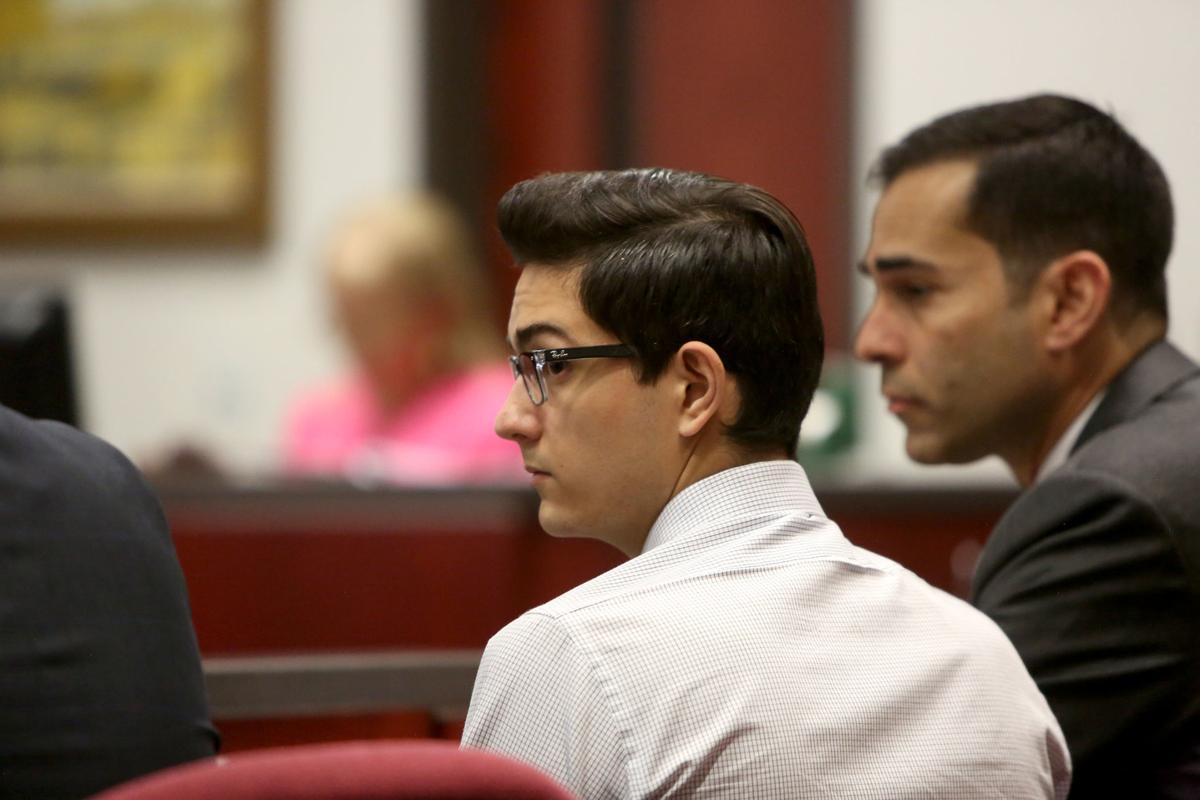 Steven Jones' lawyers are arguing their 22-year-old client's current curfew and GPS monitoring should be stopped citing Jones's "absolute compliance" with release conditions.
Jones' lawyers also argued in their new filing that Judge Dan Slayton should remove the curfew and GPS monitor because of the jury's inability to reach a verdict in Jones's first trial and the thousands of dollars Jones' family has spent on GPS monitoring. The Coconino County Attorney's Office has opposed the motion, saying complying with the court order to maintain a curfew and GPS monitoring is expected.
Jones was charged with one count of first-degree murder and six counts of aggravated assault for shooting Colin Brough, 20, and three more students in a dormitory parking lot on Northern Arizona University's campus in October 2015. Jones' attorneys argued he acted in self defense during his first trial, but after the jurors were unable to reach a verdict, Jones is now waiting for the next trial, set for Jan. 14, 2020. After going through multiple lawyers, Jones eventually retained Christopher Dupont, a lawyer from Phoenix.
Slayton approved a motion from Jones' lawyers in 2016, allowing him to be released from jail and return to his family home in Maricopa County and get a part-time job. At the time, Maricopa Adult Probation agreed to watch Jones, but with a list of conditions that included Slayton's order that the parents remove all weapons from the home, pay for a GPS device and Jones be on a curfew from 6 p.m. to 6 a.m.
During the initial release condition arguments in February 2016, the state argued that Jones could represent a serious risk to the community and portrayed the views of Colin Brough's family at the time as vehemently against any modification of his original $2 million bond.
Josephine Bidwell, another new attorney for Jones based in Phoenix, said the Jones family has been paying $400 per month because of the GPS monitoring. The amount has totaled $15,000 in costs, according to the filing.
Bidwell argued Jones' compliance with the release conditions should alter Slayton's decision on the necessity of those conditions. The release conditions were set in order to assure Jones's appearance at hearings and the protection of victims and community.
County Prosecutor Ammon Barker dismissed the lawyer's argument, saying the facts of the case have not changed and do not warrant more lenient release conditions.
"Defendant's compliance with his current conditions of release is not a new material fact in this case; it is the expected standard," Barker wrote in his filing.
Slayton has set a hearing on the motion to modify the release conditions for next week.
Be the first to know
Get local news delivered to your inbox!