The social media version of Stephanie Bruce — bravely blunt, slightly sarcastic, always empathetic — turns out to be no mere internet-driven persona, not some carefully cultivated brand created to boost a professional runner's profile.
It is somewhat comforting, given these cynical, media-saturated times in which we live, to discover that the IRL (in real life) Stephanie Bruce comes off incredibly similar to the Twitter/Instagram/YouTube version of herself.
Many who know of the NAZ Elite runner, who will compete Thursday in the 10,000 meters at the USATF Outdoor Championships in Iowa, primarily from her piquant posts, videos and status updates on everything from workout splits to her post-baby skin folds to the antics of her two toddlers will be heartened to learn that the life she depicts as runner-mom-business owner to her nearly 19,000 Twitter followers hews closely to the daily grind of her life.
"That's me, all right," she said, forking into a hash bowl named in her honor at the Tourist Home Café on Flagstaff's Southside.
Her husband Ben, also a member of NAZ Elite and often featured in his wife's online offerings, nodded as he scarfed a breakfast burrito. The two, in fact, sometimes finish each other's sentences, not just like other married couples do, but also as they do on their YouTube channel series, "Running with the Bruces."
It is Stephanie, though, who has cultivated the bigger social media presence. She speaks her mind, online and off. She jokes often, gets snarky on occasion and is not afraid to expose details about life as an athlete, wife and mother that others might deem too personal or controversial. The phrase "over-sharing" apparently is not in her vocabulary.
Such direct athlete-to-fan conversation is fast becoming the norm for many pro athletes, especially in distance running, struggling for mainstream attention in an overcrowded sports landscape. Gone are the days when an athlete relied heavily on an agent to generate publicity, and the concomitant endorsement deals, mostly via mainstream media. Now, it's almost a given that a sports figure maintain a social media presence — and not just to plug sponsors, although that obviously is a factor.
Bruce has embraced this business model. The companies that financially support her — notably Hoka ONE ONE shoes, PRO Compression socks, Bedgear and Picky Bars, the latter of which she is a co-founder — expect nothing less. And it's paid off both for athlete and sponsor in terms of name recognition.
Of course, it has helped that at 35 years old her career is at an apex, with Bruce having won her first national title (road 10K) in 2018, claiming another championship in May (half marathon) and placing third in the 10K in last year's outdoors track nationals.
She's also scheduled to run the outdoor 5000m championships on Sunday.
Bruce, perhaps more so than her running peers, has gone far beyond subtle, or blatant, shilling and product placement endemic on social media. Her followers get glimpses into her personal life and domestic challenges, her detailed training schedule (rare in the oft-secretive world of running), and occasionally forays into social issues.
BOLD MOVES
Viral notoriety found her first right before the 2016 Olympic Trials after she posted a photo of her abdomen, postpartum, with loose skin falling over the waist of her shorts. It was a bold, some might say gutsy and audacious, move, but many women with the same condition cheered her and felt emboldened themselves. The mainstream media picked it up, with Bruce appearing in People Magazine, Runner's World and the "Today Show."
She remains unafraid to bare her midriff on Twitter and Instagram. It's not gratuitous, just a statement of positive body image, since female pro runners who haven't given birth think nothing of doing so.
Every once in a while Bruce will remind followers, such as a July 6 tweet in which she wrote, "I have diastasis recti. It's from having babies. It leaves you with some extra skin and often separated abs. But no women should be embarrassed to take her shirt off post babies. Be proud of your skin, rock that tummy."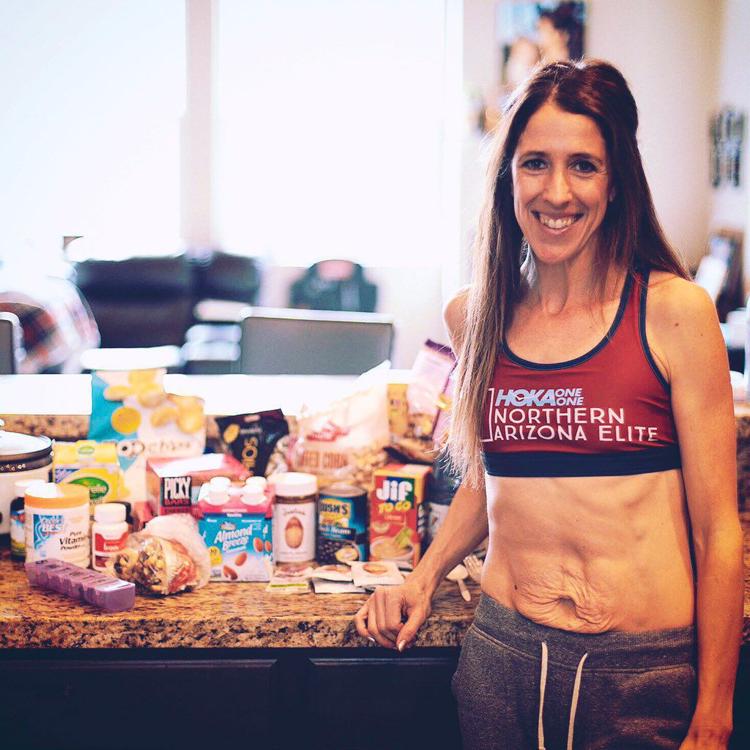 You have free articles remaining.
Register for more free articles
Stay logged in to skip the surveys
Note that the photo accompanying the above Tweet showed Bruce in her kitchen surrounded by food items — Picky Bars clearly visible. Capitalism and social justice issues need not be mutually exclusive, after all.
She also posts about subjects that have nothing to do with her career or sponsors. In the past year, Bruce has revealed her brother's struggles with heroin addiction and his stint in rehab.
"As soon as I shared the first thing about my brother a year ago," she said, "I was flooded with private messages from people who could relate. … It made me think, 'Hey, I don't know if there's a boundary of too much to share.' I feel like someone is always struggling with something you might be struggling (with). You can help."
Ben applauded Stephanie's forthrightness: "It's real life. There are too many (athlete) accounts that only share the best workout and race. Her posting about (her brother) brought her more down to reality with fans. Some athletes only post an inspirational quote close to a race, and then you don't hear from them for months."
Bruce, frankly, considers social media part of her job. Not a chore, per se, but something she focuses on as career enhancement — as valuable in its way as doing interval work and tempo runs.
"Because running is my 'job,'" she said. "I don't feel like sharing on social media is any way detracting from the training I'm doing."
Logging on also wasn't mandated by her agent, Josh Cox, a former pro runner himself. Bruce said Cox will weigh in occasionally, but he mostly leaves it to her and Ben to decide what is suitable to share online. She and Ben, 36, are both veteran runners who know what lines not to cross and when it inches up just short of that line.
A FAMILY AFFAIR
The couple has weighed the pros and cons of featuring their two toddler boys, Riley and Hudson, in videos and tweets. They have decided to share the cute stuff but keep private a lot. Stephanie has no qualms about featuring the boys in some of her more obvious sponsorship posts, because she believes it helps humanize her and the product and is more entertaining than a straight pitch.
One recent example, July 12 on Twitter: "Some kids shoot basketballs, my kids shoot their @pickybars into the hoop." (Accompanied by a 12-second video of Riley and Hudson slam-dunking bars.)
It was unscripted, Stephanie said: "Sometimes I'm lucky. We got our shipment of bars that day and we do have a hoop and they just dumped them in. I thought, 'Hey, I can't script something like this,' so I just started shooting (on her phone)."
On another occasion, Stephanie chose to "interview" Riley on Twitter to plug a virtual 5K race sponsored by Dick's Sporting Goods. Mom and son faced the camera. Stephanie began talking and Riley, as toddler boys are wont to do, decided that was a good moment to grab his crotch.
"Hilarious," she recalled. "I mean, for Dick's Sporting Goods. I'm like, I didn't plan that."
Entertaining as her social media accounts are, Bruce doesn't want it to overshadow her running achievements. She said she originally beefed up her online profile while trying to get back in racing shape after pregnancy and that her musings on the challenges she faced helped her cope -- and, residually, resonated with others. She sees no downside in posting almost daily, no worry of overexposure.
"Because I share so much in my life, people are like, 'I'm going to cheer for you regardless,'" Bruce said. "There is a part of me that wants to do well for them. But I also know they aren't going to go away if I fail to meet my goal. That's comforting."