While Flagstaff's first St. Vincent de Paul conference was established in 1969 with the thrift store opening in 1977, the values that the Catholic-affiliated nonprofit represents go back for centuries.
Helping the underprivileged by feeding, clothing, housing and healing them.
The Society of St. Vincent de Paul was named after the saint who was known at the turn of the 17th century as "the father of the poor," and devoted his life to help those in need. In 1833, Frederic Ozanam, a 20-year-old university student, organized the society based on Vincent de Paul's mission in order to change the adverse conditions of the poor in France at the time.
In Flagstaff, the Society of St. Vincent de Paul has managed to provide help to residents with financial burdens for 50 years, despite going through multiple changes and at times, being short of money.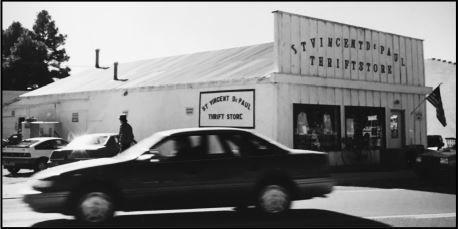 The St. Vincent de Paul thrift store's grand opening was on Feb. 5, 1977 at 615 W. Santa Fe St. The building was renovated by conference members using donated Cal-Mat and Babbitt Lumber materials. In 1980, the store went out of business, but operations to assist Flagstaff families in need through a helpline at the Catholic Social Services building on Cherry Street.
In 1985, the store re-opened as the Tri-Parish Conference Thrift Store in Sunnyside at 2109 E. Cedar St, before moving again in 1994 to its current location at 2113 East St.
In 2008, the St. Vincent de Paul Thrift Store was expanded to two floors and 5,000 square feet to hold offices, a meeting room, a warehouse and food pantry, as well as additional space for the continually donated clothing, furniture, toys, electronics, books, and just about anything else you could ask for.
Well, almost anything, according to SVDP of Flagstaff's current president, Kelly Mortensen.
"We like to test everything and so we don't like to take gas appliances because we can't test them here," Mortensen said.
One of the most donated items are t-shirts, which they sell in bags of ten for $1 each.
"This location is right in the neighborhood of where a lot of our clients live. You know, you can't find this kind of pricing [elsewhere]," Mortensen said. "So we try and make it affordable to them. We're a nonprofit, we're not a 'for' profit."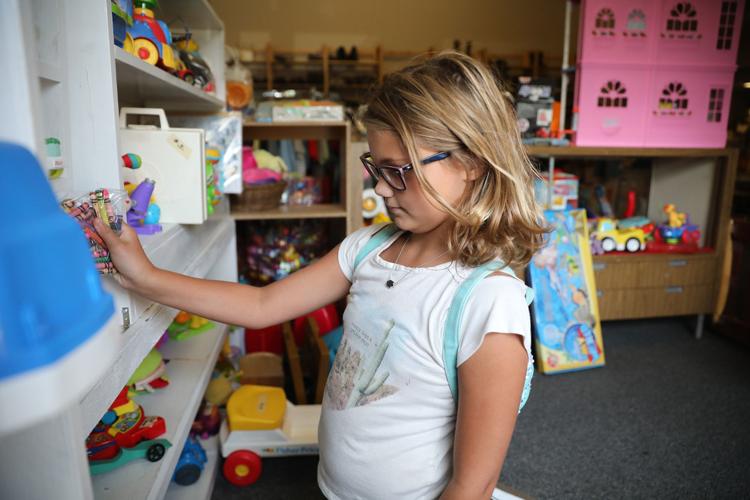 Mortensen lived in Flagstaff for part of his childhood, where he attended Marshall Elementary School. Mortensen moved many times throughout the course of his life, but Flagstaff never left his mind, and after spending 17 years working in the Texas oil industry, he and his wife moved back to retire. In 2013, he started volunteering at SVDP. In 2015, he was promoted as the conference president, a title he will hold until 2021.
As the Flagstaff conference's president, Mortensen doesn't get paid. In fact, of the 50 active staff members who work at the SVDP, nearly all of them are volunteers.
Maggie Bortree, who has been working in the toy area of the thrift store for more than two decades, said she started volunteering at SVDP after she retired as a school teacher.
"I get bored at home. I can't sit and do nothing," Bortree said.
You have free articles remaining.
So instead, Bortree comes to the thrift store in the afternoons Tuesday through Saturday and sets up doll houses, puts puzzles together to make sure all the pieces are there and sorts out toy cars, board games and Barbie's into their appropriate categories.
Although she has received one toy donation with a live mouse in it before, most come in gently used, as requested.
"That's about the time I thought I'd retire," Bortree joked. "But I'm still here because I know what this helps do."
What SVDP helps do is give children the opportunity to have toys they might not otherwise, allows teenagers who can't afford the latest fashions to pick and choose their own new(er) clothes and enables families to get through the month without being hungry.
"We give out clothing vouchers, so if somebody needs it they can get clothing vouchers for their whole family twice a year," Mortensen said. "And then home furnishing vouchers, like if they're in a new apartment and they don't have dishes or something we fix them up with that for free."
Families that qualify to shop at the SVDP food pantry come in once a month and are able to fill one or two bags depending on their family's size. If they are unable to pick up the food themselves, SVDP staff have prepared bags of about 22 pounds each with "a little of everything," Mortensen said.
The food pantry mimics a grocery store, complete with real grocery carts that can be used to choose the hundreds of products that line the shelves – ranging from cornflakes to couscous to canned vegetables.
"We're about 50/50 between local donations and shipments we get from Phoenix, that's about 2,000 to 3,000 pounds a month," Mortensen said. "We do a couple food drives at the Catholic Church (San Francisco de Asis) and then we partner with Safeway, Frys and Bashas when they do a food drive corporately."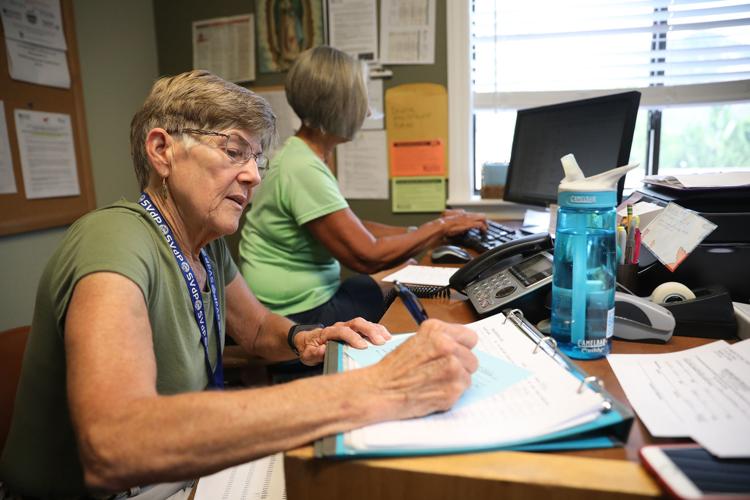 The only perishable items that SVDP carries are frozen hamburgers, which they buy in bulk from Walmart for a discounted rate.
"The other big program that we're really proud of is that we also have a grant to give toiletries," Mortensen said, adding that they have been able to give out diapers, laundry soap, dish soap and other necessities for the last five years.
"It helps us give these people dignity. If they have to choose, what are they going to buy? Food or diapers?"
It's not just locals that are receiving toiletries and clothes. Recently, SVDP in Flagstaff has been helping the Phoenix location by boxing up different sized clothing, toiletries and more to send to legal asylum seekers coming from Mexico.
Immigration asked SVDP in Phoenix to receive the verified immigrants and to allow them to get new clothing, showers and food before they are transported on to their family members that are going to sponsor them until they are granted citizenship.
"When they come, they've been walking and their shoes have been worn out, their clothes are so dirty that they just need a new pair," Mortensen said.
At SVDP Flagstaff's 50th anniversary party on Thursday, several past conference presidents shook hands with the mayor, ate birthday cake and made speeches. Many of them are still active volunteers at SVDP, where they continue to give by helping to feed, clothe, house and heal.