In the murky slough of predawn, when shadows can take on ominous shapes, out of the woods surrounding Schultz Pass emerges a figure that simply cannot be of human form, some eerie cryptid that must be a figment of a fertile, yet caffeine-deprived, imagination.
No, wait, that's just Neil Weintraub, race director for the 20th running of the Soulstice Mountain Trail Run, one of Flagstaff's premier races.
Well before sunrise last Saturday, all by his lonesome, Weintraub set up the start-finish line at the Sunset Trailhead — the registration table, banners and Soulstice swag, the portable toilets, each with a bottle of hand sanitizer close by. It is a lot of work to put on a race, of course, and soon an armada of volunteers will descend to help. But, for now, it's just Weintraub stalking his domain.
In the 26-degree chill, Weintraub is wearing a black, curly fright wig, a bright yellow fleece jacket with gossamer wings protruding from his back. He is dressed, incongruously, as a bumble bee. Check that: a yellow jacket.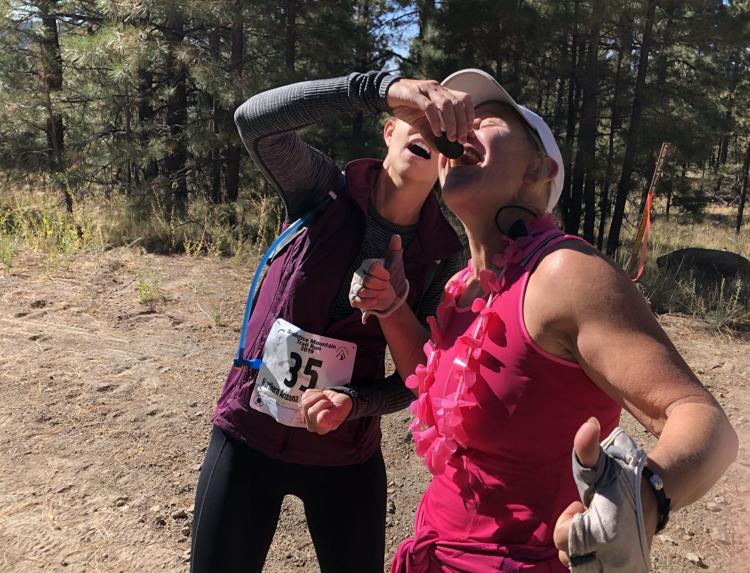 "Last year," Weintraub explains, "there was a swarm of yellow jackets on the trail. About 165 people got stung. No one went into anaphylactic shock, but some people had welts for a week. So we changed the course. I'm the only yellow jacket now."
There are, indeed, many things that could potentially go wrong at a race — wrong turns, aid-station mishaps, wasp hives and the like — but Weintraub and crew for two decades have made the Soulstice run an enjoyable experience for Flagstaff's running community.
It takes hard work to pull off an event featuring 238 runners, and volunteers toil with little fanfare. Today, we rectify that. Instead of following the race itself, we focus on the aid station at the highest point of the Soulstice course, the place where runners in both the 12-mile and 7.7-mile races are most in need of hydration, energy jolts from sugary snacks and, perhaps, some encouragement.
Marching orders
Stars have receded now and a seep of grayness emerges. Weintraub is chatting up Matt Ryan, the Coconino County supervisor who annually volunteers at the lower aid station. Ryan is hardly nonplussed by Weintraub's costume. Ryan, himself, dressed as a dinosaur to hand out water at last year's race, frightening some runners. He tells Weintraub that, today, he will don his Captain America outfit.
At last, the two men scheduled to run the upper aid station materialize.
Steve Pulos, a retired Flagstaff High School English teacher, and Mark James, a retired local naturopathic physician, are dressed in layers for warmth. It's still an hour and a half before the start, and the two men, both 67 and accomplished masters runners, seek final instructions from Weintraub.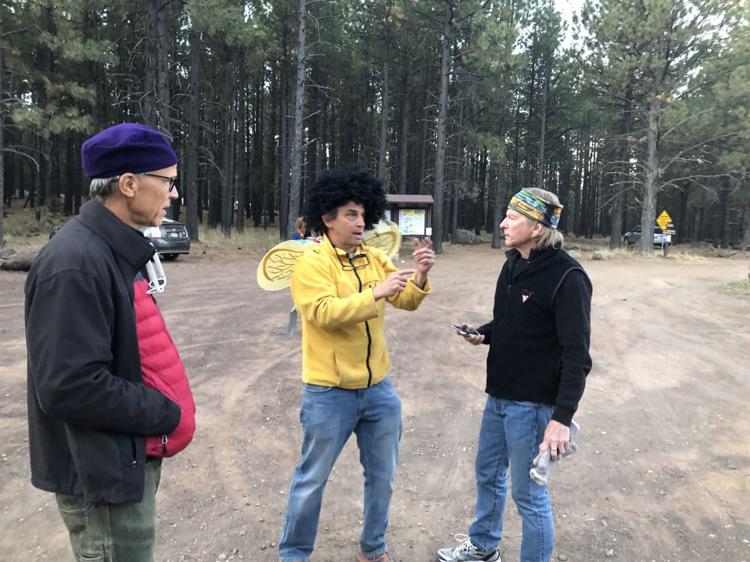 It's a new course this year — thanks to the Museum Fire and those pesky yellow jackets — and Pulos, who has helmed this same aid station for 10 years, has questions.
"Can you say how many miles it is after the second aid station to the finish?"
Weintraub: "Uh, I totally forgot to bring the map. It's like, 2, 2 1/2, or maybe 3 (miles)."
"Did you put tape on the trees up there?"
"Yeah, there's tape. Actually, I don't know what it looks like exactly. Someone else took care of that."
"Yeah, (runners) stay on the logging road all the way to the other aid station."
"OK, we're heading on up."
On the road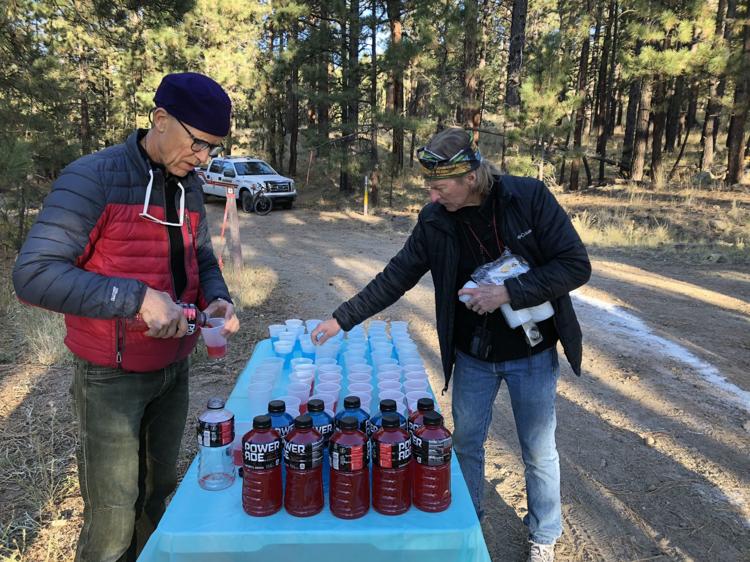 The back of Pulos' black Dodge 4x4 truck is loaded with provisions — gallon jugs of water, bags of sweet and salty snacks, foldable tables, trash cans, towers of plastic cups and paper bowls, rolls of Hefty bags and his trusty stereo to blast classic rock — and the forest service road up to the aid station, about a three-mile climb, is boulder-strewn at times.
You have free articles remaining.
But the truck can easily handle the task. As he bumps along, left hand vibrating on the steering wheel, Pulos seems unconcerned.
"Back in the day," he says, "this road was a (expletive) to get up. I'd have to creep and look for boulders. Once logging took hold a couple of years ago, it flattened the road."
Once the 4x4 reaches its appointed spot, Pulos and James set everything up post haste. James makes sure the bag of Black Forest Gummy Bears gets prominent display on the snacks table, alongside bowls of Oreos, M&Ms and grape Jolly Ranchers.
"M&Ms have a bad history for me, so I brought gummies," James says. "I ate some (M&Ms) at the top of the Imogene (race, in Colorado) one year. It gave me a stomach ache that never went away. I ran with my fist pushed into my stomach the rest of the way."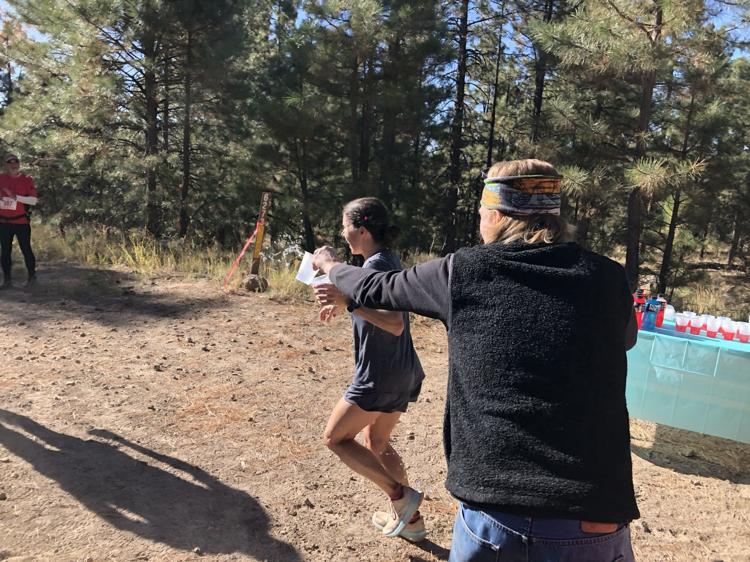 With 45 minutes before the start, two EMTs arrive in an SUV, mountain bikes in the back. The two men, Garrett Kobayashi and Ryan Rossel, eye the candy bowls furtively, then pluck some gummies. Meanwhile, Pulos and James fret that they may not have enough water and Powerade, given that the long-course participants will pass the aid station twice, short-course runners once.
"I've got another two gallons or so in there," Pulos says, nodding toward the back of the 4x4. "It'll be all right."
Wait's over
Close to an hour later, and 20 degrees warmer, Pulos looks at his watch and peers down the west side of the logging road, where runners make a nearly mile-long climb to the aid station. Any minute now, the lead runners will emerge.
It is quiet, save leaves crackling in the wind and a bird chirp or two. But then a runner rounds the corner — the leader, U.S. Mountain Running Team member Mike Popejoy. Pulos dashes to the stereo, where his iPod (old school, second generation) is plugged in. Jackson Browne's "Running on Empty" blares from the speakers.
Popejoy, gazelle-like with a long red beard, soars by, not even looking at the water table. Same for second place Nick Arciniaga, an elite marathoner. Most of the lead runners, including 2012 U.S. Olympian Janet Cherobon-Bawcom, pass on the water, but give nods of appreciation.
Soon enough, though, the station will get busy, very busy.
Oasis in the woods
Long-course runners come in waves, short-course people in clumps. They, unlike the elites, welcome the aid station like parched nomads in the Gobi.
Bill Sandercock peers at the table, asks "Whiskey?" Dave Bednar stops at the candy table, shouts, "Steve, any TCH in those gummies?" Tim Meamber eyes the EMT car, proclaims: "I want a (freaking) bike!" Danielle Fazio runs by on her first loop, pauses to yell, "God bless America, there's gummies. I'm stopping next time around."
On it goes, runners pausing briefly to gulp water or lingering to chat. Meanwhile, the iPod cycles through upbeat numbers — Tom Petty's "Running Down a Dream," Adele's "Rolling in the Deep," Le Tigre's "TKO" — as the long course mid-packers trudge back for a second helping.
"Not (pant) as bad (pant) as the (pant) other course," says Robin East, taking off his hat and pouring water over his head.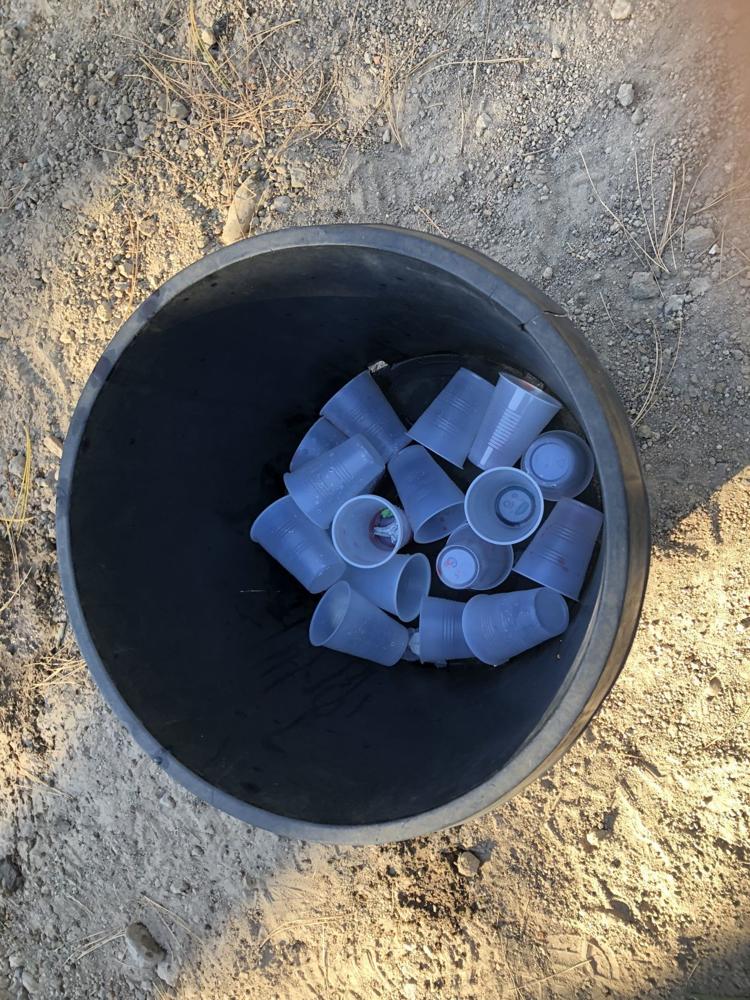 Some are all business, though. Mark Moran, a Coconino County Superior Court judge, needs his water bottle filled but doesn't want to waste precious seconds by pouring water from a cup. He goes for the jug in the back of Pulos' truck, but the seal has not been cracked on the container. Finally, re-hydrated, Moran sprints off, remembering to thank the workers.
Much later, Fazio makes her second pass through and, as promised, pounces on the gummy bear bowl.
"Sorry we came back so fast," Fazio jokes. "We tried to slow down but couldn't."
"She's been talking about gummies for, like, the last two miles,"cohort Jennifer Robino says.
At half past 10, the last stragglers pass. Pulos and James clean up fast, pack the 4x4 and rumble down the logging road back to the finish line, where their own fueling station awaits — post-race beer and hot dogs.