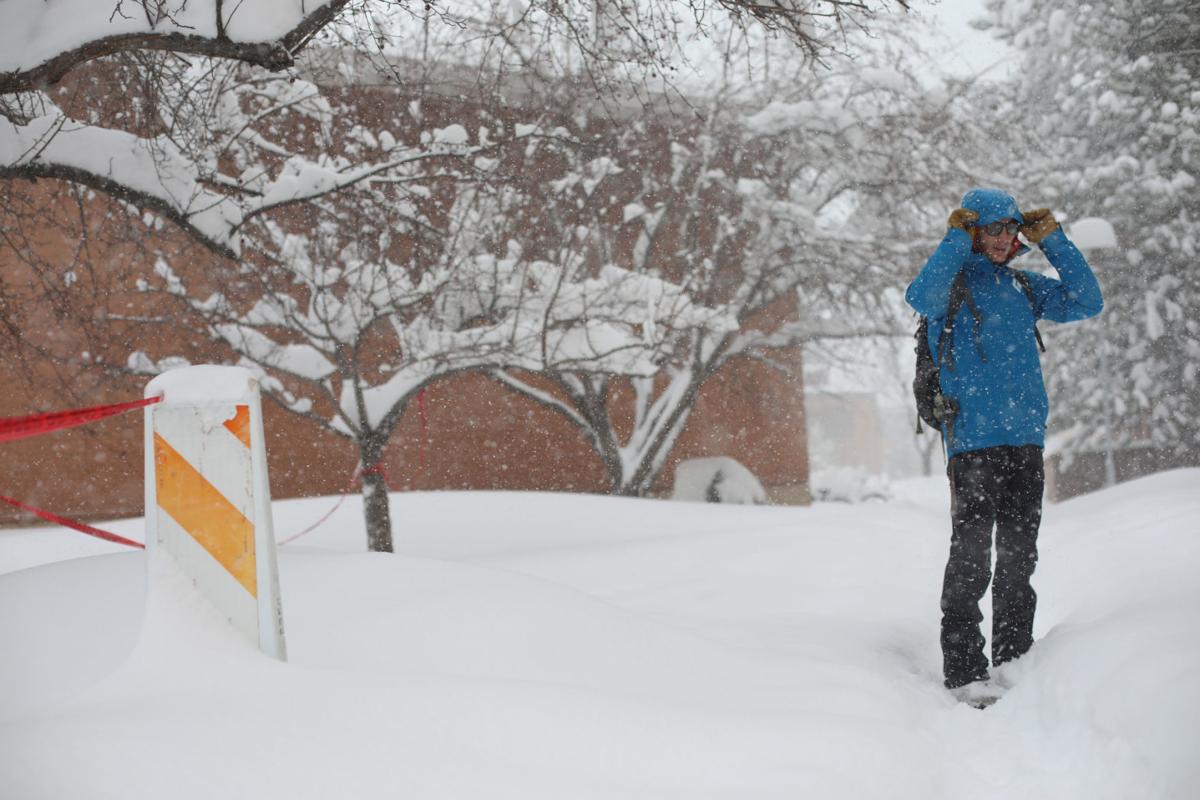 Though snow days may evoke carefree sentiments for students with canceled classes, these days are not free perks. Whether classes are canceled or not, winter weather requires additional planning, funding and shifting of resources all around.
Last week's "Snowpocalypse" likely cost Northern Arizona University at least $100,000 for snow removal efforts alone, in addition to normal operating costs for services needed by the 10,000 on-campus residents.
The storm brought 40.8 inches of snow from Wednesday night through Friday, resulting in closures throughout Flagstaff, including of the NAU campus on Thursday and Friday.
Although the exact costs of the storm to the university are yet to be finalized, Steve Vedral, interim associate vice president for Facility Services, said clearing the 88 total pathways around campus is a costly, complex endeavor.
Unfortunately, a specific budget for these services does not yet exist, though Vedral said his team is working to see if it is a possibility.
"Snow events slowly eat away at our budget. There's no additional monies added to the budget to deal with this. If there's a lot of snow, we have that much less to spend on maintenance and deferred maintenance of these buildings," he said.
Vedral said about 100 employees, including groundskeepers and trade workers in areas like plumbing, electricity and general maintenance, reported to work throughout the storm. These employees are considered "essential" and are therefore unexcused from work on days with inclement weather.
In addition, the campus utilized Snow Jacks, a group of student workers who earn about $12 an hour to be on call during snowstorms. Vedral said there are 45 total Snow Jacks, but only about 12 are able to help at any given time.
Employees worked anywhere from 10 to 15 hours during the storm, accumulating tens of thousands of dollars of overtime. On Thursday, crews worked continuously from 12 a.m. to 10 p.m. to remove the snow while it accumulated, Vedral said.
Although NAU owns its own snow removal machinery, fuel and continued maintenance are also costly.
The Ice Slicer alone, which drops a natural mineral mixture to melt ice, costs about $6,500 per load. Heavy storms can require up to six of these loads.
Snow removal on campus also requires approximately 60 new snow shovels each year.
Although various other facilities remained operating during the storm, they did not experience the same strain on their budgets, operating like any other day of the school year.
Some services like the Health and Learning Center operated on a modified schedule during last week's closures, while others including health and dining and Cline Library retained their regular schedules, with noticeable differences in staffing.
Ben Hartley, director of Campus Dining, said of the nearly 400 campus dining employees who usually work each day, 230 worked on Thursday and 199 worked on Friday.
Instead of straining the budget, the lack of employees for campus dining totaled 400 fewer hours of labor than the same week last year, allowing the department to thank those who were able to work.
"Typically, we pay just regular wages unless it costs people to have overtime but in this particular case, because of the severity of the storm, we decided to put a little bonus money on each person's check just to say thank you for making that extra effort."
This thank you totaled about $12,000.
The 28 different on-campus food outlets are opened by priority, with workers moved from unopened locations (like Jamba Juice on a cold day) to the opened locations. The two all-you-care-to-eat resident dining operations, the Hot Spot and the DüB Dining District, open first, followed by other dining locations closest to student residences.
Campus dining also had to increase its order of essential food items like meat, produce and dairy early last week to be able to offer its normal menus during the storm.
According to university's snow policy, NAU determines closures through coordination with the city of Flagstaff, NAIPTA buses, Coconino County, Flagstaff Unified School District, Coconino Community College and the National Weather Service. It also takes into account campus events like speakers, concerts and athletic events, which cannot always be canceled.
Faculty and non-essential employees are paid for the unexpected time off just as they would be on a regular work day. Those required to work receive paid time off equal to the time they work during the closure.
Snow removal is a costly effort for NAU; however, it is essential to the safety of campus residents and visitors on any winter day.
"Our ultimate goal is to keep the school open for education, so we really are very careful on whether we close or delay classes, even though it may cause people some consternation, we do take safety very seriously," Vedral said.