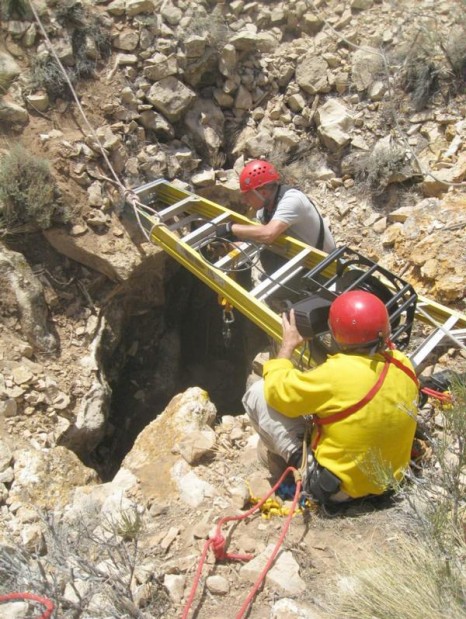 German physicist Reinhard Kirchner had hiked the Hell Hole Bend area of the Little Colorado river several times and was considered an accomplished hiker.
Then, he went missing in April 2007 and has not been seen or heard from since.
After he was reported missing, as many as 50 searchers spent 1,500 hours scouring 56 square miles.
The only places searchers didn't look because they posed too much of a risk to search were the area's sink holes.
That has changed now. Coconino County Search and Rescue, with the help of an $18,000 grant, has bought a camera that can be lowered into confined spaces and search the depths without having to put crews at risk.
The camera, called a Searchcam Cable Probe, is attached to a 300-foot spool of cable, said Sgt. Aaron Dick, coordinator of the county SAR team. The camera is equipped with a light source and a two-way communication device so rescuers can see and talk to people who are trapped in a confined space.
At top, rescuers view the scene through a hand-held monitor, Dick added.
"Primarily, we want to use it in confined spaces that would be hazardous for rescuers to determine if we need to go down to retrieve something," Dick said.
According to sheriff's office reports, Kirchner's rental truck was located west of Tuba City near the rim of the Little Colorado River Gorge after his girlfriend, who was to meet Kirchner in Las Vegas, reported him overdue.
Dick said the truck was about 2 miles from Hell Hole Bend, which has a sink hole nearby.
Although Kirchner was described as an avid and experienced hiker, Dick said the sink hole, especially at night, would be difficult to see and possibly a place where a hiker could fall victim.
The sink holes are hazardous for rescuers because the rims have a large amount of debris that is easily dislodged and could fall on rescuers as they descend.
A search team went out to the sink hole on June 12 and used the camera.
You have free articles remaining.
"We did not find our guy, but we did find a rattlesnake at the bottom," Dick said.
He added that there are several more sink holes in the area and that searchers will use the camera to search those sinkholes as well.
The county received the Searchcam in May after the Department of Homeland Security awarded the grant, Dick said.
The grant was awarded, primarily, because the region does not have a device like the Searchcam, Dick said. The Flagstaff Fire Department does have a similar device, but it is secured to a pole and would not be able to go to the depths the Searchcam does.
The camera is available for other agencies in the region to use to conduct investigations, Dick added.
"We think it will be a valuable tool," he said.
Other grant awards to Sheriff's Office.
For the 2008 and 2009 fiscal years, the Coconino County Sheriff's Office received two grants worth about $35,000 from the Arizona Governor's Office of Highway Safety, said Gerry Blair, spokesperson for the sheriff's office.
The money will go toward the purchase of:
— Three in-car cameras for patrol cars working in Flagstaff and Williams. The cameras will be used to document traffic stops and investigations of suspected impaired drivers to be used as evidence in prosecutions.
— 21 digital cameras, to be distributed countywide to deputies. The cameras will be used to document criminal and traffic investigations.
— Seven sets of stop sticks to be used to stop high-speed pursuits in a manner that prevents dangerous blowouts.
— 12 portable breath-test units for deputies in the field to determine blood-alcohol concentrations in suspected impaired drivers.
— Five radar guns to be used by deputies to identify and ticket speeders.
The goal of the grant funding — through the purchasing of equipment and training of law enforcement personnel — is to promote highway safety by reducing crashes, deaths, injuries and property damage on public roads, Blair said.
Be the first to know
Get local news delivered to your inbox!