Eclipse plans near completion as Casper prepares for 35,000 visitors
Eclipse tourism is weird.
Popular travel destinations typically evolve over decades to accommodate a gradually increasing number of visitors. More hotels open, tour guides spring up, restaurants learn to prepare for the high season.
But most of those places have a perpetual draw: national parks and skiing in Jackson Hole, white sand beaches in Hawaii, cultural events and shopping in New York City.
Eclipses, on the other hand, are one-off attractions and ever so fleeting.
"You look up and you do so for several minutes and then you're kind of done," said science historian Alex Soojung-Kim Pang.
Even music festivals and conventions, which draw thousands of visitors for just a few days, have the advantage of repetition, and attendance can be regulated by capping ticket sales.
But the path of total solar eclipses varies, and they rarely pass over the same location twice, meaning that planning for all those skygazing visitors — when they do show up — is a unique challenge.
Anna Wilcox, the woman responsible for managing the estimated 35,000 tourists who are expected to come to Casper for the August eclipse, acknowledges the difficulty of planning the Wyoming Eclipse Festival.
"It's not Coachella — an event that takes place in the exact same place every year — where they have the chance to perfect it," she said.
The town of Gettysburg, Pennsylvania, faced a similar challenge in 2013. That July was the 150th anniversary of the Battle of Gettysburg, and local organizers knew the number of people that regularly visit in the summer months would dramatically swell.
"In a normal year we pretty much run at capacity anyway," said Destination Gettysburg president Norris Flowers.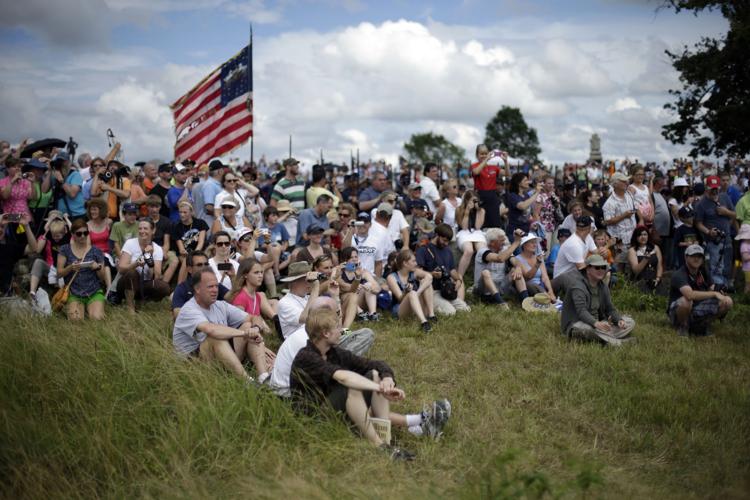 Flowers said the planning began two years in advance, including monthly meetings with local stakeholders, but included last-minute additions when hotter-than-expected temperatures led organizers to purchase a tractor-trailer full of bottled water to hand out and thousands of pounds of ice to keep the water cool.
He was also forced to adapt when 40,000 people, twice the anticipated total, showed up for a reenactment of the battle's climactic assault.
"Early on it was like, 'We don't have enough transportation,'" Flowers recalled. "We scrambled getting more buses and it actually worked very well."
But while Gettysburg saw 150,000 more visitors that week, Flowers' job was eased by virtue of working in a community that is used to large numbers of tourists.
Wilcox said her main challenge has been persuading Casper businesses and residents to take the eclipse seriously — "getting out there and convincing people this was happening and it was happening at this scale."
Since January, she said, the message has seemed to get through, and planning in the community is well underway.
Preparations near done
Festival preparation is in the home stretch, and Wilcox — who was hired 11 months ago specifically for the eclipse — expects to have all the logistics finalized by June 1.
"The exciting part is finally here," she said.
Casper is considered one of the country's best places to view the eclipse. Wilcox expects 25,000 visitors to stay in the city during the eclipse festival, stretching from Friday, Aug. 18, to the day of the eclipse that Monday, and another 10,000 to pass through or visit for the day.
The nation's first total solar eclipse since 1979 is still nearly a year away. But communities spread across the United States are preparing to welcome massive crowds and the accompanying publicity and revenue.
Officials have suggested that Casper residents buy groceries before the weekend to avoid long lines at the store.
There are 18 events planned, according to a rolling count maintained by city staff, and people have inquired about everything from running rickshaws — a wheeled passenger cart pulled by hand — in the downtown area to constructing temporary campgrounds.
National media is expected to attend as well, with Time magazine, the Los Angeles Times and a San Francisco newspaper having announced plans to be in Casper for the eclipse.
The city is trying to balance the work necessary to accommodate a massive increase in Casper's population without breaking the bank.
Casper is trying hard to make sure it's ready for its moment in the sun — or lack thereof — when the total solar eclipse takes place next summer.
"We're focused on our core with staff and finances to make this a celebratory event but not go beyond our means," Interim City Manager Liz Becher told City Council last week.
Becher warned council members that RV rental space at the Casper Events Center was full and joked that they might be stuck at City Hall for the weekend.
"If you wanted to be up there, councilmen, it's way too late," she said.
Hotels and official campsites are nearing capacity, and many homeowners have listed their properties on short-term rental websites like Airbnb and VRBO.
Transportation will be one of the biggest challenges during the event, with far more cars and pedestrians than usual.
The city is planning to use at least five school buses to run shuttles from parking lots to downtown and other event locations. CATC, the city's public transit service, has barred drivers from taking vacation during the festival.
"Everybody is probably going to have to plan for a little bit of extra time to get from Point A to Point B, but I don't think it'll be absolute gridlock," Wilcox said.
One vendor has inquired about setting up a bicycle valet system in downtown parking lots.
What ties South Africa, the Bahamas, Indonesia and Saudi Arabia to Casper?
Public safety a priority
For months, the leaders of Casper's emergency services have met to work through a variety of hypothetical crises that could occur during the eclipse weekend. What happens if there's a boat crash at Alcova Lake? What if there's a major car wreck downtown? Or, worse, what if there are multiple serious emergency calls at once?
While hopefully none of the events actually happen, the exercises are meant to help emergency resources prepare in a non-pressured environment, said Lt. Stewart Anderson, Natrona County's emergency management coordinator. Put simply, Casper has never seen an event like this, he said, and first responders need to be prepared for a variety of scenarios.
Although the solar eclipse is still more than nine months away, the Wyoming Highway Patrol has already begun preparations for the tens of thousands of visitors expected for the August festivities.
Dr. Andy Dunn, medical director of Mesa and Sage primary cares, is part of the effort to coordinate medical services during the eclipse. The medical community has been working to create a system that will divert people from the emergency room except for those with the most serious conditions, he said.
A number of first-aid tents will be scattered throughout the biggest events that weekend. Those tents will be able to treat minor injuries and conditions and refer more serious conditions to Sage and Mesa primary care clinics, which will act as urgent care facilities. The more than a dozen providers who work at those locations did not schedule any appointments the Friday before and the Monday of the eclipse so they will be free to help anyone who comes through the doors. Providers from other local medical facilities will also make themselves available to help, he said.
"It's been really awesome to have the whole medical community come together," he said.
Dr. Dunn said Wyoming Medical Center has increased the number of staff on-call that weekend. The hospital's emergency room, which has less than 20 beds, will need to stay open to treat those with immediate health crises as well as people in critical condition from nearby communities.
The medical community will sponsor a series of public announcements reminding people to stay hydrated, drink alcohol in moderation, wear sunscreen and to look out for each other.
"I kind of compare it to a big Fourth of July weekend at the lake," he said.
Traffic and parking
One of the biggest challenges, agencies agree, will be traffic. Not only will there be a dramatic increase in the number of cars on the road and parked around the city, but roads will also need to remain clear enough that emergency vehicles can reach their destinations quickly.
Casper Police Chief Jim Wetzel said one of the challenges will be the limited number of routes in and out of downtown, where many events will be focused. To help combat congestion, there will be no street parking in the downtown area the day of the eclipse and the preceding weekend. The downtown stretch of Second Street will be closed to all vehicle traffic, though cars will be able to cross the street at certain intersections.
Law enforcement officials also anticipate responding to an increased number of traffic calls, which will tax already busy officers. Wetzel said it will be important to educate visitors and residents about traffic patterns before the crowds arrive so that there is less confusion and, for example, an out-of-towner doesn't try to drive an RV through the too-small underpass on Center Street.
Neither the Casper Police Department nor Casper Fire-EMS plan to bring in additional people from other agencies to increase their staffing for the weekend. However, both will increase the number of employees on duty. Police staff aren't allowed to take time off that weekend, and the fire department said it will have double the regular number of staff working at any given time.
"I'm confident we will have enough officers to handle the event," Wetzel said.
Besides dehydration and sunburns, August in Wyoming also brings another danger — wildfires. Anderson, the emergency management coordinator, said that educating visitors to expect a burn ban will be a crucial part of preventing such a disaster. Campers should erase any hopes of bonfires or cooking marshmallows over an open flame. Instead, they should bring a propane stove to cook.
Anderson said the agencies have already begun to push out information about safety during the event through social media and each respective website. Visitors need to be aware of the realities of a high-altitude climate during the summer.
Anderson and the police department have also been working with cellphone companies to make sure the towers will be equipped to better handle an increased number of calls and data usage. He said that the towers are already configured to prioritize 911 calls over any other use so that emergency calls will always make it to the dispatch center. However, that means that others might be abruptly kicked off other less-important calls or have difficulty connecting to internet by using data from their phone.
In short, people shouldn't expect to livestream the eclipse over social media to all their friends.
"This is going to test cell systems across the country like nothing else has," he said.
Similar cases offer guidance
Every August, hundreds of thousands of bikers roll into the town of Sturgis, South Dakota, population 6,700. And while the tiny town has had 77 years to perfect its accommodations, town leaders are constantly faced with new challenges, spokeswoman Christina Steele said.
One lesson organizers have learned over the years is that an assortment of events is important to keep visitors busy.
"If there aren't organized things, they will find other things to entertain themselves with," she said. "And those aren't always the best."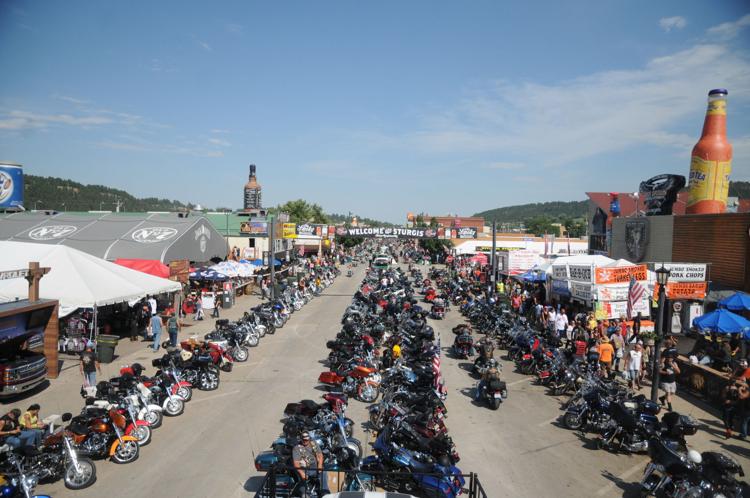 While the town has a wide array of camping and hotel options, Steele said that the city encourages residents to rent out rooms and yards to visitors.
Steele also said trends nationwide are often reflected in the crowds of visitors. For example, she said, as there has been an increase of illegal opioid use, the city has increased its supply of naloxone, a drug used to temporarily halt the effects of an overdose. It's also important to have a variety of medical services available so that emergency rooms don't fill up with people with minor injuries.
Above all, however, the key to success is good communication and keeping people healthy, she said.
"If you get them where they need to be and keep them healthy while they're there, you'll be good," she said.
Wilcox, the Casper festival director, said she's been in touch with Sturgis business owners — including a restaurateur who has a completely separate business model for those two weeks every August — as well as others with experience running events with similar challenges as the eclipse.
Those events include the Ragbrai, an annual bicycle ride across Iowa that cycles 10,000 riders through different towns each year and must prepare those communities for a sudden influx, and the Super Bowl celebration in Denver, where organizers had only days to prepare for a massive downtown celebration.
She's also communicated with other towns on the path of the eclipse. But Wilcox found that Casper was one of the only cities that wasn't planning to segregate eclipse festivities to a fairground or other distinct area.
Pretending as though the festival and its thousands of attendees wouldn't affect all of Casper just wasn't an option.
"There's nobody that's going to be able to hide from it," Wilcox said.
Follow crime and courts reporter Elise Schmelzer on Twitter @eliseschmelzer