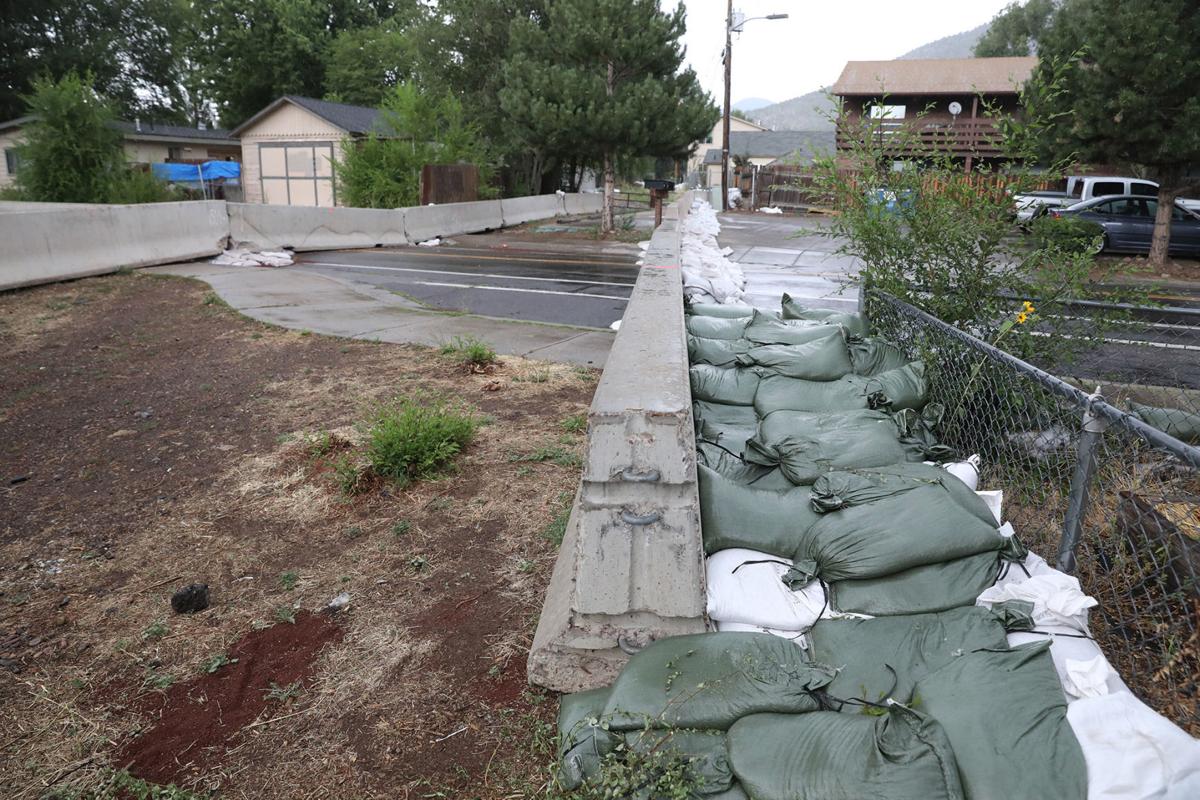 Winter is coming, but city and county staff are still warning residents to be ready for the possibility of post-fire flooding.
Coconino County Manager Lucinda Andreani said while the risk of flooding is lessened during the winter months, residents should keep the sandbags stacked on their property during the summer in place.
Following the Museum Fire this past summer, there were no major flooding events but Andreani said she doesn't think residents living downstream of the burn scar and Spruce Watershed will be as lucky during the next monsoons.
"We know based on the science and our experience that it is very likely we will have flood events," Andreani said. "I mean, I'd be surprised if we don't have a flood event of some magnitude next summer."
Andreani added they may even see flooding in the winter or spring if the circumstances are right.
If a storm brings snow, and then rain falls before that snow has melted, that could create flooding similar to what residents would expect with a monsoon rain, Andreani said.
All this has led county and city officials to encourage residents of Grandview and parts of the Sunnyside neighborhood, both downstream of the burn scar, to keep sandbag walls in place even through the winter.
City Streets Director Scott Overton said residents of those areas still have to comply with the city's winter parking restrictions which ban street side parking until April 1 to allow snowplows better access.
Because of this, residents of those areas may have to take down sandbag walls to allow them to park off the street, but Andreani said they should remove as little of the walls as possible. Andreani added they should store them on their property so the bags can be put back into place next year.
Residents are also being advised to maintain and protect the sandbag walls as best they can. Over the past months, walls may have become damaged by vehicles or simply deteriorated under the UV rays of the sun, Overton said.
So residents can replace damaged bags, Overton said the city plans to keep the three sandbag fill sites set up throughout the coming months.
Andreani said residents should also look to cover their bags in order to protect them from the sun and other elements. Preferably, this should be done with any kind of thick black plastic sheet, such as Visqueen sheets, but Andreani said any kind of tarp could work.
The bags the county and city provided during the summer had been treated in a way to prevent them from deteriorating, but Andreani said residents should try to cover them nonetheless.
If a resident does need to dispose of any sandbags, Overton said they should avoid simply throwing them into their trash bins. The weight of the sandbags is difficult on the mechanical arms of trash collection trucks, Overton said.
Instead, the city owned Cinder Lakes Landfill is accepting sandbags free of charge, Overton added.
Another option is, if the sandbags are still in good condition, to simply drop them off at one of the sandbag filling stations so other residents may be able to use them, Overton said.
The city is taking advantage of the lessened flood risk brought by winter to install some more involved infrastructure improvements addressing potential post-fire floods near the intersection of Grandview and East Linda Vista Drive.
A wash that parallels North Paradise Drive, and is fed by the Spruce Watershed, intersects with Linda Vista running through an arched metal pipe and under the road.
"There is going to be a new normal in the amount of flow we can anticipate coming from this drainage basin, and it will get to Linda Vista and need to get across the road," said City Project Manager Bret Petersen.
To help deal with the increased flows, Petersen said the city is planning on doubling the capacity of that crossing and will look to install a second identical pipe next to the first.
Petersen said construction on the project is slated to begin later this winter, possibly sometime in December and cost the city between $150,000 and $200,000.
Once the added capacity is installed it should lessen, but will not eliminate, the effects of flooding on residents of Grandview by allowing more water into the next section of the wash, Petersen said.
Still, the culvert under Cedar Avenue isn't being enlarged at this time so Petersen said the city can only enlarge the Linda Vista pipes so much without simply causing worse flooding downstream.
That means even after the project is completed, Petersen said residents of Grandview will need their sandbag walls as water will run down that street if a flood occurs.
Petersen said the project won't be a simple one. Along with the current culvert are two water lines, one running over the pipe and one running under it. A sewer line also passes though the area and an electricity pole is adjacent to the wash, so it is not an easy place to quickly do construction, Petersen said.
The city and county considered installing the new pipe in the weeks immediately following the fire, but decided against it because of the risk of a flood occurring in the middle of construction. Had a flood occurred when there was an open cut in the road, erosion could have required far more road repairs.
Adrian Skabelund can be reached at the office at askabelund@azdailysun.com, by phone at (928) 556-2261 or on Twitter @AdrianSkabelund.
Be the first to know
Get local news delivered to your inbox!